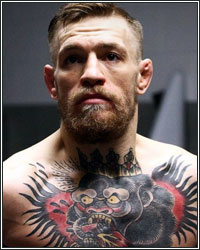 I wouldn't be investing any of MY money into it and I really don't care how much other people get paid (or WHY they get paid)...so, why not let Conor McGregor get one more payday from boxing?

It might be fun to see the UFC star thrashed around by a boxing counterpart not as gracious or compassionate as Floyd Mayweather, who took a great amount of pity on the big-talking Irishman.

I certainly hope that McGregor is aware that a clearly under-trained, casually-focused, and generally disinterested 40-year-old Mayweather, two years into retirement, carried him for several rounds before stepping on the gas ever-so-slightly to blow him out via tenth round TKO.

"Everyone was saying to me get in and ragdoll him and muscle him from the bell," McGregor said at a recent Q&A session in Glasgow, Scotland. "And I could've gone in and done that. But I out-skilled him, I outboxed him early. You can't deny that. I outboxed him and he didn't know what the f**k was going on.

"He just covered up his head and walked forward. When the f**k have you ever seen him do that? It is what it is, but I still feel like I could beat him under boxing rules.

"I know if I went another go with him, under boxing rules, I'd get that win, I know that. I know that. I know by the feeling of him in the first fight. He had to change his whole approach. He fought completely (different) than he (usually) fought, he couldn't figure out what I was doing early on. I feel with the lessons I learned from that first fight, if I had another go around, I'd get him."

Well, maybe poor Conor DOESN'T know how gracious Mayweather was.

So, let him do it again. Let him do it against a younger, hungrier world class opponent who won't be as compassionate and won't allow these delusions of grandeur to bubble up in his brain. I'm not one to wish harm on any fighter, but maybe I can make an exception just this one time. Sometimes the only road to wisdom is via ass-beating.

So, let him get another shot at beating one of these guys who practice "half-fighting" with his, ahem, underrated boxing skills.

Of course, none would be able to deliver the $30 million guarantee plus PPV back-end like Mayweather did. But he could easily make what he generally makes for a UFC bout against any decent top 10 boxer from 147 to 160.

A bout with Canelo Alvarez, which was recently teased by McGregor's trainer, John Kavanagh, would probably get him closest to what he got for the Mayweather fight. But he'd certainly pay for every cent earned from that bout.

"...If he's talking about Canelo," one-time McGregor sparring partner and now serial antagonist, Paulie Malignaggi told ESPN Deportes, "he has to book a hospital room for two or three weeks, because when he loses it they will take him directly to that reserved room…McGregor will get killed in that fight."