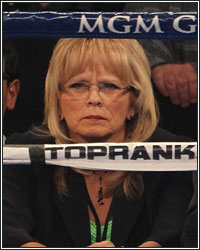 The greatest hustle in a sport entirely built on hustling is the one regarding its judging.

No promoter worth his salt or with anything to lose is going to wander into an important fight, hoping that his guy will have what it takes to win the bout fair and square.

Oh yeah, there are times when you have to suck it up and hope that your guy pulls out a victory based solely only his own merit. But if you have some push and pull, if you really have juice in the business and have pushed your way to being a driving factor behind an event, if you have become the event's lead promoter, you're going to want to make sure things go your own way. There's just too much money involved to NOT give yourself that kind of security.

Most likely, you have already invested a small fortune into building your fighter and won't start operating in the black until he has several high-end, nationally-televised fights.

Sometimes you're NEVER in the black with a fighter—and that makes it even more urgent that you protect your investment when it comes to fighters who CAN turn a profit.

The structure of the business is built around this concept of protecting your investment if you've worked yourself into the position of being able to do so. And the best way to protect the investment is by doing your best to guarantee a favorable result.

You learn how to push mismatches as "real" bouts for as long as you can and you learn how to construct stylistic mismatches for your guy against otherwise legitimate competition. And, yeah, you also work to make sure that your guy won't be broadsided by unfavorable scorecards at the end of a close (or not so close) contest.

For those not familiar with the judging system in boxing, here's how it works:

A list of judges is taken from the state commission (which is often filled with politically appointed know-nothings or buddies and old cronies of active boxing powerbrokers) to the lead promoter of an event for approval. From that list, three judges are appointed for the bout. The promoter is then responsible for not only providing payment to the judges, but in some states, required to provide for food, accommodations, and a small per diem to cover the judges' expenses.

The current system is one where the promoter is in control of virtually every aspect when it comes to selection and compensation of the officials. In other words, the person with the most to win or lose, financially, from a fight has pretty much ultimate say as to who will judge and officiate a bout featuring his fighter.

This is not a system where you have to "fix" any fight. Judges work under the understanding that if they don't see fights the "right" way and aren't open to seeing them the "right" way, they may not get on that commission-approved list of judges the next time. And once they're off the list, they probably won't get that next big assignment. No easy paycheck, no paid vacation, no comp hotel room, no per diem, no adrenaline rush from being ringside at a big fight.

"For appearances sake, the promoter hands the check over to the commission, who then delivers it to the judges," wrote Mitch Abramson in a 2009 New York Daily News piece, "But the result is the same: The promoter is paying the judge to make a decision in a fight the promoter has a financial stake in…This is outrageous. In no other major professional sport is a team owner responsible for the salary and housing of its officials."

Two-time cruiserweight world champ Steve Cunningham knows a thing or two about being on the receiving end of poor decisions. The Philadelphia fighter, who has rarely had the luxury of being the "house" or "money" fighter in his bouts, has come up on the short end of several high-profile controversial decisions over the course of his seventeen-year professional career. At least five of his nine pro losses could be considered, at best, dubious scorecard calls.

"You can't just constantly say that these judges don't know what they're doing," Cunningham told this writer when interviewed for a piece on another site "They know what they're doing. It would be easy to say that that they're not on the take, that they're mistaken, but it's like 'how come it's always the house fighter that gets the benefit of the doubt?'"

Again, think about it. How often does a "controversial" decision go against the house or "money" fighter?

When outrageously bad decisions do earn a spotlight, outrage is feigned. The media, which is, for the most part, either clueless or flat-out owned by the sport's promoters, goes on the warpath about the hapless judge in the public's crosshairs at the moment.

Sometimes the judge will just walk away from the business, deciding that the cool little side job is not worth the hassle. Mostly, though, the rotten judge in question will be tossed right back into the general rotation of big-fight judges once the smoke blows over. Often, their loyalty in delivering conveniently bad decisions is actually rewarded.

Back in 2009, when judge Gale Van Hoy delivered an outrageous 118-110 score in favor of Juan Diaz over Paulie Malignaggi in Texas, the WBC appeared to anxiously seek out his services. The Mexico City-based outfit snatched up Van Hoy, sent him out to Germany for a high-level gig, and then made him one of their preferred officials, bestowing on him the privilege of scoring seven straight WBC-sanctioned title fights.

Van Hoy's loyalty to being conveniently awful—a characteristic hammered out over a stretch of more than seven years of prime career where he literally never once ruled against the house fighter in a major bout—carried much more weight than the public outrage over any of his infamously bad decisions.

This rigged judging system is a major issue in boxing and one which will continue to bite the sport on its ass every time someone tries to come along and "legitimatize" boxing to the mainstream world. But don't ever expect the media to champion the cause of reform in this area.

Conversation about the true nature of the business behind the business is generally avoided. A recent article on a major boxing site was aggressively edited after a quote from a veteran promoter, referring to the fact that promoters do, indeed, have the power to choose their own officials, made it to publication.

Instead of honest talk, the promoter-sponsored media carries on bogus debates about how to fix the system where all sorts of silly and pointless "reforms" are tossed about.

No, adding more judges or putting them on platforms or backstage won't have any effect on bad scoring if the promoters are still essentially hiring the judges and paying them.

Until a separation can be made between the officials and the money men who need the officials to "play right," the system will continue to be corrupt and any decision rendered has to be seen as suspect.

The hustle is understandable. Promoters DO lose a lot of money as they build up their fighters. It's NOT smart business to put everything up to chance and fair play when they finally get in a spot there they can start turning a profit.

At the same time, though, this kind of stuff wrecks the sport's credibility and makes it tough to sell to a mainstream sports fan who is accustomed to the winner of a game actually winning the game.

Can boxing even survive without this hustle? That's another big question to ask. Will promoters and managers stay in the game without the safety net of the various cons and hustles boxing uses to help them turn a profit on their investment? Maybe a whole new business model is needed for the sport—one where the power and influence flows through networks and the fighters, themselves, rather than through promoters and puppet sanctioning bodies.

This is all certainly worthy of debate. It's just too bad that not that many people are actually willing to discuss any of this.

Quick (S)hits

-- So, Luis Ortiz is out and Bermane Stiverne is in vs. Deontay Wilder on November 4. The last time Wilder and Stiverne fought, people were expecting a Godzilla vs. Mechagodzilla battle of the monsters and got something about as stimulating as a wait in line at the DMV. I hold no opinion about a part 2, but I do hope that it's a fair, honest fight this time where both guys are actually trying to win. Stiverne is still the best fighter on Wilder's resume and he certainly can punch, so that makes the bout better than other replacement fluff that may have run through the minds of Team Wilder's braintrust.

-- An ESPN report has Miguel Cotto facing Sadam Ali in December in a farewell to boxing bout for the Puerto Rican star in New York. This is not "real" fight. Everyone should know it the way everyone should've known that Cotto vs. Yoshirio Kamegai also wasn't "real." Ali, like Kamegai, is matched perfectly to make Cotto look good and deliver just enough of a challenge to give the appearance of being a "real" challenge. Maybe Cotto has earned this right to safe, friendly matchmaking after a career's worth of tough contests, but, if so, let's just hope that this is, indeed, his last fight.

-- On a personal note, a friend of mine has an awesome product on Indiegogo at the moment that needs wide support. Purpus is a 100% plant-based detergent that was created with the purpose of helping kids with autism. For every bottle sold, the company will donate $1 to fund "awareness, education, research, and to teach coding for all kids and adults on the autism spectrum." It's a great idea and a great cause. Give the product a look at https://igg.me/at/purpus.

Got a question (or hate mail) for Magno's Bulging Mail Sack? The best of the best gets included in the weekly mailbag segment right here at FightHype. Send your stuff here: paulmagno@theboxingtribune.com.