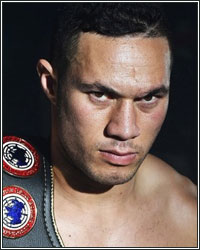 On Thursdays we gather to gaze upon my bulging sack and await my revelation of the awesomeness within. So, let's get on with it. Look. Watch. Enjoy. Beg for more.

Joseph Parker

Hey Magno.

What do you think of Joseph Parker? I used to think he had a puncher's chance against the heavyweight best, but not so much anymore. What say you?

-- Dory

Hey Dory.

I don't think too highly of Parker. I mean, if matched correctly, he can be a very entertaining offensive fighter. But in a fight where the opponent shows the least bit of skill, he looks like crap. He should stay nice and safe under the protective care of the WBO in Oceania as the sanctioning body angles towards the 3% sanctioning fee from a lucrative Anthony Joshua title unification bout. But Parker is so vulnerable that even the WBO may not succeed in keeping him safe. The proposed all-Oceania bout with Lucas Browne should be fun, though.

What's So Funny 'Bout Peace Love and Understanding?

Magno. Do you ever see guys like Arum working together with other promoters to make some of these big fights fans talk about, but could never happen under the politics of boxing? I'm referring specifically to Errol Spence vs. Terence Crawford.

-- Terry Kinsey

I think if a guy like Arum is serious about doing business outside of the premium cable business model, he pretty much HAS to work with others. If/When networks decide to seriously invest in the sport over the long term, promoters will have to ditch stubborn "in house" philosophies when it comes to matchmaking. Boxing will then be in a healthier spot—with a focus on creating entertaining and marketable fights over the mad rush to sign fighter to exclusive contracts that create instant barriers between some fighters and their logical big fight opposition.

In the specific case of Spence-Crawford, I'm assuming that Spence will have gone through his upcoming opponent Lamont Peterson and, hopefully, Keith Thurman before Crawford is even a consideration. Meanwhile, Crawford will have gone through Jeff Horn and, hopefully, Manny Pacquiao before a Spence fight is considered a "must." Both sides will need the other at that point and, without exclusive network deals getting in the way, there's a real chance that there may be a willingness to work together on something that could benefit both sides. Arum HAS worked with other promoters before—if the money is there—and there's no reason to assume he won't in the future, especially if a new business structure dictates it.

For me, removing the premium cable contract grabs will take down one major barrier to getting some big fights made.

Picking on HBO

You've recently written a couple of very critical pieces regarding HBO and HBO Boxing. My question is why don't you write anything about Showtime and the bad numbers they get? They routinely turn in smaller TV ratings numbers than HBO and I don't recall you ever writing about their bad numbers.

-- Anonymous

Historically, Showtime has always generated lower TV ratings than HBO. Much of that is because Showtime has significantly fewer subscribers than HBO. There's also the perception that HBO is the champion when it comes to premium channel boxing with the deepest pockets and widest reach so, of course, there will be more scrutiny of their product.

Having said that, though, there simply isn't that much of a difference in both networks' boxing ratings anymore.

Last Saturday's not-very-highly-anticipated heavyweight title bout between Deontay Wilder and Bermane Stiverne generated an average audience of 824,000 on Showtime. This number would've made Wilder-Stiverne the third highest rated boxing show on HBO so far this year. HBO is routinely producing Showtime numbers these days, despite having more subscribers and a bigger reputation in the fight game.

Yeah, there's clearly something wrong with HBO Boxing…and I'm going to bring it up.

PEDs in Boxing

Hey Magno.

Can we just assume now that everyone is on something? What do you think about PEDs in boxing and what's being done to keep an even playing field. This is important stuff that has been downplayed so much. Man, someone could literally get killed.

-- Kirk Yates

I have so little faith that boxing will get its shit together in this area. A lot of the media grandstanding on PEDs reform in the past was focused on "busting" individual fighters and generating clickable headlines. So, the promoters slapped a smiley face band-aid on the issue and made themselves responsible for voluntary testing. But voluntary testing is kids-running-the-candy-store stuff. Anything less than 24/7/365 testing with real, well-defined, and totally enforceable penalties is almost as bad as doing nothing at all. As I described it before, it's like vacuuming your living room without a bag on the vacuum cleaner—dirt is sucked up, but then it's spit back out and scattered to other parts of the room.

The WBC Clean Boxing Program is a step in the right direction, but can you blame me for not trusting the WBC? It's easy to make rules and draw up a program and it's also easy to bust a few minor players here and there. But does anyone trust that the money-hungry Mexico City outfit is going to come down hard against a real money-earner? It's a mighty large leap of faith to trust that, behind the scenes, the stars are being treated the same as the fringe contenders. That's the issue—Who the hell do you trust to do this kind of job in boxing? VADA seems trustworthy, as well as the good ol' USADA, but any plan is only as good as those implementing it and the system under which it's implemented. Even the best medicine is useless if it's left in the hands of someone who refuses to take it.

Got a question (or hate mail) for Magno's Bulging Mail Sack? The best of the best gets included in the weekly mailbag segment right here at FightHype. Send your stuff here: paulmagno@theboxingtribune.com.