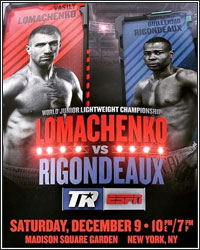 I almost don't even want to write about Saturday's Vasyl Lomacheno-Guillermo Rigondeaux fight. I want to just enjoy it as a fan without having to say a word or apply any sort of analysis to it.

If Loma-Rigo were a woman, it would be a 2002 Shakira -- hips gyrating, rear end grinding, pouty lips blowing a kiss to the camera. If Loma-Rigo were food, it would be a fresh-from-the-oven Chicago deep dish pizza from JB Alberto's.

That's how good this fight is (and that's how much I love Shakira and quality pizza).

But could there be some shadiness involved in this dream fight? Could there be a big chance of disappointment at the end of the much-awaited evening?

You bet there could be. Actually, there MIGHT be. The cynic in me says that there probably WILL be.

Rigondeaux is being pulled up two weight classes to take this fight and, while eight pounds is really not all that much in the grand scheme of things to fighters who regularly fight well below their natural weights, this case is a bit different. The Cuban master boxer is probably fighting at the upper levels of what could be considered his natural weight, already. Realistically, he may still even be able to make 118 if absolutely necessary.

And Rigondeaux's stated age of 37 may actually be a bit of a misrepresentation -- Cuban athletes defecting to the West often shave a few years off their age. Some estimate that Rigondeaux's actual age may be in the low to mid-40's

But the biggest pause for concern is in the fact that Rigondeaux will be facing Lomachenko on a Bob Arum card.

The aged promoter appeared to fall into a seething anti-Rigo rage back in 2013 after Guillermo schooled "next big thing" and heir apparent to the Manny Pacquiao Filipino fanbase, Nonito Donaire, over twelve rounds. Arum's apparent anger at the upset applecart caused him to lash out at Rigondeaux, who was still supposedly being promoted by Arum and, in a case of bizarro boxing logic, go to the media in an effort to downplay the win and bash his own fighter as being boring and unmarketable.

Since Rigondeaux and Arum parted ways, Arum has avoided the mere mention of Rigondeaux, as if speaking his name aloud would bring back the curse. But all of that has changed with Team Lomachenko's willingness to face Rigondeaux and with Rigondeaux's willingness to move up and face Lomachenko.

In Vasyl Lomachenko, Arum has a fighter who is stylistically suited to beating Rigondeaux and physically gifted enough to compensate for technical advantages the Cuban may have. And, yeah, he's also the bigger and younger man.

And, if all else fails, there's also the fact that there is very much a home field advantage in play for his guy.

You can be sure that if the always-shrewd Arum is putting another one of his stars up against Rigondeaux, it's because he feels that he has the upper hand.

Could this be one of those all-too-common cases where the winner doesn't officially win the fight? Are we in for a screw job of epic proportions, one that the whole world will be able to see via ESPN?

Or, maybe, this IS too much to ask of Rigondeaux and he will be beaten decisively by a Lomachenko who, in turn, will get less credit than he deserves because of how uneven the playing field truly was?

In the ring, this match-up between two-time Olympic gold medalists will be a thing of beauty and, as a fan, I can't wait. But as a writer/analyst and as someone who follows the not-so-pleasant side of the sport (maybe a little too closely at times), I can't help but brace myself for a huge letdown.