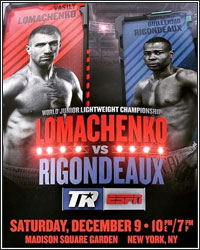 Thursday means Sack Time. So, let me bend over and grab me a handful of my sack for the purpose of entertaining, enlightening, and maybe enraging. Enjoy.

Full Credit for Lomachenko?

Magno. Will you give full credit to Vasyl Lomachenko when he wipes the ring with Guillermo Rigondeaux? Probably not.

-- Spence

I hate to hurt any feelings, but the only one who gets full credit for a win on Saturday is Rigondeaux. It's not my fault that in order to get this fight made, the deck had to be stacked in Lomachenko's favor.

Lomachenko is a legitimate talent, but he'll be fighting at his own weight, in his physical prime, with home field advantage in New York, on ESPN, and, most importantly, on a Bob Arum-promoted card.

Given the uneven playing field, Rigondeaux has to be Superman to come away with the win and will be regarded as such should he accomplish the feat. Lomachenko, on the other hand, will get the proper amount of credit one should get for beating one of the best pound-for-pound fighters in the world— forced into fighting at a disadvantage.

Empty Vasyl?

Hey Mags. Been following you since the Boxing Tribune days and I can't lie, you're my favorite writer out there these days because you tell it like it is.

But lets get to business.

Lomachenko is going to be exposed by Rigo as the hype job that he is. Just another whit, European forced down our throats as the next great thing. Rigo is going to school him like he did to Donaire and then Loma will have that smile wiped off his smug face. He can go back to fighting undercards.

-- L. T.

Hey L.T. Thanks for your support over the years.

I don't agree that Lomachenko is a hype job or a fraud, but I'll definitely agree with you that he has been shoved down our throats as something that he has not yet become.

It seems that these media guys get giddy every time they come across a white face (or, really, a non-black face) that can fight. Lomachenko's skills are stellar and he belongs on P4P lists if the criteria is talent. But he hasn't had a signature win yet in his career—one where he has actually had to do battle with someone capable of fighting back. Well, no, I take that back…He HAS had that kind of fight—it was against Orlando Salido…and he LOST.

A win over Rigondeaux, even with the deck stacked in his favor, will go a long way towards legitimizing Lomachenko as a fighter whose accomplishments match his ability.

Post Loma-Rigo

Hey Magno. Still pissing people off I see. Good.

I'm sure lots of readers are asking about Lomachenko vs. Rigondeaux and who you think will win and why, so I'll just skip over that and ask what next? Where does the winner (and loser) go from there?

Keep up the great work, brother!

-- Tito

Hey Tito.

Unless there's some sort of controversy that necessitates a rematch—and there very well could be—I think both fighters, win or lose, go back to what they were doing before this bout was made.

Lomachenko will find his way up to 135 and eventually become the class of the lightweights, unless Mikey Garcia decides to come down and pursue a bout with him.

Rigondeaux, on the other hand, may have a bit more trouble finding a comfortable road after Lomachenko. My guess is that he goes down to 126 and then, like at 122, continues to be avoided like the plague. Ironically, a poor showing on Saturday may be more financially beneficial to Rigondeaux's career than a dominant victory.

Loma-Rigo: The Blockbuster?

Magno. I can't wait for this Saturday's fight. I've been salivating about it ever since I heard that it first got signed….I notice it getting a lot of attention on websites and social media. Do you think this one is going to bring in huge ratings on ESPN? It should.

-- Max

Max. Keep in mind that the buzz you're describing is from places where real, hardcore fans congregate. The casual fan cares little for either and the general sports fans has no idea who either one even is.

The hope is that casuals and sports fans in general will watch this bout, which will be fought at an extreme level of mastery, and be hooked on what they see. In terms of skill, Loma-Rigo can't be topped. But do sports fans want to see skill or just a sloppy standup brawl? That's the question.

One thing is for certain. If they can't generate respectable numbers for this one on ESPN, it'll show everyone just how bad things are in terms of the size and enthusiasm of boxing's fan base. I can't imagine any boxing fan NOT wanting to watch this fight live, so if the numbers are just "meh," then that's a pretty bad sign for the sport's future.

Here's hoping that the fight doesn't get delayed by late-running ESPN lead-in programming and that Arum and Top Rank have the common sense to place the main event as early on in the show as possible. The idea is to get this fight on while there are still ESPN viewers around from the lead-in program and not have everyone sit around through two hours of prelims before the main event.

Got a question (or hate mail) for Magno's Bulging Mail Sack? The best of the best gets included in the weekly mailbag segment right here at FightHype. Send your stuff here: paulmagno@theboxingtribune.com.