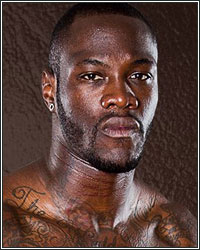 WBC heavyweight champ Deontay Wilder seems to understand his role in the theater of boxing.

He talks big and swings big. This should be enough to make him a bigger draw than what he currently is. But, for too many reasons to specify in this particular article, he's an American world heavyweight champ with less than his fair share of American media and fan support.

But Wilder is doing what he realistically can to be the star he should be.

"I'm not a 12-round fighter, and I don't get overtime. I'm a knockout artist," Wilder told the assembled boxing press at a recent media workout. "So that being said, I don't take much damage, but I give all the damage. I put people in the hospitals. I put people in stretchers...When you fight me your head is not the same when you leave. When you fight me you're really signing a death warrant."

If anything, the native of Tuscaloosa, Alabama, has become even more of a caricature of what he's supposed to be. He talks louder than ever before and has regressed in his ring work a bit in order to throw the big punches he's best known for throwing. His advancement as a fighter is marked by the fact that he's now doing to second tier fighters what he previously could only do to no-hope club fighter.

Realistically, Wilder, in any other era of heavyweight boxing, would probably not have advanced as far as he has in the here and now. It's hard to imagine him being even a consistent second tier presence in the 90's, when Lennox Lewis, Evander Holyfield, and Riddick Bowe ruled the division. And as for his claim that he could've knocked out a prime Mike Tyson? Well, that's the kind of stuff you're SUPPOSED to say if you want to generate some headlines. In a non-fantasy world, Wilder is a less-polished Tyrell Biggs (and would probably do as well against Tyson as Biggs did).

Right now, though, Wilder can get away with being Wilder. Having two long and legitimately heavy hands to fling wildly (and widely) is enough to take out the vast majority of all big men you'll currently run into at or near the top of the heavyweight division.

If everything is on the up and up this coming March 3 when Wilder meets Cuba's Luis Ortiz, the champ's wild swinging ways may be enough to clip a vastly more polished fighter. And if a full on attack is not in the plans, Wilder is long enough and athletic enough to long-arm his way through twelve rounds and hope on the benevolence of the judges.

And then he can move on to his continued pursuit of the UK's Anthony Joshua, heavyweight boxing's next big thing who, himself, is a work in progress with plenty of rough edges.

Wilder-Joshua will be huge, but not because of either fighter's inherent skill or ability. It'll be huge because of the personalities involved and because of the the cult of personality surrounding each one.

That's the way boxing works these days. Skill is nice, but bluster is better. Throw in action that is easily transformed into 15-second, social media-friendly video clips-- and, well, that's how to sell a fighter in the age of instant gratification and widespread ADD.

Wilder certainly fits the profile of new age boxing star. Whether he "gets" this and is performing appropriately or he's simply being who he was meant to be, is up for debate. Also up for debate is whether American fight fans will ever fully embrace this American heavyweight champ.