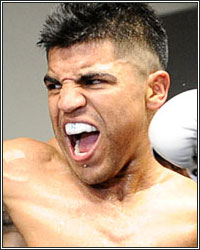 Former welterweight world champions Victor Ortiz and Devon Alexander showed off their skills at a media workout in El Paso Wednesday, as they prepare for their Saturday, February 17 showdown that headlines Premier Boxing Champions on FOX & FOX Deportes action from Don Haskins Center on the UTEP campus in El Paso, Texas.

Also in attendance at Wednesday's workout were undefeated contender Caleb "Sweethands" Plant and Rogelio "Porky" Medina, who battle in a super middleweight world title eliminator. Televised coverage begins at 8 p.m. ET/5 p.m. PT and also features 2016 U.S. Olympian Karlos Balderas battling Jorge Rojas.

Tickets for the event, which is promoted by TGB Promotions, are on sale now and can be purchased through Ticketmaster.

Here is what Victor Ortiz had to say Wednesday from the Wolves Den Boxing Gym:

VICTOR ORTIZ

"I had a great training camp. I just made sure to listen to my coach every day and grind every day with my team. You really have to grind when people say this is your 'last chance,' because I'm not ready for that.

"Every fight shows a lot. Every time I step into the ring it's a new challenge. I haven't had any shortcuts throughout my career. I've never treated a fight like an easy fight.

"Life tends to take you certain places and right now I'm where I'm supposed to be. I'm 31-years-old and I believe I'm going to be able to accomplish all my goals in this sport.

"Devon Alexander is a very fast boxer who was a champion for a reason. We've prepared for him in each and every way possible. We've worked hard to be in the best condition possible. I won't step out of the ring without that victory.

"I've done what I have to do to prepare for Devon Alexander. I have speed and power and that's a scary combination for any welterweight.

"I'm thankful for the support of El Paso and I'm proud to be fighting in the main event on Saturday. We're here to perform for everybody and have a great time."

# # #

Fans can live stream the fights on FOX Sports GO, available in English or Spanish through the FOX or FOX Deportes feeds. The fights are available on desktop at FOXSportsGO.com and through the app store, or connected devices including Apple TV, Android TV, Fire TV, Xbox One and Roku. In addition, all programs are also available on FOX Sports on SiriusXM channel 83 on satellite radios and on the SiriusXM app.

For more information visit www.premierboxingchampions.com, www.tgbpromotions.com, http://www.foxsports.com/presspass/homepage and www.foxdeportes.com.

Follow on Twitter @PremierBoxing, @TGBPromotions, @FOXTV, @FOXDeportes and @Swanson_Comm and become a fan on Facebook at www.Facebook.com/PremierBoxingChampions and www.facebook.com/foxdeportes. Highlights available at www.youtube.com/premierboxingchampions.PBC on FOX & FOX Deportes is sponsored by Corona Extra, La Cerveza Mas Fina.