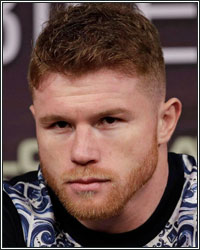 For those who have yet to hear, it was announced on Monday that Saul "Canelo" Alvarez had tested positive for "trace levels" of Clenbuterol during voluntary pre-fight screening for banned substances ahead of his May 5 rematch with Gennady Golovkin.

Before WRITING about boxing, I was involved in the other side of the business. For a little over a decade of my life, I was working in the boxing business down here in the Mexican Badlands, training fighters, managing young battlers from the "provincia," and even promoting events.

From footwork drills to popping the popcorn sold at cards, I had my hand in everything. But, the first higher learning I received from my hands-on education was a crash course in Clenbuterol.

Sold as "Novegam" or "Oxyflux" in my neck of the woods, Clenbuterol was used in boxing circles as an aid in making weight, quickly, without effecting lean muscle mass. It bumps up the body's metabolism to essentially burn away fat at a hyper rate. There's also the belief that it helps build lean muscle, although I'm no chemist and I have no idea if that's more belief than fact.

In real world medicine down here, Clenbuterol, in smaller doses, is used to aid those with breathing issues and many cough medicines actually contain trace amounts of the drug.

The beef industry in Mexico also uses Clenbuterol on cattle to reduce fat and stimulate the growth of more lean protein. The US and Europe, by the way, have banned the use of this drug in cattle.

In many ways, the "legit" uses of the drug enable its intentional "misuses."

And because meat contamination is a very real possibility when it comes to this drug, the plausible deniability allows for a greater degree of boldness in those looking to misuse it.

"We'll blame it on the pinches hamburguesas," one trainer laughed when I broached the subject of his fighter testing positive.

All told, Clenbuterol held a constant presence in many of our gym bags as we worked to whittle away weight in time for a fight. Doses were doubled-up and tripled-up recklessly as weight battles became more desperate. On one occasion, a fighter's team showed up late to a press conference for a televised title bout because they had been scrambling all over the city for a pharmacy that had the drug in stock.

Now, in the particular case of Alvarez, we're not yet sure of just how small of a Clenbuterol trace was found in his system. And as someone who has never tested positive for a banned substance before, he certainly deserves the assumption of innocence until proven otherwise. Contaminated beef IS a possibility and his team's decision to move camp from Mexico to the US, as well as continue on with all blood and urine testing, is definitely not a strike against him.

On the other hand, how is an elite-level athlete in a nation with a legitimate cattle contamination issue like Mexico, not more careful with the meat he eats? There are plenty of wealthy Mexicans who run their own 100% natural cattle ranches. I'd even bet that Canelo, himself, has some cattle made for slaughter, on one of his ranches.

Again, though-- Innocent until proven guilty.

But there is a world where Clenbuterol is intentionally misused and where contaminated meat IS used as a convenient excuse for testing positive. That was part of my world for awhile...and now it helps to ad some perspective in cases like this.