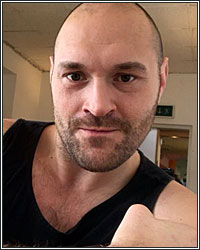 After 31 months spent dealing with personal demons, addiction issues, and a doping charge, Tyson Fury will begin his boxing comeback on June 9 against an opponent to be determined, at a venue to be announced.

Big questions remain, however, about the 6' 9" Irishman's ability to pull it all together for a legitimate run back to the top and whether, if he gets back to the top, he'll actually be able to reclaim his heavyweight throne.

"They won't be a match up for me," Fury said of his potential rivals via Thursday's press release to announce his return. "They're sluggers and wild punchers and I'm looking forward to getting in there and showing them."

New promoter Frank Warren is, of course, singing the praises of a revitalized, reenergized "Gypsy King:"

"The heavyweight division should now be put on notice because the lineal champion will be looking to pick back up where he left off

"Were it not for his exploits, the now thriving and fascinating heavyweight scene might have remained stagnant. Tyson's comprehensive schooling of the Wladimir Klitschko opened all sorts of doors from which others have ultimately benefitted.

"Now Tyson is back, in fantastic shape and full of beans, ready to take the first step on the road back towards world domination once again."

Over time, Fury's November 2015 unanimous decision victory over Wladimir Klitschko has morphed in certain eyes into some expert master class in boxing technique and strategy. In reality, Fury's effort was sloppy and hardly masterful at all, but it did have the ultimate effect of neutralizing an always-cautious Klitschko, who was put off by Fury's height/length advantage and simply would not risk the chance of return fire while pursuing an out-of-reach opponent.

Actually, Fury's overall body of work is pretty lacking. There's no doubt that his career and standing in the boxing business has been helped immeasurably by his ability to talk trash and create headlines. Up until the Klitschko fight, Fury's greatest feats had been two relatively dull wins over Dereck Chisora and an off-the-canvas comeback stoppage of undersized former cruiserweight champ Steve Cunningham. And, until we see what he can do from this point forward, the Klitschko win could very well be written off as the outlier in a career of modest achievements—a case of meeting the perfect opponent at the perfect time with the ideal approach to ensure victory on that given night.

But, regardless, the 29-year-old Fury IS considered the lineal heavyweight champ and, in terms of money, he can bring lots of it to the table, whether he winds up fighting Anthony Joshua in a UK superfight, as expected, or Deontay Wilder in a USA vs. UK showdown.

The only troubling aspect of this whole Return of Fury thing is whether it will get in the way of a must-happen Joshua-Wilder bout. From Joshua's side, the temptation will be there to wait on Fury for a chance to claim the lineal title in a big-money bout that, in terms of logistics, should be much easier to negotiate. If Team AJ decides that Fury is the way to go, then Wilder will be left hanging for at least another year.

Fury's road back to reclaiming his title belts should be fairly slow and deliberate as he gets back in shape, both mentally and physically, for the pressure of elite-level heavyweight boxing. He definitely can add some intrigue and excitement to a top-heavy division. But there's always the pull to barrel forward and cash-out now, while the money is big and the demand is high.

If Fury is of that latter mindset, eager to grab what he can grab right now and head off to an early retirement, then his presence will be more harmful than helpful to the sport. Nobody outside of Anthony Joshua's most loyal UK fans wants an ill-prepared Tyson Fury flopping at the feet of Joshua, taking the spot of Deontay Wilder, who brings a real belt to the table and an honest hunger for conquest.