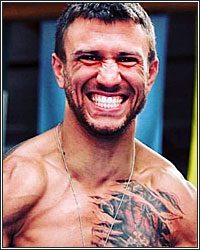 There was a rush of activity in and around my sack this past week, so in order to touch on as much as possible, I'll ditch some of the pleasantries and go straight to the meat of the sack-fillers.

Lomachenko vs. Linares and Lomachenko vs. Pacquiao

What's good Paul? Helluva fight this weekend in NYC between Lomachenko and Linares. The mothership (ESPN) has Loma's back and he's receiving immediate praise. Rightfully so! However, I'd be surprised if the Top Rank front office isn't trying to figure out how to cash out on Loma ASAP! Regardless to how they want to flip the story, Loma looks suspect at 135.... Linares only claim to fame was two UD's against Anthony Crolla, and we all know Crolla was a B minus fighter at best. We also know that Linares has been stopped twice in the past. However, I was shocked that Lomachenko let Linares take him into the trenches. The lightweight division isn't as stacked as it once was, which is why a B level guy like Linares had a belt. If I were Mikey Garcia, I would have no issue fighting Lomachenko at 135. ... However, I'd be shocked if Top Rank puts Loma in the ring against Mikey Garcia at this point.. The rumor has it that Pacquio v Loma is up next if Manny defeats Matthyssee. However, that's a bad fight for Loma, it would mean he would have to move up to 140 at least... If 135 is tough for Loma, imagine what 140 would be.... Overall, Loma had a great victory and showed true courage over a B level boxer. His experience and amateur pedigree proved valuable in the championship rounds. However, I wasn't overall impressed, with how he looked in at higher weight against a bigger opponent.....

-- Nail Rahman

Hi Nail.

I don't agree that Linares is a "B-level" fighter at all. I think he's definitely a high-end guy and, at worst, was the second best lightweight in the world coming into the Lomachenko fight. His body of work is actually quite solid, with two of three losses before Saturday's fight coming by way of fluke and a solid resume behind him (I think the Crolla fights are not his only claim to fame at all, with wins over the likes of Oscar Larios, Rocky Juarez, Jesus Chavez, Kevin Mitchell, and Francisco Lorenzo coming a few years back). His raw skills, alone, are impeccable. Lomachenko wasn't going to steamroll a larger fighter as good as Linares, so I really wasn't expecting it. Frankly, I was more impressed with Lomachenko's work against Linares than I was with his performances against Rigondeaux and Walters.

As for Lomachenko-Pacquiao-- don't count on that one ever happening. If it does, bet the farm on Lomachenko in an absolute whitewash. It'll be more competitive at the full 147 limit, but increasingly more one-sided if catchweight forces it at a lower weight. Pacquiao without the edge in speed, athleticism, and awkward, unorthodox southpaw positioning is a Pacquiao without a real road to victory. Lomachenko, at this point, is better at everything that makes Manny special.

ESPN's Loma Bias

You touched on this in your Monday article, but I just have to bring this up again. I don't think I've heard a broadcast team ride a fighter's dick as hard as ESPN rode Lomachenko on Saturday. It was disgusting. I thought Tim Bradley, who I always respected as a man, was really polishing Loma's nut sack. It makes you want to hate the Ukrainian, not love him.

-- Carl R.

It was pretty damn bad and, really, not at all necessary. If they had just sold the fight and let people know why what Lomachenko was doing was so outstanding, it would've been more effective hype than the silly schoolgirl gushing they were doing.

They're selling of Loma also sort of showcased how poorly they're doing in selling some of the other fighters on the Top Rank on ESPN roster.

Nobody can tell me that Terence Crawford isn't every bit as entertaining and compelling as Lomachenko, yet we get none of this icon treatment for "Bud." No, Crawford gets rewarded for his achievements and fan-friendly style by being shoveled off to ESPN's new streaming app for the biggest fight of his career.

Ring Magazine BS

Golden Boy-owned Ring Magazine decided not to strip Golden Boy-promoted Canelo Alvarez of their middleweight title. As someone who's been calling BS on their garbage journalism for years, I'd love to hear your thoughts on this.

-- Mike Arroyo

Who, exactly, is surprised by the fact that Ring Magazine is compromised? From what I've read and heard, their editorial board wanted to strip Canelo of their imaginary title, but their new publisher-- a former direct employee of Golden Boy-- overruled the board and ruled that Canelo gets to keep his cardboard crown.

Forget about the reasons behind this decision, the real question is why anyone cares. Alvarez is not the middleweight champ in any way, shape, or form. Ditch the silliness about being the lineal champ who beat another uncommitted middleweight, Miguel Cotto, for the "real" middleweight title in a lineage that only dates back to Bernard Hopkins, anyway. If boxing is supposed to be a real sport, then its champs are the best and most accomplished fighters in the division-- and that man, at the moment, is Gennady Golovkin. Until Alvarez beats Golovkin and/or surpasses his accomplishments at 160, there's absolutely no case for him being the recognized champ.

Ring's shadiness is in competition with its general dullness and is not to be taken seriously under current ownership or management.

Rough on Sadam Ali

Magno. After reading your Monday recap of the Ali-Munguia fight over the weekend, I felt you were needlessly hard on Ali and not giving him credit for the ability he does have. You made him out to be some sort of bum and he's far from that. The fact of the matter is that he was a small junior middleweight fighting a light heavyweight on late notice. It was too much to ask of him.

-- Candy

I never said Ali was a bum, but the truth is the truth. He's a chinny, second-tier welterweight who somehow won a junior middleweight title from a jaded, disinterested former champ with one foot out the door. And he was matched last Saturday against the absolute worst type of opponent-- a big, awkward, long-swinging, heavy-handed battler. It was beyond-shitty matchmaking.

Kellerman Double-Speak

Paul this is exactly what I said to my family watching the fights last Saturday night.

"Since when does HBO's Max Kellerman do public relations for Sadam Ali? His post-fight spin had Ali cast as a victim forced into fighting an unwinnable bout against an oversized killer. Just from listening to Kellerman's take, you'd think the fix was in to have Ali killed off as a champion and that Munguia wasn't actually brought in by Ali's own promoter. Plus, I'm confused-- wasn't Kellerman telling us just last week, when trying to justify Golovkin-Martirosyan, that size didn't really matter?"

And this is what my twitter told him!

"You biased FK, why didn't' you mentioned GGG vs. an under-sized opponent that has never been a top level guy and had 2 years of ring rust?"

Love your column!

Thanks.

-- Martin

Hi Martin. Yeah, Kellerman was especially awful this past week, especially coming off the Golovkin-Martirosyan fight the week before, where he bent over backwards to justify the kind of size mismatch he railed against in the Ali-Munguia fight.

As someone who lives in Mexico 90% of the time, I'm usually spared the overreaching and increasingly informecial-like salesmanship of HBO's broadcast crew. These past few weeks, though, as I've been in the US taking care of some personal business, I've been seeing this mess of a team live. It's awful and Kellerman, who used to be a likeable sort (to me, at least), seems to be just going through the motions, selling whatever talking points the network is pushing-- and really, really stretching to do so.

HBO, in general, is just not trying very hard these days.

Got a question (or hate mail) for Magno's Bulging Mail Sack? The best of the best gets included in the weekly mailbag segment right here at FightHype. Send your stuff here: paulmagno@theboxingtribune.com.