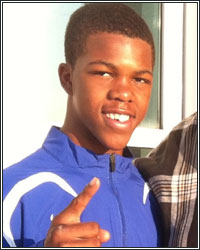 "It's just me having to show up and show out. If anything, I look at them as being on my card. They on my card (laughing). When it's all said and done, I'm going to perform correct. I want to have a flawless victory," stated fast-rising super lightweight Gary Antuanne Russell, who talked about his upcoming May 19 return on the undercard of Gary Russell Jr. vs. Joseph Diaz Jr. Check it out!

PC: You recently competed on the Broner-Vargas undercard and scored your fifth win and fifth knockout. How do you feel about the performance?

GAR: I seek perfection, so it's really difficult for me to grade myself the way the outside looking in would grade me or anyone else would grade me. I'm my worst critic. I give myself easily like a C- for my last performance. But a lot of people think I looked very well. I put the guy down and they said it was low, but if you look at the tape, you will see that it was a body shot. I got the job done; I stopped him and got him out of there. I finished up.

PC: He was in your face at the weigh-ins. He came in with a certain level of confidence and you handled it all well.

GAR: He gave me a tampon too. That was an insult. That's one of the old trickery mind games. It's a psychological thing. It didn't get me out of character. I kept my composure. We did that years ago. My oldest brother, Gary Jones, he done that to an opponent. It was a classic tactic that my father told him to do to a professional fighter; "Chop Chop" actually, DeMarcus Corley. I haven't seen it all, but I have seen a lot to the point where I could say that there is nothing new under the sun.

PC: Was there anything about Andrew Rodgers that surprised you? Was he more aggressive than you anticipated?

GAR: The fight played out just like I thought it would. He was the shorter guy; he was going to try and be the aggressor until he felt my punching ability. And once that happened, the fight pace slowed down. I was controlling everything and I wound up having to stalk him down.

PC: A lot of times, when you get those wired up, high-energy guys, you have to slow them down with some well-placed body shots. You were able to do just that. How important was it to invest to the body?

GAR: Oh, definitely! If you're not taming him and controlling him with the jab, you definitely have to tame him and control him with body shots. You poke a couple of holes in the gas tank and after a while, the car is going to start saying "fuel low."

PC: You have been on the biggest stage of them all competing in the Olympics, but the Barclays is slowly starting to become a boxing hot bed. How did it feel to be a part of that card?

GAR: It's like the question that you asked me earlier; it's nothing new under the sun at this point. Barclays is just a place with a label. A lot of stars come there now. A lot of the ones are starting to get their buzz there. They are going there and setting precedence of good talent and that's nothing new to me. I've been fighting on cards with a lot of great fighters such as Mr. Gary Russell Jr., a world champion. I done fought on a card with Deontay Wilder, the Charlos before, the Dirrells. I have fought on some cards with great talent and they have displayed it several times, so as far as me being on a card with almost iconic fighters, doesn't give me the jitters or the butterflies or nothing to that nature. It's just me having to show up and show out. If anything, I look at them as being on my card. They on my card (laughing). When it's all said and done, I'm going to perform correct. I want to have a flawless victory.

PC: That being said, you said you're your own worst critic, so do you think you will ever get that flawless victory or is it something you will always be chasing?

GAR: No, I definitely will have that performance one day.

PC: You are five fights into your career and you have an undefeated guy on your record, and in your second pro fight, you fought a guy with 35 fights. Is that a testament to your approach to the game?

GAR: I look at it as the momentum and our development as a unit. I do believe in flawless victories. Do I believe that it will come soon? Yes! We work towards perfection so much that it becomes something that is innate. We won't accept less. That's why I say I'm my own worst critic, but it's not just me; me, my father, and older brothers are all my worst critics.

PC: You have the opportunity to see how a world champion works and he's also your brother. I'm sure that serves as a major motivational tool for you.

GAR: It fuels me a lot. It makes me become numb to the fact that there is someone other than my brother that is great that I have to compete against as far as my performance that I'm displaying.

PC: You always talk about moving forward. Does every win at the pro level help you to deal with the way you were done in the Olympics or is that a feeling you want to keep and use as fuel?

GAR: First of all, the Olympics is an achievement that you can't forget about. As an amateur, that's the highest peak. That's the last stage of an amateur career before you make the transition to being a professional. I believe the whole purpose of your amateur career is to perfect your craft to the best of your ability so that you can go to the qualifiers and so you can go to the Olympic Games. Me having the catastrophe that went down in 2016 in Rio, the robbery thing, that is a chip on my shoulder that I won't forget about. I won't forget about that. I will never forget about that. And now, making the transition into the professional aspect of my career, every time I perform professionally, I judge myself on the Rio situation. I should have did this, I could have done that. In Rio, if I wouldn't have done this, I probably would've won. I know for a fact I would have had that Gold Medal. I'm still making those little subtle mistakes. Even though they are subtle, it's still a mistake. I question a lot of things. I don't question my skills, I question the things that are supposed to be questioned. If something is wrong, then there is a question that needs to be answered. We gotta solve that problem. When you go to the hospital to see a doctor, they ask you what's wrong before they start operating on you. That's how I carry it as far as my training.

PC: It's always a pleasure speaking to the Russells. Congrats again and best of luck on the 19th. Is there anything else you want to add before I let you go?

GAR: Percy, man, I just want you to know that I envy you as a person. I'm pretty sure you done pulled a lot of strings and did a lot of footwork to get to the position that you are in right now as of today and now you're still putting in that footwork. You're still brainstorming and staying tunnel visioned and that means a lot I'm sure to you, but not only to you, but to me. Individuals tend to lack certain substances and one of those substances is the drive and passion towards what they are doing. People don't have that and you are one of the ones that have that and I'm glad to even conversate with you.

PC: I really appreciate that, my man. It means more than you know and you know anytime the Russells have anything to say, I'm a phone call away.

GAR: Likewise, my king; I appreciate it.
[ Follow Percy Crawford on Twitter @MrFighthype ]