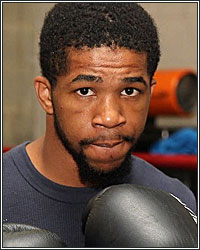 "The same statement I look to make in all of my fights. I'm on the come-up and I gotta keep my vision tunnel because there is somewhere that I want to be in the next 2 or 3 years. Anybody standing in my way gotta move," stated fast-rising bantamweight Gary Antonio Russell, who talked about his upcoming May 19 return on the undercard of Gary Russell Jr. vs. Joseph Diaz Jr. Check it out!

PC: Saturday night is a Russell family reunion inside of the MGM National Harbor. Your pops told me you had the flu awhile back. How are you feeling now?

GAR: Yeah, I had the flu real bad for about 3 weeks. I had to bounce back from that, but I'm good.

PC: How has preparation been?

GAR: Grinding. Like you said, Saturday night, all of the brothers are fighting. We ready. I had plenty of time to recover from getting sick and I'm ready to go. Training camp has been good. We been grinding. We never really take time off from the sport. We are always grinding 24/7.

PC: Having two brothers in there grinding with you and constantly pushing each other, do you have to sometimes take a step back?

GAR: I don't ever have to take a step back. That's where we draw our energy from. We draw our energy from one another. To be honest, I feel like we have better training camps when we are all together anyway. It makes it easier on us, but I know it's probably a little harder on the pops. He has to juggle giving all three of us individual, undivided attention when he can. That's a lot of strain. We all have different opponents who all probably have different styles, so we all have to go in there with a different game plan besides getting the W.

PC: You haven't fought since November. Has living in the gym been enough to keep you sharp?

GAR: Yes! I've been getting a lot of rounds in sparring. Like I said, we always trying to stay ready. We train year-round non-stop. It's never about us having to get completely in shape; it's about us just having to sharpen our tools.

PC: What's the vibe like in the Russell household with three guys training to make weight and mentally get ready for fights at the same time?

GAR: It makes it easier. We vibe off of one another. And we train good, so we still eat what we want. We eat a lot better during training camp for the most part. We cut back on the pizza and the junk, but for the most part, if it's not broke, don't fix it. The way we train and lose weight works and that makes it a lot easier. We're not starving or dehydrated; we're good.

PC: So it's not three irritable guys around each other who at some point can't stand the sight of one another?

GAR: Not at all.

PC: You are the smaller one of the three, but you're the one known as the puncher.

GAR: I feel like we all bring somewhat of the same thing to the table. We all possess hand speed, we all possess punching power, but I guess because I'm lighter, people say I'm a little bit more explosive. So by me being smaller, I get the same power as my other brother, but I do believe we possess the same tools. However, our personality and swag, both in the ring and out, is what gives us our own little personality. I'm more introverted than my brothers.

PC: If you look at the boxing scene in the DMV area, the Russell Brother's, Jarrett Hurd, Gervonta Davis, a lot of great talent there. The fight scene is looking up out there.

GAR: Yeah, most definitely. A lot of these guys are people that came out of the same stable. We watched them grow and develop into the fighters that they are today. So to see everybody doing good from the DMV area, you can't do nothing but be happy for them. I want all of them to make it and be successful.

PC: Gary Jr. has made it clear that he doesn't watch a ton of boxing. Are you the same way or do you watch a lot of the fights?

GAR: Honestly, none of us really watch fights. None of us really watch boxing. We're around it all day every day. When we get in the house, we want to be around our families and we just wanna chill. We want to take our minds off of boxing. However, we definitely find ourselves coming to the house on Fridays or Saturdays because we know my pops is always studying the sweet science. He'll watch fights all the time by himself because he knows how we feel about watching them. If it's a big name fight, we'll watch it, but he watches everything. During training camp, as much as we don't like to, we'll make it our business to come over and watch these fights with him on a Friday or Saturday, no matter if it's a low-caliber or high-caliber fight. We bring work home enough as is. We will call Allen to come work the mitts with us or let's shadowbox. So in certain instances, we do bring work home. I think that's just us being passionate about what we do.

PC: What type of statement are you looking to make on Saturday night?

GAR: The same statement I look to make in all of my fights. I'm on the come-up and I gotta keep my vision tunnel because there is somewhere that I want to be in the next 2 or 3 years. Anybody standing in my way gotta move.
[ Follow Percy Crawford on Twitter @MrFighthype ]