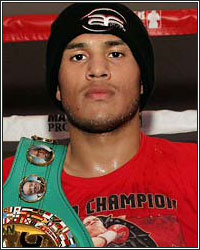 According to multiple sources, it looks like WBC super middleweight champion David Benavidez may have received an offer that he could not refuse. Evidently, Benavidez is on the verge of finalizing a multi-fight promotional deal with Top Rank. Although Benavidez is currently signed to an advisory contract with Al Haymon, it's unclear if he truly is a promotional free agent. It was our understanding that he just renewed a promotional agreement with promoter Sampson Lewkowicz last November. Our sources, however, have confirmed that Benavidez did indeed meet with representatives of Top Rank and received an offer some time during the last 48 hours.

Just last week, Benavidez took to social media to announce that he would be defending his title on the undercard of the rumored July 28 lightweight unification between champions Mikey Garcia and Robert Easter. We're told that Benavidez may have had a change of heart after a clandestine meeting at the Top Rank offices in Las Vegas, Nevada. According to one source, if Benavidez does indeed join the Top Rank stable, his next fight would instead take place on the undercard of the rumored August 25 lightweight unification between champions Vasiliy Lomachenko and Ray Beltran.

Coincidentally, earlier today, the World Boxing Council ordered immediate negotiations to begin between Benavidez and top contender Anthony Dirrell, who is also advised by Al Haymon. If they are unable to reach an agreement by June 22, the sanctioning body will hold a purse bid for the fight. It should be interesting to see how this all plays out over the coming days and weeks. It should be noted that Benavidez's brother, Jose Benavidez Jr., is already signed with Top Rank. Be sure to check back soon as more details unfold!
[ Follow Ben Thompson on Twitter @fighthype ]