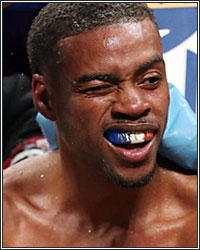 Let's be honest here and admit that, in the case of an Errol Spence Jr.-Terence Crawford fight, there's no real reason to "marinate."

Both fighters are at the peak of their popularity and, given the current business climate of the US boxing scene, neither is really going to get all that much bigger. Spence-Crawford is the best fight at welterweight and it's the fight fans want to see.

Will new WBO champ Crawford be any bigger of a draw after defenses against Jose Benavidez and likely soon-to-be-mandatory Egidijus Kavaliauskas from Lithuania? A fight with Manny Pacquiao WOULD be a status-builder, but the WBO's current no. 2 ranked welterweight has chosen to busy himself with a shot at Lucas Matthysse's paper WBA title (and, honestly, it would probably take a handful of tranquilizer darts and a giant butterfly net to ever get Manny in the ring with Crawford).

As for IBF champ, Spence, a Keith Thurman unification bout (is Thurman still a champ?) would be a solid reason for putting off a Crawford clash and one which would also be a legacy fight for the 28-year-old. But, what are the chances of getting Thurman healthy, onboard, signed up, and to the arena to actually fight that fight? Thurman was talking earlier this year of a nice, long marinade for a Spence fight—and then he got injured again. Thurman-Spence is not worth the wait to 2020 at the expense of possibly losing out on a prime vs. prime Spence-Crawford. Let Thurman heal up, get the rust off, and then go after the winner. Aside from Thurman, there's no other opponent who will do much for Spence's salability.

Business-wise, Spence-Crawford is going to be a rough one and one where some serious concessions and compromises will have to be made.

Spence is aligned with Premier Boxing Champions (PBC) and Showtime while Crawford is signed with Bob Arum's Top Rank promotions and tied to Top Rank's deal with ESPN. Arum's and ESPN's willingness to ship Crawford off to the new ESPN+ streaming service doesn't at all mean they will be willing to send him off to Showtime. And while one could definitely see the benefits of the PBC/Showtime folks getting some more exposure for Spence on primetime, main stage ESPN (assuming ESPN wouldn't want to also put this one on their app or on an ESPN PPV broadcast), it's doubtful that they'd want to roll the dice on an all-or-nothing showdown which they won't even have the benefit of broadcasting.

But, hell, if Mayweather-Pacquiao could be made, with its own seemingly insurmountable business challenges and extreme personal bad blood, then nothing in boxing is impossible. Maybe the compromise would be in the form of a co-produced PPV event with rebroadcast rights granted to both Showtime and ESPN. Maybe some other sort of deal can be reached. Whatever the case, this is an important enough fight for there to be some serious dialogue and, hopefully, the two sides are at least willing to try and work something out.

Realistically, it has to be recognized that neither Spence nor Crawford have a chance at becoming a next-level star with crossover possibilities without beating the other. The idea that both fighters will be built into superstars and THEN matched against one another is pure fantasy. Both will be compelling fighters recognized as elite-level competitors no matter what, but it's going to take something truly special to get beyond the point where they are now, performing for those hardcore fans who already know how great they are.

Spence and Crawford are not going to be crossover stars, making real waves in the sporting world, on their own. They can only move to this next level AFTER fighting eachother. So, the decision has to be made whether they are ok with a piece of the niche as a welterweight champ or if they (and their people) are willing to go for really big things by becoming THE welterweight champ.

If this bout gets mainstream exposure, there's no way it doesn't succeed in drawing attention to the fight and the fighters. Given the styles and temperaments involved, it's a guaranteed thriller of a war. Even the most casual of observers will be thoroughly entertained when two aggressive, skilled, and elite-level fighters go at it in their primes. This most definitely won't be a Mayweather-Pacquiao letdown.

Boxing has a chance to break the cycle of stringing along fans needlessly. It has a chance to put on a real show and have next-level stardom earned like in the old days, through extreme battle in a true pick 'em contest. Let's make Errol Spence vs. Terence Crawford now.