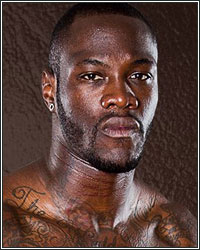 It's Thursday and, therefore, time for my sack to be released on an unsuspecting boxing world. This week we have welterweight buzz, Tyson Fury talk, and speculations on Wilder-Joshua. So, stand back and have a hand towel ready because here comes the wisdom:

Wilder Calls Joshua's Bluff

Hi Magno.

Deontay Wilder is calling Anthony Joshua's bluff and accepting his terms for a fight and a rematch. Wilder also got his original offer to Joshua on the table. There's no way now that anybody can say Wilder don't want this fight and if he Joshua doesn't sign up, then we know who's ducking who.

-- ST

Hi ST. First, I don't think either fighter is afraid or "ducking." The reality of the situation is that Joshua has many more big-fight options than Wilder and his team is playing that hand. But given Wilder's vulnerability—yeah, he's sloppy and could get beat by anyone he fights—it's smart business to make that Wilder fight now and pick up that massive payday while it's still around. Povetkin isn't going anywhere and Fury is still far from being ready. I don't understand the delay in Joshua's side coming around to this logic. I suspect that it has a lot to do with dick-swinging ego games. The Brits seems to have a bit of an inferiority complex and now that the boxing scene there is jumping, they don't want to give the appearance that they need to come to the US to prove themselves anymore. Joshua didn't want to seem to embrace Wilder's calls too quickly. But, ok, Wilder is coming to HIM now. Hopefully, everything lines up right and we get this fight this year.

Crawford vs. Spence

Hello Paul.

Terence Crawford was amazing on Saturday against Jeff Horn. I know he wasn't in against an elite welterweight, but to do what he did and how he did it was just awesome. In my mind, welterweight is now a two-man show. Spence vs. Crawford. I was thinking Spence would be too strong and big for Crawford, but after seeing how good Crawford looked at the new weight, I don't know. I may be leaning towards Terence now. Who do you see winning and how? Also, can this fight even be made, seeing as how both fighters are from rival promoters and networks? Thanks for years of being boxing's voice of reason.

-- Simon Oliver

As I wrote Wednesday about the logistics of making this fight:

"Business-wise, Spence-Crawford is going to be a rough one and one where some serious concessions and compromises will have to be made.

Spence is aligned with Premier Boxing Champions (PBC) and Showtime while Crawford is signed with Bob Arum's Top Rank promotions and tied to Top Rank's deal with ESPN. Arum's and ESPN's willingness to ship Crawford off to the new ESPN+ streaming service doesn't at all mean they will be willing to send him off to Showtime. And while one could definitely see the benefits of the PBC/Showtime folks getting some more exposure for Spence on primetime, main stage ESPN (assuming ESPN wouldn't want to also put this one on their app or on an ESPN PPV broadcast), it's doubtful that they'd want to roll the dice on an all-or-nothing showdown which they won't even have the benefit of broadcasting."

As for the fight, itself? Well, Spence has the size and strength advantage and welterweight IS his natural division. But I rate skill and adaptability very highly and Crawford excels in those areas. I see Crawford being shaken up a time or two, but I think he takes a unanimous decision, maybe 115-113 or 116-112.

Welterweight Top 10

Hey Magno. Welterweight is jumping now. Crawford, Spence, Thurman, etc. Give me your welterweight top 10.

-- TJ

Hey TJ. Okay….Here's my top 10 based on level of opposition and overall skill/ability:

1. Errol Spence Jr.

2. Keith Thurman (soon to be ditched because of inactivity)

3. Terence Crawford

4. Manny Pacquiao

5. Shawn Porter

6. Danny Garcia

And then things get dicey.

7. Jessie Vargas

8. Adrien Broner

9. Yordenis Ugas

10. Jeff Horn/Lucas Matthysse/Omar Figueroa jr.

Tyson Fury: King or Jester?

Magno.

Can Tyson Fury make it back to the top? He is in a lot of ways the Muhammad Ali of our time and his presence in boxing is only going to be a plus-plus for everyone.

-- The Killer

"Killer."

I'll pretend that you never mentioned Muhammad Ali and Tyson Fury in the same breath. I think Fury being around is a positive for the sport, just because he's so good at making headlines, making waves, and bringing in attention. But I'm never going to understand the current talk among some fans that he's some masterful boxer with a movement-based style. Frankly, he's flat-out clumsy, but can get away with a lot because he's so tall and has such a reach edge. Against Wladimir Klitschko, he hardly put on a clinic. He was, again, clumsy and sloppy. He just happened to present the right physical presence and style to beat Klitschko that night. Klitschko was always risk-averse and following a back-tracking Fury with long arms that could strike him as he came in, was never going to be in the cards. Wlad went out with a whimper not because of Fury, necessarily, but because of his own inner weaknesses. Still, Fury deserves recognition for his win(s) and will get that recognition in the form of a monstrous payday when he falls to Anthony Joshua at some point. As a fighter, I just don't think much of him. As a human being, I'll keep rooting for him when it comes to his addiction and mental health issues.

Got a question (or hate mail) for Magno's Bulging Mail Sack? The best of the best gets included in the weekly mailbag segment right here at FightHype. Send your stuff here: paulmagno@theboxingtribune.com.