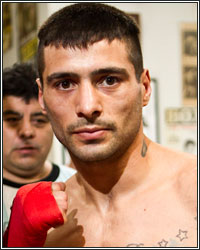 Welcome to another Thursday gathered around my bulging sack. This week we have questions about Pacquiao-Matthysse, underrated and overrated fighters, and more. So, without further ado, let's cut loose with the good stuff.

Pacquiao vs. Matthysse

Hey Paul.

With Pacquiao vs. Matthysse coming up, I just had to get your take on this one. Pacquiao's had a long ride, but I think this is going to be the end of the line for him. Matthysse is nothing special at welterweight, but he's got a big punch and decent hand speed. Pacquiao has slowed up and I think he gets bombed out by something at some point in the fight. Maybe he'll be leading ten rounds to one when he gets hit, but he'll get hit and he'll go down hard. Then, finally off to retirement. At least, that's how I see it. What do you think? Does the Pacman have one big win left in him?

-- Greg S.

Hey Greg.

Sage boxing "experts" in the media are now on the "Pacquiao needs to retire now" kick. "He's a shell of his former self," they lament. But, you know what? Manny Pacquiao is still, even at 39 years of age, undeniably a top 10 welterweight as he enters the ring this weekend in Kuala Lumpur. A good case could be made that, maybe, he's even a top five or six welter, behind only Spence, Crawford, Thurman, Porter, and Garcia. And, honestly, I'd give him a fair shot at beating Garcia and on an "absolute best night of his 39-year-old life," a chance at besting Thurman as well.

So, no, I don't share the doom and gloom that a bloated, middle-aged boxing media is groupthinking. There should be more concern for the state of Manny's bank account these days, but that's definitely a topic for another rant.

I don't think Matthysse, at any point of his career, could beat Pacquiao at any point of his career. The Argentine slugger has heavy hands and a will to fight, but that's it. But even that fighting will tends to dissipate against opposition that shows the least bit of stylistic difficulty.

Pacquiao, on the other hand, is nothing but awkwardness wrapped in unorthodoxy. Asking a limited fighter like Matthysse to find a solution to the Pacquiao riddle would be like expecting a one-armed blind man to solve a Rubik's cube.

Pacquiao could always run into something big—because Matthysse does have legitimately heavy hands—but it's more likely that Matthysse gets puzzled into passivity, like against Viktor Postol, and is unable to put together any sort of offensive push. I see Pacquiao cruising to a comfortable unanimous decision win.

Self-Trained O'Connor?

Magno.

I hear Danny O'Connor was training himself for his fight with Jose Ramirez. What kind of amateur shit is that? And what's up with the Bobfather for going so low down the totem pole that he's picking guys without trainers to challenge his champion? I mean, shit, this was supposed to be a world title fight! I'm happy Arum lost out on this fight. Self-trained fighter couldn't keep track of his own weight and winds up in the hospital for dehydration. You can't make this shit up man.

-- Latroy P.

Hey Latroy.

Yeah, Danny O'Connor was pretty much training himself for this fight because of a mix-up with his usual trainer, A.J. Thomas. Clearly, he didn't keep his weight in check and ended up in the hospital with severe dehydration while trying to make 140 on fight week.

This whole Jose Ramirez-Danny O'Connor fight was a bunch of bullshit. O'Connor did not deserve a title shot or the #15 ranking the WBC gifted to him in order to make it a title fight. It would've been an ugly and pointless mismatch if it had gone through.

In the end, though, everything worked out because Ramirez is moving on from the O'Connor debacle to a legitimately good fight against Antonio Orozco on September 14. Well, things actually didn't work out too well for O'Connor, who lost a payday, a title shot, and got hospitalized BEFORE the fight, rather than after he took his beating.

Joey Spencer

Hey Paul - What are your thoughts on this 17 yr old kid Joey Spencer, as far as what his potential is? Although he's only fought no names in his first 3 fights, he's still looked pretty good. I also like that he's got 1 of the best trainers out there in Virgil Hunter.

But at the same time, I'm curious as to why he's not starting his young career 140 or 147, allowing growth down the road for 154? He's only 5 ft 9 and 17 yrs old, so a lighter weight seems more practical at this early stage in his career.

-- Daniel Luza

Hey Daniel.

Spencer's actually 18 (not like that matters all that much). Also, his dad is his trainer, but he does base himself out of Virgil Hunter's Bay area gym, so he has regular access to Hunter and, in the past, to Andre Ward, Amir Khan, and Andre Berto, among others. Needless to say, that's a good atmosphere to be in for a young, knowledge-hungry kid.

It's hard to tell all that much about Spencer at this stage of his career, but you can clearly see that he has fast and legitimately heavy hands. I like his attention to body work, also.

In terms of marketability, his potential is huge. A good-looking white kid who can punch is like a printing press for money. If he's even within sniffing distance of world class, he'll be a star.

As for his weight—I think, because of his lack of height and general compact frame, he may be in a tough spot. He's already admitted to having too much trouble making 147 to consider a run at welterweight. But he can't fill out too much because he may have a tough time being successful at 168 due to his size and lack of reach. It's a lot like the situation Canelo Alvarez found himself in—too big for 147 and then too big for 154, but too small for 168 and not quite a true 160-pounder, either. So, there's almost no room for growth.

It's probably a smart move to start him at the 154-160 lb. range and have him learn to fight like a fighter of his size rather than to tear through the lighter weights as someone playing the "weight game." I'd like to see him use his relative short stature to his benefit, maybe throw in a few tricks from the Mike Tyson playbook. If he can consistently get inside against his opponents, he'll have great success.

Overrated/Underrated

Magno.

I'm sure you have been asked this before, but who would you say is boxing's most overrated fighter and who is boxing's most underrated fighter? And please explain.

-- Diego Ortiz Labastida

Hi Diego.

It probably won't surprise anyone to see that I'm ranking Gennady Golovkin among the most overrated fighters. There's no denying that "Triple G" is a tremendous offensive fighter and a very entertaining ring presence. What makes him overrated, to me, is his high placement on pound-for-pound lists and even on all-time great middleweight lists. The high-water marks of his comparatively flimsy resume are a draw with Canelo Alvarez and a close win (that could've and maybe should've been a draw) over Daniel Jacobs. Treading water against Alvarez and Jacobs—who are good, solid fighters but not super elites—is not something that should be getting you all these accolades. Golovkin has led a charmed, stress-free life in the ring, matched almost exclusively against fighters pretty much tailor made to make him look good and on the two occasions he was actually matched tough, he looked good, but certainly not great. It's messed up to say this about a fighter after he's had 20 world title fights, but the book's still out on Golovkin and how good he really is.

As for underrated, I'd like to piss people off and say that, maybe, Canelo Alvarez has become vastly underrated after so many people have spent the last two years or so taking huge dumps on the guy, his career, and his abilities. But I wouldn't say that he's the most underrated because he deserves some of the lumps he's taking.

I think Badou Jack gets shockingly little recognition for his deep resume and ever-improving skill set. The guy has spent the last three years fighting nothing but highly-ranked, high-end fighters (Anthony Dirrell, George Groves, Lucian Bute, James DeGale, Nathan Cleverly, and Adonis Stevenson) and amassed a 4-0-2 record doing so.

Leo Santa Cruz is another underrated star who should be getting much more love from media and fans.

Got a question (or hate mail) for Magno's Bulging Mail Sack? The best of the best gets included in the weekly mailbag segment right here at FightHype. Send your stuff here: paulmagno@theboxingtribune.com.