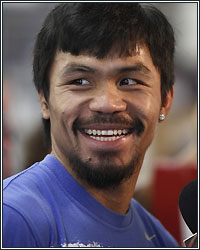 If there ever was a chance that Manny Pacquiao and longtime former promoter Bob Arum could re-start an amicable business relationship, that possibility has been blown out of the water by recent developments.

In a recent post on his personal Instagram account, the Filipino icon shared the following statement with his 4.3 million followers:

"Congratulations and good luck to @TRboxing and @ESPN on your 7-year partnership agreement. I know both of you have been very busy finalizing the deal. However, I have not received the US rights payment for my July 15 fight against Lucas Matthysse that was broadcast on ESPN plus. Therefore, I am initiating legal proceedings against Top Rank and all other parties based on the non-payment and attempt to restrict my future rights. Thank you."

The lawsuit, however, seems to go deeper than simply a failure to send payment.

According to a piece written for philboxing.com by Pacquiao publicist Aquiles Z. Zonio, Manny's threat of legal action comes, allegedly, after Arum and his promotional company Top Rank willfully violated terms of Pacquiao's deal with them to broadcast his bout with Matthysse on the ESPN+ streaming service.

Zonio writes that the agreed upon contract, signed on March 27 of this year, is clear that ESPN "did not have the right to broadcast the Pacquiao-Matthysse bout inside the United States, Canada or Puerto Rico."

Top Rank went ahead, however, and followed through on a deal with their ESPN partners, broadcasting the bout and some of the undercard in the US, Canada, and Puerto Rico, anyway.

The promotional company reportedly stated that the deal had been amended to include North American rights shortly before the date of the event, but Team Pacquiao refutes that claim and says that Pacquiao never signed such changes.

Zonio asserts that Top Rank then tried to retroactively cover their bases by flying out to General Santos City a month after the bout to convince Pacquiao to sign the amended contract, which also gave Top Rank and ESPN "first/last rights for another fight" after that July bout.

Pacquiao's refusal to sign subsequently led to Top Rank's next assertion that the original contract was actually void because it was intended to apply to PPV broadcast rights only. Pacquiao's lawyer, according to Zonio, returned fire by stating that if the contract was void, then Top Rank and ESPN didn't have the rights to broadcast the bout anywhere.

On a side note, it has been widely reported that Pacquiao recently took a meeting with UK promoter Eddie Hearn, who has been gathering talent for his recent 8-year, $1 billion US-based deal with streaming service DAZN.

The former multi-division world champ and current WBA welterweight titlist fits the bill as someone Hearn would be interested in adding to his stable. Pacquiao, although past his prime and significantly less bankable than before, may still, arguably, be a top 5 PPV draw in the US. Acquiring Pacquiao's services would be a positive for any upstart broadcast company, but specifically for Hearn, who is pushing a new service in the States and desperately needs a marketable name.

Could Team Pacquiao's pressing of the legal issue with Top Rank be their way of officially severing all ties with their former promoter? Could this be a way to ease into a DAZN deal and, perhaps, a bout with Hearn-promoted Amir Khan—a contest that would not only deliver big money from the UK market, but also around the world and, more importantly, help bring in new customers to DAZN?

All of this is speculation, of course. And Team Pacquiao's claims of misconduct against Top Rank will have to be settled by mutual agreement or by court decision. But the timing is perfect if Pacquiao's intent was to publicly press one issue before clearing the way to grab at a new deal.