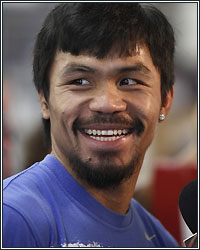 According to sources, Manny Pacquiao has signed with powerful manager/adviser Al Haymon. "Yes, he's with Al," a source with knowledge of the information recently confirmed to FightHype.com.

Details of the deal have yet to be made public, but rumors have the multi-division world champ signing to a two-fight deal that would possibly see him returning to the US to face Adrien Broner in early 2019 and then Floyd Mayweather in a megabucks rematch of their 2015 encounter which was the most lucrative prizefight of all time.

The Pacquiao-Haymon alliance would reportedly also provide Pacquiao with US exposure for fighters signed to his MP Promotions promotional firm.

The Filipino icon had recently severed business ties with longtime promoter Bob Arum and reenergized his career with a dominant seventh-round stoppage of Lucas Matthysse in Kuala Lumpur to claim the WBA welterweight title.

Broner, who has been tied to rumored bouts with Pacquiao in the past, is not confirmed to be Manny's first opponent under the Haymon deal, but all indicators point to him being the first choice of foe. Despite recent losses in big fight showdowns, Broner's name is still marketable and he's guaranteed to generate plenty of headlines as a very solid "B-Side."

The rematch with Mayweather, meanwhile, was probably be the motor that drove this entire deal.

Last time out, Mayweather-Pacquiao drew upwards of $600 million and set records for both pay-per-view buys and live gate revenue. The rematch, although being widely panned by media and some "purist" fans, is guaranteed to be yet another monster event and even if it generates half the revenue of the first fight, it'll still be the biggest money fight, by far, to be made in all of boxing.

The question posed by some insiders and fans, however, is regarding broadcast rights, at least for Pacquiao's first bout under the new deal. Would Pacquiao-Broner land on PPV or would it be pushed to Fox, which recently re-upped its relationship with Haymon Boxing, as a primetime, free network TV showcase to build up the winner for an eventual Mayweather PPV clash?

Some say that this Pacquiao move towards independence and full career self-determination has come years after it should've happened. An independent Pacquiao could've reaped much bigger rewards over the last several years and he would've put himself in line for many more big-money. legacy-defining bouts in this final chapter of his career.

At 39 years of age with a long professional history behind him, the future first ballot Hall of Famer doesn't have a whole lot of time left in his career, but there's a lot left for him to do if he chooses to keep fighting.

Still a legitimate top 10 welterweight (and maybe even a top 5 welter), Pacquiao's abilities are mostly intact and he's a real threat to any of the players at 147. Broner and Mayweather are good business deals for Manny and, depending on how well he accounts for himself in those bouts, there will be a path for other big fights at the Haymon-controlled deep end of the welterweight talent pool.