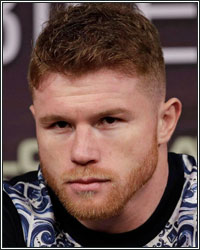 Thursdays are all about my sack—my big, bloated, distended sack—and the salty wisdom contained within. This week, we have comments and questions about Canelo, Showtime, Billy Joe Saunders, Regis Prograis, and Golovkin-Charlo.

Canelo, GBP, and Showtime

Paul,

Is it a no brainer or a bitter pill to swallow for GBP to move Canelo and the rest of their stable to Showtime? Canelo is the biggest PPV star in boxing and the only network that has a working PPV model is Showtime. Not to mention the potential match ups that await GBP on the Showtime network. Showtime offers Canelo the opportunity to have lucrative PPV fights against the numerous fighters in Haymon's stable that are at 160 and 154. Not to mention Jaime Mungia and his rise, the rest of the belt holders at 154 fight on Showtime.

Also, Miguel Berchelt, Rey Vargas, and Albert Machado, they can unify their belts with guys who hold belts and currently fight on Showtime. Soon we'll figure out if Oscar is willing to move forward and do what makes financial sense for his company and his fighters. A move to anywhere but Showtime is bad for GBP. More fighters would be attracted to signing deals with GBP on Showtime. GBP's rosters isn't bad, but it could be better. I do believe that his roster lacks talent, simply because HBO didn't offer many opportunities for world championship bouts. I would love to see GBP on Showtime. If it does happen I expect the next 3 years of boxing to be very exciting.

-- Nail Rahman

Nail,

Moving Canelo and the rest of the GBP fighters to Showtime makes the most sense, just in terms of logistics. I'm sure Showtime would work to accommodate Canelo and at least a handful of Oscar's fighters. As you mentioned, there's the familiar and, for Canelo, safe PPV model that Showtime still employs, plus, all the potential marquee matchups available if GBP can work side by side with the PBC folks. Oscar's already gone on record that he's not going to farm Canelo out and make co-promoter deals in exchange for TV deals, so Showtime would again make the most sense as their work through PBC is not tied to any one promoter. For Canelo's upcoming Rocky Fielding fight, DAZN may have the inside track because Fielding is an Eddie Hearn fighter, but if that fight does get picked up by the upstart streaming service, it may be just a "one and done" proposition.

Personally, I'd love to see Alvarez and Munguia tossed into a 154-160 lb. talent pool that already has Jermall Charlo, Jermell Charlo, Jarrett Hurd, and Erislandy Lara (among others).

Charlo vs. Golovkin vs. Canelo

Hi Paul,

First, good article on the current middleweight division status.

With HBO out of the boxing picture I think Canelo can't go wrong with either Showtime and DAZN, I do not think going to ESPN benefits him as far as match ups in the 160 lbs. division. DAZN has the winners of BJS vs Andrade (hopefully this fight is still a go) and Jacobs vs Derevyanchecko. Showtime has both Charlos and Spence (I think he is truly a middleweight).

I see that the WBC ordered Charlo vs GGG and the winner gets Canelo, me I personally love this. I think Charlo should win this pretty decisively. Although GBP won't want to match Canelo with Charlo I think this fight happens because of Canelo, after the December matchup. I am surprised to hear people say that Canelo is scared of Charlo and all the other middleweights. GBP may be trying to duck the likes of Charlo, Andrade, Jacobs, BJS but I think Canelo will fight anybody. In my opinion Canelo is not an ATG at this point like some people like to say, he is barely elite. However, I think that Charlo's style is perfect for him. As a matter of fact, when they fight next year, Canelo will stop Charlo, you heard it first from me.

-- Aldo Sandoval

Hi Aldo.

I like Charlo vs. Golovkin and Canelo. I especially like Golovkin-Charlo, though, because it's going to pose some serious questions for both fighters and force both to step beyond their comfort zones.

As for Canelo…He may be a lot of things, but he's not someone running scared from any challenges. He's a guy who was fighting full-grown adults as a 15-year-old kid and someone running his own domestic promotional company at 17. He also ignored his team's advice in answering challenges against tricky stylists Erislandy Lara and Austin Trout while pursuing bouts with much-avoided at the time Paul Williams and near-prime James Kirkland. I agree that he's not an ATG and that his skills are not fluid and natural like one would expect from a true elite. But the guy has as strong a will as anyone in the sport and is a tremendously hard worker.

If I were a betting man, I'd bet on Alvarez answering most every challenge before the end of his career and probably doing so as part of the Showtime team.

Billy Joe Slanders

Hey Paul.

What's your take on the whole Billy Joe Saunders debacle? The guy is clearly a very talented fighter, but he's got mental issues. Do you see him ever being able to get it all together for an extended period of time? Maybe he needs to move away from home and remove himself from everything that could be a bad influence. I don't know. What do you think?

-- S.L. Jackson

Hey S.L.

I was never high on Saunders. He has some decent skills that were magnified greatly against a limited, under-trained, over-indulged David Lemieux, but he was never this insane mega-boxer. Saunders just is what he is—a very good UK domestic boxer and a high-end second tier fighter on the world stage with a penchant for distraction and personal self-destruction. His latest self-destruction didn't surprise me in the least. He'll be back—cleaned up and "serious"—and then will self-destruct again. And he'll keep this pattern up until there aren't any more paychecks to be had in boxing.

Regis Prograis: Hype or Reality?

Magno.

Is Regis Prograis as good as he's being hyped to be? He hasn't really fought anyone yet. Can he win the WBSS tournament and become a star?

--Tanner

Tanner.

Prograis has all the physical tools to be a dominant, elite-level star and he's currently on a bit of a fast track to the top because he's considered old for a prospect. At 29, he's right in his physical prime and is probably two or three bouts away from being as good as he's going to get. Getting through the WBSS will help season him as a pro and, whether he wins the whole thing or not, he will emerge as a better fighter.

Right now, I'd go out on a limb and say that Prograis will win the tournament and step up to rule the 140 lb. division. I made the same call back in 2009 when I told the world that unproven underdog Andre Ward would go on to win the Super Six World Boxing Classic tournament.

Got a question (or hate mail) for Magno's Bulging Mail Sack? The best of the best gets included in the weekly mailbag segment right here at FightHype. Send your stuff here: paulmagno@theboxingtribune.com.