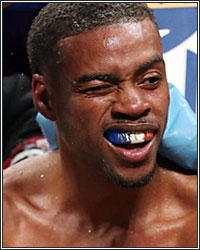 While the reported upcoming bout with weight-climbing Mikey Garcia is intriguing in a lot of ways, it's not the big 147 lb. clash needed to definitively make Errol Spence THE post-Mayweather welterweight.

Spence, to become the true king of 147, needs names like Thurman and Crawford or even Porter, Garcia, and Pacquiao on his hit list. In a perfect world, Mayweather would also be at the top of this "must fight" list, but that's most definitely not an option unless Spence is secretly a Japanese featherweight kickboxer named Tenshin Nasukawa.

Yet fights with any of the names above has not happened and, from the looks of things, they aren't even possibilities for the immediate future.

The impossibility of signing up against Crawford and Mayweather is understandable. Crawford is aligned with Top Rank and now an exclusive ESPN house fighter and Mayweather is, well, Mayweather.

But what about everyone else?

Just like Spence, most everyone worth fighting at 147 is working with advisor Al Haymon and his Premier Boxing Champions (PBC) project. Also like Spence, they all showcase their talent through PBC broadcasting hosts Showtime and Fox.

One would think that making the deals needed to put together these in-house bouts for Spence would be as simple a task as the Barclays hot dog vendor selling a second footlong to Dan Rafael.

The truth of the matter may be that the handcuffing aspects of modern boxing business, while an unpleasant reality, still play second fiddle to the good ol' risk vs. reward factor.

Why would Shawn Porter and Danny Garcia fight Spence for a similar payday to what they could make fighting one another? Why deal in the unknown of what Spence could bring when they could face another "name" who they feel is infinitely more beatable? And spare us all the nonsense about their fight being a WBC mandatory—sanctioning body mandates mean nothing unless the fighters want them to mean something. This is not a knock on Porter or Garcia. It's just a matter of them doing what's best for their own careers and engaging in smart business practices.

For the same reason Manny Pacquiao won't be signing up to face the IBF champ, either. Who needs that kind of headache from a low to mid-seven figure payout when they have their eyes on a mid-eight figure windfall?

And, as for Keith Thurman? Who the hell knows what's up with "One Time" (who may soon be known as Once Upon a Time)? The only boxing-related thing he will commit to these days is his steadfast unwillingness to fight Errol Spence.

"Honestly, people can say what they want to say," Thurman told Fight Hub TV, back when he was supposedly planning ring return no. 3 or 4. "I'm not going to fight him (Spence) right now. I wouldn't fight him right now...There's no point…I know boxing. I know boxing. The fans can say whatever they want to say, but I just know how this sport works and how the business works. Plus, as much as I respect Errol Spence, he's still a young, fresh champion. It's not gonna hurt him by having a few title defenses [and] me getting back into the ring, doing what I want to do before we see each other."

Well, Spence, the "young, fresh champion" is going to be 29 in January and in danger of withering on the vine unless he has a real legacy-defining in-division fight soon.

Mikey Garcia is one of the top fighters in the world, but he'll be coming into the Spence fight as the much smaller fighter and as a major underdog with a lot to gain with a win. Spence, however, gains much less from a victory over Garcia.

Kell Brook gave him one legacy-defining battle back in May of 2017, but the rest of Spence's body of work is lacking. His resume is solid, but it's not what it should be for someone who can do so much and who has already been crowned king of the welters by many fans and media members.

It may be time for the PBC folks to put their feet down and force the issue when it comes to fighting Spence. A hot property is very much in danger of becoming a stale product.