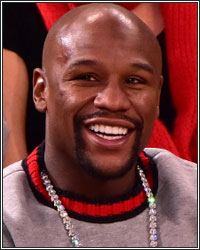 Thursday is upon us and so is my bloated, bulging sack as I tea-bag the boxing world in the name of truth, justice, and the American way. This week, the Sack is all about Floyd Mayweather and his upcoming endeavors.

Mayweather vs. That Little Japanese Guy

Magno.

I get what Mayweather's doing and then again I don't get it. Yeah, there's for sure going to be a load of money on the table for him fighting that Nasukawa cat in Japan. I get that someone is never so rich that he can turn down nine figures or maybe he needs a cash injection because he does go through money pretty damn quick with his lifestyle. But I don't see why this fight against this guy. He can fight lots of people for that money and in boxing vs. MMA fights. But he's fighting a 20-year-old kid who looks like a kid much smaller than him. It looks ridiculous, tbh. And if he loses? He's going to be a crying Jordan meme joke forever.

-- Antonio Pearce

Antonio.

Yeah, the opponent selection doesn't make any sense. Maybe the event organizer, Rizin Fighting Federation, really wants to push this kid, Tenshin Nasukawa. That's the only thing I can think of. The optics are awful. Mayweather towers over this 5 ft. 4, 122 lb. kid and even if he boxes his ears off, he gets nothing other than a paycheck from the deal (which may be fine with him). As you wrote, if the goal was to fight in Japan and boost his Japanese business interests, there were a multitude of other opponent options to choose from, opponents who don't look like a figure skater kid brother. I think Mayweather is smart enough to not handicap himself with fight rules that put him at risk of a loss, so this should be a guaranteed exhibition win. I'd be shocked if this winds up being anything other than a straight boxing match. But, again like you said, if he loses, the world will be tap dancing in glee on all things Mayweather. And big, embarrassing losses like this one could hurt his legacy. I doubt it happens, I doubt he'd put himself in a spot where he'd lose at this point, but when one goes to the well too often, one's bound to eventually fall in.

Mayweather: The Great (Self) Promoter?

Mayweather is great at promoting himself, why does he have trouble promoting Tank, Tabiti, Jack?

-- Lord High Xcutioner

Mayweather has trouble promoting others precisely BECAUSE he's such a good self-promoter. He has never been able to promote his fighters beyond the "He's Mayweather's fighter" angle. The ego and self-focus required to push himself to the stars limits his ability to focus on anyone else. That may change over time as his ability to earn for himself diminishes and more money can be had earning from others. But, then again, it may never change. Mayweather Promotions fighters have to deal with this dynamic—Get a push from an association with Floyd, but risk living in his shadow.

Mayweather vs. Pacquiao 2: What Changes?

Paul,

We all saw this coming. Mayweather vs. Pacquiao 2. A rematch of the most lucrative fight of all time was a no-brainer, especially if and when Mayweather needed to refill his bank vault and that looks to be what's going on now with all roads leading there. So now we switch to the fight. What happens in part 2? Does Mayweather pick up where he left off and outbox Manny or are things different now with a sharp-looking Pacquiao fighting a flat, semi-retired, very faded version of himself? What say you, brother?

-- Damon S.

My head says that Mayweather is always going to have the style to frustrate and beat Pacquiao. On the other hand, having the style and being able to execute it are two very different things. Mayweather hasn't looked even remotely focused since he beat Pacquiao back in 2015 and, even before that, his physical tools were clearly diminishing. Since his September 2015 bout with Andre Berto, Mayweather hasn't been in the ring with a real boxer and he won't be in the ring with a real boxer until he meets Pacquiao (if the rematch happens). He looked awful against Conor McGregor last year and the question is whether he can get back into proper fighting shape for any upcoming "real" boxing match. Pacquiao, on the other hand, has remained active at a relatively high level during Floyd's semi-retirement and is not only overflowing with confidence from his destruction of Lucas Matthysse, but eager to fix the errors that led to his initial loss to Mayweather. Despite the critics' laments, Mayweather-Pacquiao 2 should be interesting.

FloydHype Strikes Again

There you go again, selling fights for that con man Mayweather as he tries to steal from a gullible public once again. No wonder you guys are called FloydHype! This Japan fight is an insult and you guys are selling it like it's Crawford-Spence. Just tell the truth and tell the readers how Mayweather and Haymon own you guys. You do their bidding at every turn. You are a joke!

-- FloydHype Is Trash

Hey Trash, I think if we opened up the books and compared FightHype with all of the other major sites out there, you'd be surprised at how much of the media you give a pass to IS actually owned by networks/promoters. You'd also be surprised at how independent we truly are as a site. But, of course, your personal prejudices won't allow you to see the real world as it is, so let's just move on.

I've not had anything nice to say about this upcoming Mayweather-Nasukawa fight in Japan, but I'm also not raging with angst and anger over it, either. I view this fight in the same way I viewed the McGregor fight. It's just a silly exhibition that fans will have the option of either viewing or not. It's not like we're missing out on Mayweather-Spence because we're seeing Mayweather-Nasukawa. I'll be watching (because I watch pretty much everything boxing-related), but I wouldn't pay for it. And it's up to the fans whether they care to see this fight. I don't see any reason for all this outrage from so-called boxing purists, especially when boxing is so full of things that should legitimately generate outrage.

[Editor's note: The exhibition has been called off, so your anger about it is irrelevant at this point. That being said, FightHype has not been "selling" anything about it. Unlike other websites, who have posted MULTIPLE stories (one of which that has posted at least 15 articles about it since the announcement), we've posted just 2 pieces total - one being the press release announcing it and the other being an article about the cancellation. That's it! Although we appreciate the fact that you do read the site, please do better research before you make inaccurate accusations.]

Got a question (or hate mail) for Magno's Bulging Mail Sack? The best of the best gets included in the weekly mailbag segment right here at FightHype. Send your stuff here: paulmagno@theboxingtribune.com.