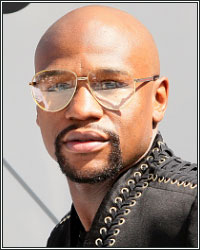 FightHype.com recently obtained a copy of the proposal that was sent to Floyd Mayweather regarding a December 31 bout with Tenshin Nasukawa at Rizin 14. As Mayweather himself explained in an Instagram post, he was originally informed by organizers of the event that there was an opportunity for him to participate in "a 9 minute exhibition of 3 rounds...put on for a small group of wealthy spectators for a very large fee." Upon arriving in Japan for a press conference to announce his participation, Mayweather discovered that those same organizers had taken the liberty to drastically alter those plans without his consent.

According to the revised proposal, which was presented to him after the press conference was held, Mayweather was expected to face Nakusawa in a "non-record fight" with the following stipulations:

- Standing bout rules (no kicking or wrestling)

- fought in a ring

- 3 x 3 minute rounds

- Weight limit 145lbs (65.7kg)

- It is scheduled for 11 PM Tokyo time which is 10 AM in NY the morning of New Year's Eve

- Rizin is open to discussing the start time to accommodate the US Rights Holder

Clearly the proposal confirms Mayweather's understanding that he would be participating in what amounts to a 3-round boxing exhibition. However, it also greatly expands on what he was originally told the scope of the event would be. Evidently, without his consent, the organizers decided to use Mayweather's name as an opportunity to secure long-term U.S. broadcast rights for future events. Not only was Rizin seeking a U.S. distribution model that guaranteed them a 50/50 split of the gross revenue for that single event, but they were also requesting to "bundle this deal" with an offer that included a multi-year contract to distribute their MMA content. Furthermore, in an attempt to secure that deal, they guaranteed that Mayweather would participate in "two more non-recorded fights within the year," something we're told that Mayweather most certainly did not agree to.

Judging from Mayweather's lengthy Instagram post, it's clear that these "revisions" were not part of the original concept that was pitched to him. Although we have yet to speak to Mayweather directly, we're guessing that the misleading information about additional "non-record fights" and the attempt to use his name to secure a separate multi-year deal was the motivating factor in his decision not to participate in what was supposed to be a one-off exhibition bout.


[ Follow Ben Thompson on Twitter @fighthype ]