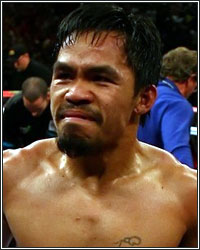 I'll be honest with you guys. My sack was kind of light and sickly this week. I guess it could be expected in a slow post-holidays news cycle, but the reality is that I didn't get a whole lot on which to ponder and pontificate these last few days. However, that doesn't mean that the Dirk Diggler in me can't summon at least one full load of wisdom in this week's column. So, here it goes…

Choose One

Big fan here, love your bags and insights. quick question, which fight out of these 2 would you go watch in person, plant vs uzcategui or davis vs mares? thanks! keep up the good work

-- Juan

Hey Juan. I guess if I could only go to one, I'd pick Gervonta Davis vs. Abner Mares. Uzcategui-Plant is a very intriguing matchup, but there's a chance that Plant's style could nullify some of Uzcategui's offense and make for a slower, less violent encounter than most would care to see. Mares, meanwhile, will pursue Davis, even if he is proven to be overmatched and that should make for some interesting moments.

Crawford-Khan

Magno. With Crawford vs. Khan rumored to be signed and sealed, I wanted to get your opinion on the fight and whether it stands a chance of being a real fight and if it will be worth the PPV price they are asking for it. I know for me personally I'll be looking for an online stream because there's no way this is a PPV worthy fight. Could I regret not buying this when I'm watching an illegal stream on my laptop?

-- T. Bond

T. I don't mind Terence Crawford fighting Amir Khan. I understand the realities behind Team Crawford's matchmaking efforts. They need "name" fighters with enough raw ability to give Crawford a bit of a challenge in order to justify their big ESPN contract. Khan touches on both of those areas and, really, was a logical choice of opponent. The $5 million they reportedly offered Khan for the fight just reeks of desperation, however, and hints at some sort of pressure, somewhere over getting "Bud" in the ring with somebody of note.

Like I said, I'm fine with Crawford-Khan, but it's absolutely not a PPV-worthy fight. As I wrote in a piece posted over at my Boxing.com gig:

"To see the mighty ESPN, which invested tens of millions into establishing a real boxing presence, passing the hat to consumers is downright insulting. Cashing out on a monster fight to get a return on their investment is one thing, but cashing out with only three fights in the Terence Crawford business—one of them hidden on their streaming app—is a little like trying to retire with a full pension after just a year at your job.

We'd presume ESPN to be smarter at business than carny-like boxing people. If their investment in boxing was all about snatching up an underachieving, underperforming niche sport and creating something new, dynamic, and profitable with it, then the goal had to be long-term growth, building towards real payoffs. Sticking your marquee star behind a PPV paywall in the second fight after you sign him to a major deal is pure stupidity, something a nickel-and-diming promoter would do because the light bill at the corporate office needs to be paid off.

Most of all, though, the outrage over this PPV should come from fans who, despite new business models popping up and deep pockets swooping in to "rescue" the sport, are still be asked to pay twice and thrice for being loyal to the sport."

Can Manny Get His Groove Back?

Paul. I remember your work back from the Mayweather-Pacquiao feud days and you earned your reputation as a #1 Manny hater. Lately, you've been defending him and I guess you can chalk that up to maturity or to seeing the wrong of your ways. But with your new feelings on Manny, can you see him making a full comeback at 40? Of course fighters lose speed, strength, and killer instinct as they get older so he won't ever be a prime Manny again, but can he be a #1 welterweight again? A demolition of Broner would make me think yes.

-- Greg Padilla

First, I don't "hate" anyone and I certainly have no reason to be out to get any fighter. I will criticize fighters when I feel they deserve it and praise them when I feel they deserve praise. I basically feel now about Manny what I felt back in the Mayweather-Pacquiao feud days. The difference is that now, media has created some fake narrative about him being old, decrepit, and in some sort of physical peril should he keep fighting. That's bullshit. Pacquiao is, at worst, a top 7 welterweight and, at best, someone capable of giving any of the elite welters a real challenge. There's no justification for the angst-ridden calls to retire. If the man wants to fight—and CAN fight—then, let him fight.

I like the Broner matchup, but let's not read into it more than what it is. The winner will get a ticket back to the front of the 147 lb. pack, especially seeing as how both are "earners" in the game, but I don't think the winner has any great claim to being on a path to #1 status.

Got a question (or hate mail) for Magno's Bulging Mail Sack? The best of the best gets included in the weekly mailbag segment right here at FightHype. Send your stuff here: paulmagno@theboxingtribune.com.