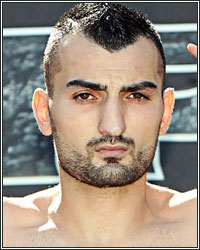 "I feel like the guy has no soul. On top of that, I sign with him, he doesn't get me a fight for a year and then he calls me on 2-week's notice to fight Golovkin...I got kids. I got a family at home. I took the fight for that. I get my check and there is money missing from my check...The best promoter I had was Dan Goosen. The best manager I had was Al Haymon. Al Haymon really cared for me... I'm not going to fucking let Don be the guy that retires me. I'm not going to let the devil win. I'm going to continue fighting, see what I can do, and I want everybody to hear my voice," stated middleweight contender Vanes Martirosyan, who had a lot to say about the current state of his career. Check it out!

PC: You retired on Twitter and then unretired and this is all stemming from a situation with Don King. You signed with King in 2017 and I take it things aren't going well.

VM: You remember when Zab Judah fought Carlos Baldomir? You remember the post-fight interview that Zab had and what he said about Don King? There you go. That's how I feel about Don, bro. Bro, when I made that retirement announcement, tweets came after that about me having horrible thoughts in my head and blah blah blah. I just wanted everybody to know there is a lot of depression in this game and a lot of fucked up people. They use us like dogs, from the sanctioning bodies to the promoters. Don King, man, everybody warned me about him. They said he was a bad promoter and he is this and that. I thought that maybe...fuck man, at least be decent to one fucking fighter, bro. Don't let everybody call you a piece of shit. Don't make everybody hate you. At least let somebody say something good about you. Bro, when I went to see Don King, I went to see him alone. I sat down alone with him and I told him, "Listen, make me a champion. It's not about money; get me the right fights. Let's do something together." I went to him alone to tell him that this is who I am. I have so much backup from home, I didn't go with people. I went to talk to him personally. I feel like the guy has no soul. On top of that, I sign with him, he doesn't get me a fight for a year and then he calls me on 2-week's notice to fight Golovkin. What's crazy is that the only organization who I respect a lot is the IBF. They pulled the fucking title. They were like, "You can't defend against this guy." I wasn't qualified in that weight class. I never fought in that weight class. But everybody knew, including you, bro, that it was about the money; money talks. They offered me good money and I took the fight because I gotta feed my family. I got kids. I got a family at home. I took the fight for that. I get my check and there is money missing from my check. The money that he took from my check; I get a 1099 for the money that he took. He's taxing me for the money that he took. You know me, I don't give a shit. If they call me and say, "You want to fight Wilder in 2 weeks," I'll be like, "Shit, alright." I'm a fighter. What am I supposed to do? I'm supposed to fight. Especially considering I hadn't fought in a year.

That whole thing happened when I left Haymon and Tom Brown. I was hoping that Don could come and we could make some noise and it be like a rebirth for him. At least on the way out, he does something good for one fighter. Don was a piece of shit for all of these years and screwed everyone over, but he did something good for one fighter. Somebody can defend him. But now it's like, I feel bad because I'm sitting at home and I'm looking at the fight with Golovkin and I keep getting tagged in posts and shit with the knockout. It's fucking depressing. At the end of the day, nothing came out of it. Don made more money in that fight than I did. Dawg, I wish somebody would have told me in my corner not to fucking try to fight that guy. I went toe-to-toe. They should have told me to just try and last and go 12 rounds with him. I would have fucking ran the whole fight like Lara does. I would have moved. I tried to impress people. I trained for a week and a half. You know the fight week is just bullshit; a bunch of media shit and maintaining the weight. I had one week and then it's fight week. Mentally, the 5 days I had, whatever I worked on in that short amount of time, I did it in that first round and every single thing worked. Imagine if I had a whole camp. Round two was a completely different style. I didn't move like I was in round one. I don't take nothing away from him. He caught me. I've been dropped by Sergey Kovalev in sparring. He hit me harder than Golovkin. Could I had gotten up and continued? 100%, but at that moment, my mind wasn't right and I didn't want to get hurt. When you know your mind is not there, especially after getting clocked...after the fight, my father came and kissed me and said, "Listen son, if you had gotten up and continued, I was going to stop the fight. Your mind wasn't right." As a fighter, you're not supposed to be in the ring if your mind isn't right. You could die.

PC: Where do you go from here?

VM: I started boxing because of my father when I was 7 years old. We made it to the Olympics together, that was our dream, and now my father's dream is to see me be a world champion and that's what we are working on. All of my losses, besides the [Demetrius] Andrade fight, Andrade beat me fair and square, but everybody else, I never had a fair shot. I didn't have a full camp to get ready for them fighters. After seeing fighters that I beat, going and knocking out guys that just became world champions because they get fair shakes, they get rebuilt. Erickson Lubin just got rebuilt again, Tony Harrison just became a champion and the guy that I beat, Willie Nelson knocked him out. I beat Willie Nelson when I was in a good camp. The best promoter I had was Dan Goosen. The best manager I had was Al Haymon. Al Haymon really cared for me. At the moment, when I tweeted something bad about them, it was about people in the company. I just want people to know that. It was people in the company that I was unhappy with because I never really spoke to Al; only a few times on the phone. That's why I let that tweet out there because I spoke off of emotion. It had more to do with my promoter, Tom Brown. Dan Goosen was the best I ever worked with and sadly he passed away and things went downhill, bro. I thought Don King would do something good. The IBF was like, fuck that, this guy doesn't belong in there, but the WBC approved all of it. I was raised #1 to fight Jermell Charlo; I gave that opportunity up to move up and fight Golovkin thinking they are going to show me love once the fight is done. I can go back to my weight class and fight. I look back at the rankings at 154 and they fucking completely removed me from all the rankings, when I put money in their fucking pocket. If I don't fight that fight against Golovkin, everybody loses money; HBO, Golovkin, the sanctioning bodies all lose money. All of those people lose money, man. I paid sanctioning fees from my paycheck. From that $400,000 that I was supposed to get from the fight. It was $400,000 for the people that don't know. They put down $200,000 or whatever, but it was $400,000. When I paid off my sanctioning fees and paid everybody off, I came home with $160,000. Don King took $225,000 from my paycheck. When I let those tweets go out, 3 days ago, I checked my mail and I got a 1099 from the IRS for the $225,000. What the fuck is this? This motherfucker took this money and now he's trying to tax me for this money.

I sent a message to Mauricio [Sulaiman] and the WBC telling him that I'm filing a lawsuit against them. If any lawyer wants to hear my story about the WBC and what they have done to me, there is a lawsuit there. They haven't been right. I was ranked #1 to fight Canelo years ago and they gave me Lara, and then after that, they tried to give me somebody else. I won the Silver Title against Saul Roman and they never gave me the opportunity to fight Canelo. And then I become #1 rated to fight Jermell Charlo for months. I got ordered to fight Ishe Smith. That purse bid gets cancelled. They said, "Ishe Smith doesn't want to fight you." I was supposed to fight Maciej Sulecki, which was a purse bid order from the WBC. Sulecki pulls out, tells the WBC he's not fighting me. He pulls out of that fight to fight Danny Jacobs at middleweight. He lost and about a few months later, I got the Golovkin call. I take that fight, I lost to Golovkin, this fucker loses to Jacobs, and look at the rankings right now. Sulecki is rated #6. The same fucking rating he had before he even went to middleweight. Where is my ranking at? I'm out of the rankings. Mauricio comes to me and says his father cared for me. His father was good to me. He was a nice man. When he passed away and Mauricio took over, I guess Mauricio is all about the business. I don't want to point the finger at any manager because they are doing their job, but look at the rankings and you will see who those fighters in the top 10 belong to. They control everybody. They fucking threw me out. Nobody talks about me. The WBC have all of these things talking about they care about fighters and they care about cancer and they care about Adonis Stevenson being in the hospital. They only care when someone is about to die. They only care when shit's going to hit the fan. They only put out things to make themselves look good when all eyes are on them.

PC: You were tweeting some things about possibly wanting to hurt yourself. Are you good mentally right now?

VM: Depression is another thing. I'm not saying any of this for sympathy or for anyone to feel sorry for me, I just need to get the truth out there. I'm 32 years old and life starts hitting you at that age. It's like, oh shit, what am I going to do with my life? What's going on with my life? I didn't accomplish the things that I want to accomplish and I'm upset. I'm not upset because I'm not good enough; I'm upset that I never got a fair shot. I got a fair shot against Andrade and I admit my loss. He got up off the deck in the 1st round and boxed beautifully and won the fight. He won the fight unanimously, even though they said it was a split decision. If they gave me the fucking belt that night, I would've been happy, but I would have given it to Andrade and told him let's do a rematch because I don't think I won. All of the other losses came on bullshit. When I fought Jermell Charlo, I took that fight on 3-week's notice. I did that with no trainer. I come to the gym to train with Joe Goosen and he is in Reno training with Chavez Jr. Imagine that. I called other people to come and help me in that fight, which I think I did good. I did better than Tony Harrison did and he became champion. Politics in boxing just hits you. Life hits you. My dad got sick recently. He told me it was something else and I went up to the hospital the day he was going to get surgery. He doesn't tell me. He tries to keep it away from me because he knows it's going to break me. He has been my best friend for my whole life. The doctor tells me he had bladder cancer. He went through the surgery and now he's recovering. I went to Don months ago and I told him, "Don, I don't want no money from you, bro, give me fights. Let me be champion." The guy doesn't care. That's what all of the dark thoughts and depression stems from. Before I go, I want to say this, I see Adrien Broner acting crazy and people saying different things about him. Fuck that, get your money. These promoters use us up, so get your money. I want to apologize to Al Haymon if he ever thought I disrespected him because Al truly cares about the fighters. It wasn't meant towards him, just some of his staff. Al pays guys what they deserve. Who the fuck are some of these fucking media people to say what a fighter deserves to make? I see Dan Rafael and guys like that knocking Al for paying certain guys a certain amount of money, but who the fuck are you? Dan is overpaid for whatever it is he does. Al truly cares about his fighters and that's why all of his guys are happy. I'm truly sorry if he ever felt disrespected. I had to say that. If you hate on Al, you're either a hater or one of these fucking corrupt people in boxing.

PC: It sounds like you are dealing with a lot and I truly hope something shakes for you soon. Is there anything else you want to add before I let you go?

VM: I know I can be a world champion. I beat Andre Berto, Austin Trout 3 times, and I was the last person to beat Timothy Bradley before he turned pro. They all got with the right people and became champions. I made some mistakes and I got ignorant at times, but I deserve better. About 2 weeks ago, all of this shit got really bad. I woke up my wife at like 1:00 am. I was in bed and I was thinking about horrible things, bro. I started to search shit for when you're having really dark thoughts; suicidal shit. So I started googling shit and reading shit. I woke up my wife to have a conversation just apologizing to her. I was fucking broke down, bro. Then the tweet came out and I don't want people to talk shit like, "You did this to yourself." It just adds more to it. From the organizations/sanctioning bodies, even HBO writing dumb shit like, "Vanes' wife's favorite fighter is Golovkin." I never fucking said that. Every opportunity they get, people say whatever they can. I'm not going to fucking let Don be the guy that retires me. I'm not going to let the devil win. I'm going to continue fighting, see what I can do, and I want everybody to hear my voice. Whether this is going to get me killed or something...they send somebody to do something to me, they can't. I have people backing me, bro. I got some serious people that can step up to these people. Most of these dudes are crooks and I just wanted to let everyone know that.
[ Follow Percy Crawford on Twitter @MrLouis1ana ]