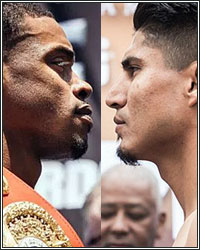 Saturday's big pay-per-view clash at AT&T Stadium in Arlington, Texas is about more than just Errol Spence's IBF welterweight title or four-division champ Mikey Garcia's pursuit of greatness.

Spence vs. Garcia is the biggest welterweight bout of the year thus far and its outcome will have big ramifications for all of the big and mid-level players in the division.

Here's a look at what a win for each fighter may mean to the fans, the welterweight division, and to the sport as a whole.

What if Mikey Garcia wins?

Two words: Manny Pacquiao.

Garcia, even if able to pull off the upset win and secure his Hall of Fame credentials with a spectacular showing on Saturday, will still be considered a small, vulnerable welterweight. And that would fall perfectly into line with what a 40-year-old Manny Pacquiao wants and needs.

The Filipino icon is not as quick or as explosive as he once was, but he's still a top five or top six welter and still someone who presents a tough, complex challenge for anyone he may face. However, at this stage of his career, he'd be in real trouble against a big, strong banger or a speedy boxer. Garcia, a cerebral assassin with an unflappable demeanor and an A+ work ethic, would be a handful, but he might lack the physical tools to make Manny struggle—or at least that would be the perception.

For Garcia, a Pacquiao bout would make tons of sense as not only a big-money encounter, but also yet another legacy fight against a real legend in the game. A case could also be made, for many reasons, that Pacquiao is a very beatable opponent for Mikey.

If Pacquiao doesn't get a shot at Garcia, expect other top welters like Keith Thurman, Danny Garcia, and Shawn Porter to volunteer for the high-profile opportunity. Others will see in Garcia what Team Pacquiao may see in him—a smaller guy without elite-level athleticism at his new weight who wedged himself into the top of the 147 lb. division by exploiting one particular fighter's weaknesses. Whether that's an incorrect assessment will be determined by the series of fights to come.

There's also a decent chance that Garcia's win could be a "one and done" affair and that a move down to the increasingly packed and interesting junior welterweight class would be next.

What if Errol Spence wins?

Well, we won't be getting Spence vs. Terence Crawford any sooner—that's the only sure bet after a Saturday night win in Cowboys Stadium.

Actually, there's no guarantee that Spence, on the weight of a win over Garcia, would be the least bit closer to bringing PBC stablemates Keith Thurman, Shawn Porter, or Danny Garcia to the table. He might still be drowning in "marinade" even after a dominant performance on Saturday, still the guy the other top dogs intend to put off until "the fight gets really big" (or, in layman's terms, until the money involved in fighting him is worth the risk of fighting him).

But it's not necessarily a sure thing that Spence's hard luck in wrangling top shelf opposition will continue after Saturday. If the pay-per-view event is a success and Spence proves that he can generate money through buys, then he may be a more viable opponent for these other fighters who currently see him as too much risk for too little reward.

If Spence wins and the PPV is a flop, though, expect him vs. the second tier PBC welterweight players like Omar Figueroa, Andre Berto, or Devon Alexander and still at least a year or two from a really big fight.