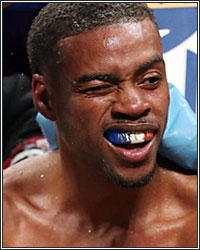 This Thursday, like every Thursday here at Fight Hype, we explore the bottomless depths of my bloated, bulging sack. So, journey with me once again to the deepest, darkest recesses of this dark land of gooey, salty truth and, as always, please wear your splash guard. This week, we have comments/questions regarding Spence-Garcia and Wilder saying no to DAZN's advances.

Spence vs. Garcia: The Aftermath

Mags. I can't say that I didn't see this coming. Spence dominated Mikey and it pretty much looked like I imagined it looking. Spence was just too big and too skilled to be outboxed by a smaller fighter like Garcia, who was basically fighting the same game. I even think Errol took his foot off the gas and carried Mikey towards the end, showing respect for Mikey by not really pressing to hurt him.

My question now is about the future. Spence vs. Pacquiao would be great and the whole PBC crew at the PPV was clearly pushing for it. But how realistic is it that Pacquiao would leave Top Rank without having anything at all to do with Terence Crawford, only to jump to PBC to deal with Spence? Would Haymon shove $20-$30 million to Manny just to force a passing of the torch fight with Spence?

To me, nothing at all has changed for Errol Spence, other than he got some respect for being the smart boxer he always was. Porter supposedly wants to fight him, but I don't see that as much of a big fight. Spence needs Thurman and Pacquiao, but I don't see either of those fights happening. What do you see happening for Spence in the aftermath of his domination of Garcia?

-- Luis Cortes

Hey Luis.

For Garcia to win, he would've had to exploit some mistakes made by Spence and, well, Spence just didn't make any exploitable mistakes. Spence fought exactly as he should've fought and he deserves credit for maintaining his focus throughout the fight. Garcia never had a chance against the Spence we saw Saturday. I'm a little surprised, though, that Mikey didn't come in trying to be more mobile, to work angles a little bit more to try and draw Spence off his game. Garcia basically just fought like Garcia and, against an on-point Spence, that was never going to succeed.

And, yeah, forget about Pacquiao-Spence. It ain't happening. Pacquiao, at his age and at this stage of his career, signed with the PBC folks for marginal risks, a victory lap or two, in hopes of landing a big-bucks Mayweather rematch. He's not trying to walk into the headaches Spence can give him for the payout likely involved. If he can't land the Mayweather fight, he might settle for Thurman, whose boxing style might afford, as I wrote elsewhere "some plausible 'he ran from me all nigh' deniability in case of a loss."

As for Spence's future? I see a Porter fight happening and then it's nothing but question marks.

Spence vs. Garcia: Magno Sucks

So we have yet another example of you not knowing shit about boxing. You really, really had Garcia beating Spence? How was that ever going to happen, you idiot? A complete casual could've made the right pick after just watching a 30 second highlight reel of both. You're wrong all the time. How could FH hire someone who doesn't know anything about the sport he's supposed to cover? They for sure won't be keeping you around too much longer, so try writing about something you actually understand.

-- RJ

Well, RJ, I have plenty of experience dealing with obsessive nutjob assholes like you, so maybe there's some money to be had in answering emails from mental health facilities, halfway houses, and psychiatric prisons. Or maybe your mom would give me a few bucks to chase you out of her basement and into your own place.

Wilder Says No to DAZN

Hey Magno. I can't believe Deontay Wilder would turn down over $120 million for four fights with DAZN, plus the two Anthony Joshua fights that came with the package. Was this a case of Showtime matching the offer or is there something else at play here? I don't see anyone for him to fight on Showtime, at least not someone to get him the kind of money DAZN was offering him or that ESPN offered him. Maybe they're going to give him the money just to mess with DAZN. I'm baffled tbh. What's your take on this?

-- Tony Lipton

Hey Tony.

Yeah, that's a lot of money to leave on the table, but as I wrote in a piece published Wednesday, Wilder is counting on more coming his way as a free agent than what he could get as a multi-fight signee anywhere. Remaining a free agent is a smart bet on his part because he'll be able to negotiate terms as public interest increases, rather than sign now and take what's being offered in the present tense. Free agency in boxing just makes so much sense from the fighter's perspective and it would do a lot to make big fights easier to sign. As I wrote in Wednesday's piece: "why should Wilder, or any fighter for that matter, have to sign over his career and freedom in exchange for a fight he's earned and a payday he deserves?" The whole "you only get this shot if you work for me" concept is insulting to the athlete and generally counterproductive to the sport's growth.

Got a question (or hate mail) for Magno's Bulging Mail Sack? The best of the best gets included in the weekly mailbag segment right here at FightHype. Send your stuff here: paulmagno@theboxingtribune.com.