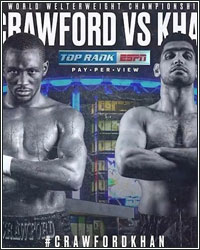 Hurray for Thursdays and Hurray for my big, bulging sack making it rain salty, gooey truth all over boxing's bad guys. This week we have questions/comments regarding Golovkin vs. Rolls, Jarrell Miller's failed drug test, Shakur Stevenson, and Crawford vs. Khan.

Rooting Against Crawford-Khan?

Hi Paul,

How come you wrote about rooting against Khan Crawford and not the farce of Spence-Garcia? I will give you the fact that both are mismatches but at least Crawford is facing someone his own size (probably even a bit bigger than Crawford) and the Crawford undercard looks pretty good.

Spence-Garcia was as expected a complete mismatch, was also more expensive and had a horrible undercard of all mismatches. I don't remember you hoping that ppv would sell.

As for the horrible mismanagement by fighting in the app. Lomachenko just fought on the app. Kovalev just fought on the app. Fury is about to fight on the app. Apparently espn pays more for fights on apps than on espn. Can't blame a fighter for fighting on the app. After all espn has millions of app subscribers and is growing. I'm not sure that is the case for DAZN.

-- Virgil Demayo

Hey Virgil.

First and foremost, there's a selfish reason behind me rooting for Crawford-Khan PPV failure—I'm a big Terence Crawford fan. I want him on the ESPN main stage so the masses may have a chance at discovering his talents and so that he can become the crossover star he deserves to be. Bumping up his profile and star power may also facilitate making the big cross-network fights with someone like Errol Spence.

ESPN+ has just over 2 million subscribers at the moment. Anything stuck on the app is segregated and walled off from the nearly 100 million mainstream sports fans ESPN can potentially reach. So, how many people could realistically be watching any fight on ESPN+? Maybe, optimistically, 250K? Possibly, much fewer. And of those watching, it's pretty much guaranteed that all will be already-sold boxing fans. This means zero exposure to new fans, zero chance to boost the profile of the fighters and the sport in general. Having these guys fight there is pure strategic debt spending from ESPN to help drive subscriptions. I don't blame the fighters for grasping at whatever money that comes their way. But, long term, none of this subscription stuff is good for the sport and somebody should be speaking out about this, watching out for the big picture rather than short-term gain.

As for not speaking out against Spence-Garcia? You're talking to the wrong person about that. I was fine with that fight and thought Garcia had a legitimate chance if he went about things the right way. I was not fine with it being a PPV—and I said so. The Crawford-Khan undercard, btw, is not so good, I don't see where you get that. Both undercards are prospect-dump showcases, but that seems to be par for the course these days.

Joshua and The Big, Dirty Baby

Mags. Jarrell Miller got busted for PEDs. Will Hearn still find a way to shove his fat ass in the ring against Joshua on June 1 or will they find a replacement for the big, dirty baby? Could they maybe even cancel, pushing everything back to last summer? What say you, brother?

-- Ken Robinson

Hey Ken. There's no way in hell that Joshua is pulled from his June 1 date. With Joshua's falling profile, DAZN and Team Joshua need this "US Invasion" and they will find a way to keep the date. Don't be surprised if Joshua's promoter Eddie Hearn tries to spin things enough to keep Miller in the picture. A lot of time and energy has already been invested into pushing Miller as the best available option for Joshua and, if at all possible, Hearn would like to keep him. If Miller can't be salvaged as the B-side, the search will go out for a viable American substitute. Converted cruiserweight Michael Hunter, who just signed with Hearn and DAZN about a week ago, would be the likely candidate. Hmmm…Come to think of it, the timing of that signing seems suspiciously convenient. Maybe Hearn got whiff of something not-quite-right and moved to cover his bases with the Hunter signing and, in the process, assure that Joshua's three heavyweight belts stay "in house."

Shakur Stevenson?

Paul. What's your take on Top Rank prospect Shakur Stevenson? He fights this weekend on the Crawford-Khan undercard and taking a step up in class against Christopher Diaz. Do you think the kid's got the goods to become a top star?

-- TF

Hey TF. The kid is clearly talented and should have a good future at the top of the boxing food chain, but, honestly, I don't find him all that compelling as a ring presence. Unlike fellow Top Rank prospect Teofimo Lopez, Stevenson is, at least for me, not "must see TV."

GGG, WTF?

I just saw that GGG is fighting Steve Rolls next on DAZN and I immediately thought of you as one of the few members of the media not blatantly cheerleading for him. Steve Rolls! How can they justify him being a top 2 or 3 star in the division while fighting nobodies like this? And they're charging a subscription fee for this garbage, too? It's clear that he can get away with this BS because the media always has his back. This is just straight garbage. Fuck DAZN and shitty streaming services.

-- Marcos C

Hey Marcos. The sense of entitlement from Golovkin and his whole team is insane. I've written about this before, but, man, if this is not absolute proof positive, I don't know what is. There's no reason for a "tune-up" just seven months removed from his close, competitive loss to Canelo. And there's absolutely no reason whatsoever for this "tune-up" to be such a hand-picked walk in the park. No disrespect intended for Steve Rolls, who had a good amateur career and is undefeated as a pro so far, but he's nowhere close to being a top-level middleweight and, probably, is not as accomplished or as all-around polished as some of Golovkin's own sparring partners. Golovkin is fighting Rolls, simply because he CAN. Consider it a signing bonus from DAZN, much like how Canelo got Rocky Fielding as a gimme upon signing with the streaming service. Good for him…but not so good for DAZN subscribers who are expected to happily pay for this slaughter, subscribers, who, by the time Golovkin's June 8 fight comes along, will have gone nine months (and counting) with only two main stage HBO Championship Boxing-level main events to show for their loyal patronage.

Got a question (or hate mail) for Magno's Bulging Mail Sack? The best of the best gets included in the weekly mailbag segment right here at FightHype. Send your stuff here: paulmagno@theboxingtribune.com.