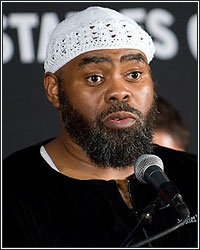 "He's motivated, but I don't think that's going to help him. Crawford would have to help him. Crawford would actually have to do something to get caught with something big. I don't see that happening," stated world-class trainer Naazim Richardson, who touched on a number of subjects, including Errol Spence Jr., Gervonta Davis, Terence Crawford vs. Amir Khan, and much more. You don't want to miss what else he had to say. Check it out!

PC: You said you wanted to see Errol Spence Jr. do something that you hadn't seen any other fighter do before. He dominated Mikey Garcia and we hadn't seen that before. Were you impressed?

NR: The jury is in on him; he's solid. I wasn't surprised by the way he dominated though. Mikey was taking a step up and he wasn't fighting nobody ordinary. I really expected him to get Mikey out of there. I think [Shawn] Porter is too small for Spence. I think Porter is a little too small for him. I actually think Thurman and Spence is a waste of time at this point. We won't see Spence challenged until he moves up to junior middleweight. If he's not fighting Bud [Crawford], it's a waste of time.

PC: You like Crawford giving Errol more of a run for his money than Keith Thurman?

NR: Bud can beat anybody and Spence can beat anybody, so it will be interesting to see them fight.

PC: What did you think of Lamont Peterson's retirement?

NR: Lamont was done. You don't want to see guys stick around who don't have it anymore. Lamont has done everything he was going to do. What else was he going to do, challenge Spence again? He's fought the best in the business, so there is no sense in sticking around for a Crawford type of fight. You can't do that shit.

PC: Is there anything that Amir Khan can do to upset the apple cart?

NR: He's motivated, but I don't think that's going to help him. Crawford would have to help him. Crawford would actually have to do something to get caught with something big. I don't see that happening. Crawford has that Lomachenko thing going on at ESPN. People are getting bored a little bit with the competition they are facing. But at the end of the day, Lomachenko is going to beat the shit out of them guys. Can't nobody do nothing with him down there in them weight classes.

PC: Do you think we could eventually get Lomachenko and Gervonta, and if so, how do you see it playing out?

NR: Well, Gervonta gotta get going. He's sitting around too long at times without a fight. Don't nobody wanna see that Gamboa shit. Gamboa fuck around and land something and then here we are talking about Gamboa again. I think Crawford took whatever Gamboa had left years ago though. I think we're going to have to see certain guys move up to be tested. I think Errol Spence is definitely one of them guys. Errol may have to fight the fucking twins if you want to see that motherfucker challenged. We're going to have to see him in there with a Charlo. None of them calling out "Boo Boo" [Andrade] name though. Nobody trying to fight that motherfucker.

PC: How does Manny Pacquiao fit into the welterweight equation in your opinion, because it looks like we could get him and Thurman this summer.

NR: Pacquiao is going to keep all of them honest. I don't want to see Pacquiao in there with Spence though. Now Pacquiao and Thurman could be a good one. Pacquiao is still a fighter, but some of these guys are too big for him. The Thurman fight could be interesting.

PC: We have some good boxing on the way for sure.

NR: I know it. My two young bols are going to rumble; Julian Williams and Jarrett Hurd. I like both of those young men. And they both rumble too. Jarrett Hurd is a problem, but don't get it twisted, Julian Williams is a problem as well. If Julian could use his legs for 12 rounds, he can win by decision. Julian can punch too. Julian hits hard enough to keep anybody honest. That's going to be an interesting fight. He's going to have to move consistently for 12 rounds though. Keep an eye on my young bol "Scooter" too. Stephen Fulton is fighting his ass off right now. That kid is a hard worker. He's finally getting on the right cards and being seen by the right people.
[ Follow Percy Crawford on Twitter @MrLouis1ana ]