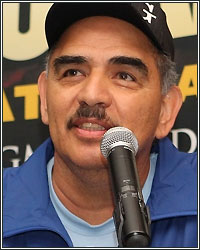 On Wednesday, the news came out via Gennady Golovkin press release—The Kazakh KO machine and former three-belt middleweight champ was severing his ties with trainer Abel Sanchez after nine years and twenty-two fights together.

"I would like to announce that I have made a major decision for myself and for my career. I want to build on what I have already achieved and continue to better myself. Therefore, I will not be training with Abel Sanchez," stated Golovkin.

"This was not an easy decision for me and it is not a reflection on Abel's professional abilities. He is a great trainer, a loyal trainer, and a Hall of Fame trainer. I will be announcing my new trainer at a later date. But today, I want to thank Abel for the lessons he taught me in boxing."

How sweet. Kinda makes one emotional in a manly way, right?

But, before you dab away the tears from your eyes, Sanchez wants to wipe his ass with your handkerchief.

"FYI, as of today I will no longer be working with Gennady Golovkin," the veteran trainer said via his own statement to the press. "After a great 9-year run, records set and equaled, developing a Hall of Fame career and making it possible to sign a six-fight, $100 million contract with DAZN, he proposed and insisted on an insulting new trainer compensation schedule. My dignity and honor does not allow me to be screwed like that. It's unfortunate being greedy, being ungrateful and no ethics, honor or integrity will end this relationship."

Sanchez spent the last few years with Golovkin as the "bad cop" to GGG's "good cop," saying all the mean-spirited stuff the Kazakh was supposedly too saintly to say and taking the flak for all the cynical behind-the-scenes machinations that allowed for the former middleweight titlist's pain-free rise to the near-top.

But before Sanchez became the straight man/fall guy for the GGG hype machine, the former trainer of Terry Norris, Orlin Norris, Lupe Aquino, and Frans Botha, among others, helped Golovkin settle in on a style that best suited his tremendous raw ability. Prior to Golovkin's work with Sanchez, the former amateur star was, stylistically, all over the place, sometimes adapting a faux Roy Jones style and sometimes becoming a mauling brawler.

The Tijuana-born trainer worked hard in putting Golovkin together as a cohesive piece and, reportedly, waved off payment early on in their working relationship when Golovkin claimed financial hardship.

With a touch of focus and refinement in style, Golovkin became the wet dream fantasy of boxing media, became the love child of a desperate star-craving HBO, and was set on the road to manufactured stardom that, with the help of a piggyback ride from Canelo Alvarez, eventually turned into real stardom. Real enough, anyway, to garner a six-fight $100 million deal from free-spending streaming service DAZN.

But, when the really big money started to come, that's when the "good boy" reportedly stopped being so good.

According to Sanchez, the deal from DAZN set off a move to "restructure" finances related to his team and that "restructuring" included an inflexible demand for Sanchez to forego his contractual 10% take of earnings for a much smaller fixed amount. The move on Sanchez completed the clean sweep of the team that brought Golovkin to the top, a sweep that has seen his co-managers and attorney bite the dust and promoter Tom Loeffler walk a rough patch that reportedly almost got him booted as well.

"Big money makes greedy people," Sanchez told the LA Times. "It's all about money. I was given a take-it-or-leave-it offer to take one-fifth of what I was earning before."

According to Sanchez, Golovkin was inflexible and unwilling to even communicate with him. The end, by Sanchez's account, came Tuesday night when the fighter came to him before a run at his Big Bear, California training facility to say that their relationship had ended.

"I knew this was inevitable weeks ago," Sanchez said. "But I think it's unfortunate after he signed a $100 million contract…it's disheartening and heartbreaking about the honor of man. I never try to sugar-coat anything, and I always expect the same of everyone."

Golovkin is currently in training to face no-hope Steve Rolls for his June 8 DAZN debut and could probably go on to crush the unheralded Canadian fall guy without a trainer, corner crew, sparring partners, nutritionist, cleaning ladies, parking lot attendants, etc. And, realistically, at 37 years of age, any trainer Gennady does bring into camp will mostly be about reinforcing the things learned with Sanchez.

Where he WILL miss Sanchez, though, is at the press conferences and with media mics in his face. GGG will no longer be able to play "good cop" and impish, smiling, good-natured foreigner while Sanchez plays jaded, cynical, opportunistic realist. Expect more and more eyes to be opening as to the real nature of all things Golovkin.