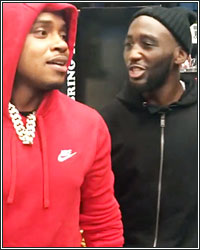 Thursday is here once again and that means a good, long look at my bloated, distended, bulging sack and the gooey, salty truths within. This week, we have comments/question regarding the Crawford-Spence-Arum dynamic and Daniel Jacobs' chances against Canelo Alvarez.

Crawford-Arum-Spence-Haymon

In the aftermath of Crawford v Khan it doesn't look good for Top Rank, ESPN, and most importantly Terence Crawford. I don't know where to begin, but first and foremost. Crawford's championship run on ESPN at 147 is beginning to look a lot like the run GGG had at 160 on HBO. Soft touch after soft touch! We knew the fight with Khan was garbage when it was announced. However, "Ya Boy," P4P #1 ranked Terence Crawford is caught in the middle of a situation that he has no one else to blame but himself. Crawford had the opportunity to jump ship, but instead he re-signed with Bob [Arum]. The justification for him re-signing with Bob was that he made a financial move that was in the best interest of his family and future. However, if he doesn't get the Spence fight under Bob, we can all agree it was a bad move to re-sign with Bob.

Conversely, Saturday night, Bob Arum displayed the most despicable, and classless attitude I've ever seen from a boxing executive. Telling the whole world to boycott Al Haymon was just utterly unprofessional and a sign of desperation on behalf of Bob and ESPN. Bob Arum is an anointed hypocrite. Isn't Bob the one who pulled Fury out of the Wilder rematch? Didn't Haymon put Adonis Stevenson in the ring with Oleksandr Gvozdyk on ESPN? I could go on and on. Haymon has been more than willing to allow his fighters to fight on other networks. The fact of the matter is that Bob doesn't want to make the fight, and can't make a fight for Crawford and it's eating him up inside. Therefore, he results to insults, slander and defamation.

Lastly, this is boiling up racial tensions. In the post-fight conference, he insinuated that Al is going to tell Spence Jr., "Don't listen to the white guy". Is that what Al told Mikey Garcia, and Manny Pacquaio? No, they realize that Bob is a scumbag and decided not to listen to him on their own. To insinuate that Al runs a business based on racial fear and ignorance is beyond prejudice. Furthermore, to insinuate that Errol Spence is gullible enough to not think for himself is an insult to Errol Spence's intelligence. For him to be so adamant and heavily critical of another successful African American doesn't sit well with African American fight fans. Most importantly, it's making African American fighters under his banner look like Uncle Toms. Just ask GBP if their racist emails effected their ability to attract African American fighters. Bob didn't do Crawford any favors. Not to mention the rumblings of Shakur Stevenson, upset that he wasn't the Co-Main event. What Bob said in the ring during the post-fight interview was one thing, but what he said in the post-fight press conference took it to a whole different level. Me being African American myself and knowing the backgrounds of Terence Crawford and Shakur Stevenson, I'd be willing to bet that they're questioning their allegiance to Top Rank in the aftermath of Bob Arum's rant.

-- Nail Rahman

Hey Nail, thanks for writing. There's a lot here to bite into, so let's go bit by bit.

I think Crawford is a smart guy and you have to assume that he fully knew what he was getting into by re-signing with Arum and Top Rank. He signed on to a big money deal with very soft opposition ahead of him. That's not great for fight fans—or for his legacy as a fighter—but it's smart business. I get it. Long-term, there would've been more money in running the PBC welterweight gauntlet (Spence, Thurman, Pacquiao, Porter, Garcia) and doing so may have put him into that next level of boxing stardom, but that would've been a much riskier move. I think Crawford beats every other welterweight in the world, including Spence, but none of those fights are absolute guarantees in the way every Top Rank on ESPN fight would be for him. Again, I get it. But, while taking that route, he'll have to listen to the criticisms from the doubters and from those like myself who are disappointed in not seeing his greatness tested.

As for the Arum/Haymon thing, this whole "Haymon won't let his guys fight outside challenges" narrative is so damn stupid. PBC fighters, like Top Rank fighters and Golden Boy fighters (and all other promoters' fighters) are regularly farmed out for "out of house" bouts on other networks. But, the reality is that NOBODY is farming out their A-list fighters for fights on rival networks or even on neutral ground. It just isn't happening and it's intellectually dishonest to suggest that Amir Khan being shipped in to lose to Crawford on an ESPN PPV or Anthony Crolla being offered for slaughter to Lomachenko on ESPN+ is somehow proof that Arum is willing to do business across the aisle, on equal terms, and in good faith with other business entities representing an A-list challenge for his own A-list fighters. Anybody who's been around boxing for more than a few months should know that Arum, more so than any of his business rivals, is about keeping his assets close to home. Hell, he just put the kibosh on the all-but-signed Fury-Wilder rematch because his "go to" strategy after signing Fury was to try and force Wilder to sign with him in order to get a bout with Fury.

Just from seeing the tone and sense of urgency in his public discourse in recent weeks, it's clear that Arum's under some real pressure when it comes to delivering for ESPN. He's snapping and that's why we heard the racial bullshit that normally might've been said only behind closed doors. For a man supposedly focused on getting a fight done for the betterment of the sport, he's sure going about it the wrong way.

I do think Arum wants Crawford-Spence. He needs to deliver big fights for the big players of his ESPN deal and I think he feels he has the goods with Crawford. But I think he still wants the fight on his terms and on ESPN, even though he now claims to be willing to make a co-network promotion. His public jabs at Al Haymon are more about reaching Spence's ears than swaying Haymon. When he sees a guy like Spence, he essentially sees a free agent, ripe for the taking—just like he saw with Wilder before trying to nab him. Going public with these attacks will also serve to deflect some of the criticism coming Crawford's way when Crawford is "forced" to fight another soft touch.

Like I said, I think Arum wants the fight and he definitely needs the fight, he just can't help himself when it comes to the way he works the business, the fans, and the media. Spence and the PBC don't need the Crawford fight (at least not to the same extent Crawford and Arum do), so it would be in Arum's best interest to actually play nice for once. He needs to curb that instinct to raid and generate a thick fog of hate and confusion to distract from the issues at hand and actually work on getting things done.

Can Jacobs Get A Fair Shake Against Canelo?

Hey Magno. Any early thoughts on Canelo-Jacobs? I really want to bet against the red-headed POS, but I don't see how Jacobs gets it done against him without knocking him out. Can Jacobs pull off the upset and actually get scorecard credit for it?

-- Josh E

Hey Josh.

It's going to be tough for Jacobs. Forget the judging gripes and any theories on favoritism, Jacobs just isn't the type of fighter that's going to come in and blow another elite-level fighter away or dominate from pillar to post. Jacobs will win rounds and moments in rounds, he'll account well for himself even when losing rounds. But can he put on the kind of shining performance to make judges forget that they're watching him against a superstar? Probably not. Jacobs should be a stern test for Alvarez, but it's going to take a lot of things falling perfectly in line for him to get the win.

Got a question (or hate mail) for Magno's Bulging Mail Sack? The best of the best gets included in the weekly mailbag segment right here at FightHype. Send your stuff here: paulmagno@theboxingtribune.com.