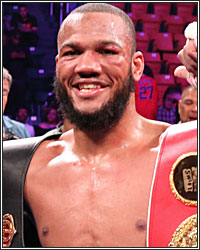 "He's just a man. I see a man. The networks wanted me to act like I was fighting Jason Voorhees or somebody. I didn't see that and I wasn't going to act like that either. He's a man. I'm a man too though and two men fought. I just so happened to come out on top and was a little bit better than Jarrett Hurd, who is a great fighter. He brought his balls with him. I don't want to act like I'm over here chilling. My face is lumped up too," stated newly-crowned unified jr. middleweight champion Julian "J Rock" Williams, who talked about his big win over former champion Jarrett Hurd, his future plans, and much more. Check it out!

PC: Congratulations on the performance, the win, and becoming a world champion. Julian Williams the world champion has to have a nice ring to it.

JW: The unified world champion!

PC: That's facts.

JW: Yep. It feels good, man. I ain't gonna lie, it feels real good. I'm proud of myself.

PC: I sense that you always knew this day would come. Even though there were a number of doubters out there, I don't think you ever doubted yourself one bit.

JW: That's very accurate. I would've never made it here if I doubted myself the slightest bit. The loud doubts and negative opinions from everybody would have crept in my head and I would've been done.

PC: After the loss to Jermall Charlo, did you sense your circle get smaller? Obviously fans and media wrote you off, but did you sense it within your own circle?

JW: Bruh, I got five people on my team. Steve "Bread", my co-trainer Asim, my cutman Mike Rodriguez, my dad, and me. That's it. It's five of us. I don't have a big entourage anyway.

PC: You never had a circle to get smaller.

JW: I never had no circle, you know what I mean. Everybody that's in that corner with me is in the ring with me every single day. The media definitely treated me different. The fans…some fans rocked out, but majority of the fans turned they back, but that's to be expected. I see how people switch up on the Sixers and the Eagles every weekend. I knew they were going to switch up on me after I got knocked out. I just stayed down, man, until I came up.

PC: There is always a need to create a boogeyman in boxing, and that's not Jarrett Hurd's fault, but he became the boogeyman at 154 pounds...

JW: (Cutting in) Hold on! Before you say anything, you said I was going to beat him too. You told everybody on Twitter and they tried to play you and act like you didn't know what you were talking about. I read it. You were like, "Unpopular boxing opinion, Jarrett Hurd not going to beat Julian Williams." I seen it. You been rocking and telling niggas he wasn't going to beat me.

PC: I try not to tag fighters on things like that, which is why I didn't tag you, but I definitely put that out there. I didn't even know you had saw that.

JW: For sure.

PC: You slayed the boogeyman and you did it in a manner in which most people thought would be the impossible path for you to win. Did that make it that much more special to you?

JW: Absolutely! They didn't think I could do it that way. Everybody expected me to get in there and run around the ring, slap and jab, and cat fight; fight like a cat. I don't fight like a cat; I'm a dog. I tried to tell him that. Let me tell you something, right; I like Jarrett Hurd. I think he's a cool dude. I don't like a lot of people, Percy. I think he is a cool dude, but he got big-headed and he started smelling his own underarms. Any time he gets on a countdown and tells the whole world he's going to knock me out in 10 rounds, that made me feel good. Let me tell you why! I know he wasn't training the same. If you know you're going to knock somebody out, you ain't going to train the same. Meanwhile, I'm training scared because my career's on the line, Percy. If I lose that fight, I become the dude that can't win the title and then I might not get another shot or I have to go fight whoever. You don't know what would happen at that point. So I'm training my ass off and I'm training scared. I'm on point and I'm doing everything right and he's with the Redskins and everything. You gotta be focused, man. This is the top level of boxing. I said this about 2 years ago; nobody in the 54-pound division is so much better than everybody else to where nobody can beat that person. It can happen on any given night.

PC: I definitely thought he was reading his own newspaper clippings too much and I thought people felt like you were being dominated by Jermall at the time of the stoppage and that just wasn't true.

JW: People only remember the last thing they see. I ain't gonna lie to you, bro, I didn't watch the fight. I watched that fight for the first time like 3 weeks before I fought Jarrett Hurd. Real rap. I see the damn highlight. They tag me on the damn knockout every week. People walk up to me in the street and remind me every day, bro, "You the one that fought the Charlo." I hear that every day, so I didn't need to watch the fight, but I watched it. What I took from it was I was doing what I was supposed to do, he just hit me with a great shot; a great shot from a huge puncher who is a great fighter. He ain't no bum. I didn't get beat by no Joe Schmo. But this is this new age in boxing, man. If that would have happened in the 80's...let me tell you something, right, Terry Norris gets clipped by Julian Jackson in the first round in his first title shot and he already had two losses. He went on to be, on paper, probably the best junior middleweight that ever lived. But that couldn't happen in today's time because the boxing media is so ignorant. Anybody can just pick up a phone or camera and be considered boxing media and get a credential to the fight to harass the fighters. I think the culture of boxing gotta change, the networks gotta change, the commentators gotta change for boxing to get in a better place. It's not in a bad place, but it's in a weird place where the culture of the original way that boxing is supposed to be ran is getting ruined. You can't lose. You know what that creates; guys don't want to step up and fight the best. Guys don't want to fight the best because they feel if they lose, social media is going to kill them, their promoter is going to act different, my manager is going to act different, my money is going to go down 70%, so it makes guys say, "I want to take the easier fight."

PC: I thought the commentary was horrible in the sense of making fans think they were watching a close fight. There is a difference between a competitive fight and a close fight.

JW: Terrible!

PC: Was the game plan to apply pressure, or once you got into the fight, he wasn't as strong as he was advertised as and you felt you could just stay in there with him?

JW: Nah, he was as strong as people say; it's just people don't know how strong I am. I didn't go to strength and conditioning camp for a month to not be strong. The plan was to fight him in the box because I know that he's got long arms. I'm not going to give away too much of what our game plan was because we may have to fight him again. I got a good inside game. I got a great inside game, but nobody gives me credit because I was a B-class fighter before that fight according to 90% of the people in boxing. But nevertheless, the game plan was solid.

PC: I'm sure you went into the fight with a ton of confidence. I'm sure the first-round knockdown helped or gave it a boost.

JW: No, it just let me know I could hurt him. Everybody act like he had some iron chin, like he was some superhuman force or something like that. He's just a man. You listen to the press conference and they asked me, "What do you see over there?" He's just a man. I see a man. The networks wanted me to act like I was fighting Jason Voorhees or somebody. I didn't see that and I wasn't going to act like that either. He's a man. I'm a man too though and two men fought. I just so happened to come out on top and was a little bit better than Jarrett Hurd, who is a great fighter. He brought his balls with him. I don't want to act like I'm over here chilling. My face is lumped up too. I'm sore too.

PC: You caught a lot of his work on the inside on your arms. I remember thinking at one point during the fight, "J Rock's arms are going to be very sore."

JW: No doubt about it. I did catch a lot on my arms and I sat on it. My stability was better on the inside than his was. I was craftier. I just think the commentators were terrible. It was bad.

PC: He felt you were nervous before the fight. Breadman said being nervous wasn't a bad thing. Was the nerves more from the position you were in that you mentioned earlier more than the man in front of you?

JW: Yeah, there you go. It wasn't him. He didn't do nothing that scared me. He was saying I was nervous. I wasn't nervous of him; I was nervous of the situation. I know I gotta be on me P's and Q's. I gotta fight basically a perfect fight. I gotta fight you in your hometown, you're the darling of the network, Fox love him, PBC love him; they promoting him, they wasn't really promoting me. They were using me as his showcase. But I got a bit of a popular name. I know I had to be on my P's and Q's, so I was more worried about that than him. His head so big, he think I'm worried about him and I'm like, "Bro, you don't do nothing I ain't never seen before."

PC: You don't get too high or too low, you tried to hold it in, but I'm glad you let that emotion out because it's been a long journey for you. What was going through your mind at that moment during your post-fight interview?

JW: I can't even explain it. It just felt so good because of what I've been through the last couple of years in my boxing career. It was like a weight lifted off of my shoulders. I didn't want to be that fighter that's pretty good that couldn't win the title. I would have had to live with that for the rest of my life, Percy. That would have ate me up. I just turned 29, so I ain't old, but I ain't Erickson Lubin. He got time. I just didn't want to be that dude that can't win a title, and when I won, the weight was lifted off of my shoulders. That plus everything that I had been through in my life, everything that I had been through in my career, and especially these last couple of years with everybody counting me out. I went into that fight like a 5-6 to 1 underdog. It was in his hometown. It was a lot, man. I had to take my focus to a different level.

PC: I won't ask who you want next because I will let you enjoy this win, but I will say when you look around the 154-pound division, the possibilities are endless.

JW: Plenty of options, man. I can just look in the top ten. I want the belts though. I want all the belts, so I would like the winner out of Harrison-Charlo. That's another great fight. That's what I would like to do next, unless something else comes down the pipe for me that's even better.

PC: Gillie Da Kid supports Philly through and through, especially the fighters from there. He was there; you had a good amount of support there. What did that mean to you?

JW: It felt good, man, because I ain't gonna lie, I didn't ask nobody to come out and support me. I had to put myself in a place where I was prepared to go against 10,000, Jarrett Hurd fans with just nobody but me and my team in that corner. I didn't get on Instagram or Twitter and say, "Yo, come out and support me." I didn't do none of that because I had to prepare myself for the work. But Philadelphia did show up and when they announced my name, I heard them screaming and cheering. I had Philadelphia and people from Jersey out there. A lot of J Rock fans were in the building on Saturday night. I was a little bit surprised and happy. Make sure you put this in the interview, I appreciate everybody that came out from anywhere to support me, especially Philadelphia because I felt the love.

PC: Congratulations again. I am happy for you, man. You deserve everything that you are getting and I appreciate you always being 100 with me. Is there anything else you want to add?

JW: I appreciate you, Percy. You have always been the same dude and you always show me love, so I appreciate you.
[ Follow Percy Crawford on Twitter @MrLouis1ana ]