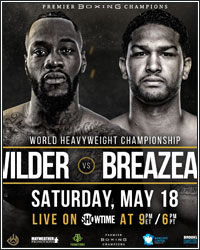 Earlier tonight at the Barclays Center in Brooklyn, New York, undefeated WBC heavyweight champion Deontay Wilder made an impressive defense of his title, knocking out top challenger Dominic Breazeale in the first round. As soon as the fight started, Wilder wasted no time in jumping on Breazeale, landing a right hand that momentarily wobbled the challenger, backing him up to the ropes.

Although Breazeale weathered the early storm, it wasn't long before Wilder detonated another devastating right hand on the jaw that sent him crumbling to the canvas. Breazeale struggled to make it back to his feet by the count of 10, but he was clearly in no shape to continue and the referee called a halt to the assualt at 2:17 of the first round.

DEONTAY WILDER

"Everything just came out of me tonight. I know it's been a big build up. There's been a lot of animosity and a lot of words that were said and it just came out of me tonight. That's what makes boxing so great.

"I just told Breazeale I love him and of course I want to see him go home to his family. I know we say some things, but when you can fight a man and then you can hug him and kiss him, I wish the world was like that. We shake hands and we live to see another day and that's what it's all about.

"I understand what Tyson Fury did. When you get dropped on the canvas like that I understand you have to get yourself back together. But the rematch will happen, like all these other fights will happen. The great thing is all these fights are in discussion. The big fights will happen. I just want you to have patience.

"You know what the saying is Jim, good things come to those who wait.

"I saw him slow up a little bit. When I hit him with the right hand the first time his body language changed. When you've been in with so many guys you can recognize body language. "

DOMINIC BREAZEALE

"I think the ref stopped it a little early because I could hear him saying seven and eight, but that's boxing. He did his job and kept us safe for our next fight.

"I got on my feet and had my legs under me. It's the heavyweight division so there's going to big shots from guys with power.

"This was a situation where he landed the big right hand before I did. I thought I was going to come on in the later rounds. I'll be back and go for the heavyweight title again."
[ Follow Ben Thompson on Twitter @fighthype ]