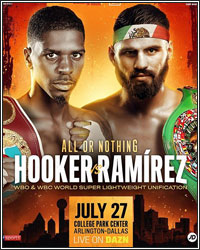 A lot is said about the handcuffing business practices of boxing these days. With essentially three companies—ESPN, DAZN, and Premier Boxing Champions (PBC)-- divvying up the sport's talent and fighting to maintain exclusivity in broadcasting their fighters, it's harder than ever to make some of the big fights fans want to see. Just think Errol Spence vs. Terence Crawford or Vasiliy Lomachenko vs. Mikey Garcia if you want to see this new age boxing problem in action.

Jose Ramirez vs. Maurice Hooker, scheduled for July 27, however, proves that the improbable is not impossible.

Ramirez, a Fresno, California-area draw, is the WBC junior welterweight champ and promoted by Bob Arum's Top Rank Promotions, which has a broadcast deal with ESPN.

Hooker, from Dallas, Texas, is the WBO junior welterweight champ and co-promoted by Eddie Hearn's Matchroom Boxing, which has an exclusive broadcast deal with streaming service DAZN.

Ramirez and Hooker, in today's boxing business environment, shouldn't be fighting. Aside from the difficulty of putting together unification bouts in this day and age, there's also the obese elephant in the room of trying to make such a bout when both fighters are exclusive to rival companies/networks.

But the usually tightly in-house Arum is allowing Ramirez to fight on DAZN and in Arlington, Texas, just a literal stone's throw from Hooker's Dallas hometown.

"I'm very fortunate that my promoter Bob Arum, my manager Rick Mirigian, and the whole Top Rank family allowed me to come to his territory, to his network and promotion with Eddie Hearn and Matchroom Boxing and Roc Nation," Ramirez told Fight Hub TV.

"The fans are winning because they get to see spectacular fights from two great champions who both stepped up to the plate. We both wanted this fight, and it made it easier for the promoters to work with each other. I had to come to Texas to make the fight happen, I was ready to make that step.

"…There's definitely politics with the networks, but I think if two fighters really want to fight, they'll push their promoters to try to make it happen. Hopefully, me and Maurice can motivate other fighters and promoters to do the same thing. Boxing is very alive right now, around the world boxing is at its peak, and it's not going nowhere. We've got big, exciting fights."

All parties involved definitely deserve kudos for bending a bit to let this key 140 lb. fight happen. Hopefully, as Ramirez said, this will inspire more boxing business people to at least try and put together similar deals.

Of course, the jaded realist has to have his say in this pro-Arum, pro-Hearn, pro-everyone involved love fest.

Ramirez finds himself absolutely isolated from the buzz surrounding an increasingly interesting junior welterweight class that features two fighters with true superstar potential, Regis Prograis and Josh Taylor (who are now WBA and IBF champs, respectively, and will be fighting one another in the finals of the WBSS tournament), and a score of other high-end talent.

Top Rank, if they want to turn Ramirez into the star he has the potential to be, has no choice but to try and make a deal for him to fight one of the non-company guys, even if it means going on the road to do so. Some may call it a calculated gamble against someone in Hooker who they feel may be the most vulnerable fellow titlist.

This fight might not be happening if Ramirez were already the star Arum and company hope him to become. Ramirez, for all his ability and earnest prizefighting chops, is not a star just yet and, again, won't become one unless he fights some of the other big names in the division.

On the Hooker side of the fence, the need to reach out and beat fellow top-5 fighters in the division is also a necessity to build his star. Hooker's broadcast home DAZN is also under constant pressure to produce quality content for their subscribers and a unification bout like this is something that will stand out on their programming schedule.

So, Ramirez-Hooker isn't all about boxing altruism and giving the fans what they want. It probably wouldn't be happening at all if either side had more attractive in-house options at the moment.

But what do the fans care about the whys and why-nots? They're getting a damn good fight that otherwise would not have been put together. It would be a total win-win for everyone if it weren't isolated behind a paywall, segregated to a subscription-only service. But that's a gripe for another day.