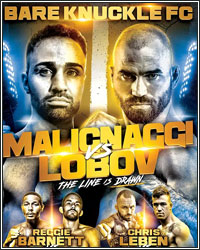 Just like Paulie Malignaggi, I think my interest in bare-knuckle boxing is a one-and-done thing.

On Saturday night, Malignaggi made his bare-knuckle debut on the Bare Knuckle Fighting Championships 6 pay-per-view at the Florida State Fairgrounds Expo Hall in Tampa, Florida and dropped a five-round decision to UFC veteran Artem Lobov by three scores of 48-47.

It was, almost literally, a nothing affair for five two-minute rounds. Malignaggi jabbed a little, but never really went for a big, fight-ending offensive surge despite clearly having the edge in speed and technique. The former two-division world champ, who claimed to have broken his right hand in round two, never mounted much of an offense and that left his fate in the hands of judges working for a company that values blood and guts aggression over actual boxing.

Lobov pursued, but never really let his hands go either. At times he was almost comically too slow for Malignaggi, throwing the boxer off-rhythm by not even being quick enough to react to feints. Malignaggi credits Lobov with having landed one clean blow—and something must have landed because Paulie had a bad gash on his left eyebrow and a cut over his right eye-- but I must've missed that one because I saw nothing outside of some brief clinch scuffling. Lobov, too, was busted up, but one can almost fully credit that with him having a face already sporting a railroad network of scar tissue.

"Maybe the Florida judges, they don't judge enough boxing matches out here," Malignaggi lamented in the post-fight interview. "And maybe these guys at ringside haven't watched a fight since the twentieth century and they didn't know how to judge it...but, in reality, I thought this fight was pretty easy to score."

In the main event of a card that featured sloppy boxing and surprisingly little of the chaos and gore the Bare Knuckle Fighting Championships advertises to hook casual-curious combat sports fans, Malignaggi-Lobov was just a lot of nothingness. The ring interviewer's assertion after the fight that it "lived up to the hype" was equal parts lying and sad delusion. A bout that was hyped as a legit hate-soaked grudge match ended in hugs and without a real fight ever having broken out. Like a pro wrestling event, the guys worked their gimmicks, juiced for effect, and then walked back to the dressing room, presumably for a beer and a few hands of poker, before collecting their payout.

Looking back on the whole "fight" and everything that led up to the fight, Malignaggi was more than a little guilty of hustling fight fans. If you're going to slap a guy, spit in his face, threaten to spit in his mother's face, swing the mic at him at a press conference and all the while plan on picking and pawing your way to a safe decision victory, you're playing the fans for suckers.

But, while Paulie was hustling fans, the Bare Knuckle Fighting Championships was not only hustling fans, but also Malignaggi and the sport of boxing as a whole. They got a member of the boxing community in good standing—one not too far removed from main stage exploitability—and had him lose to one of their bigger names. To the untrained, unlearned combat sports eye being targeted, BKFC just bested pansy-ass boxing in the same way the UFC did when they allowed ancient, brain-addled counter-puncher James Toney to walk into the octagon at UFC 118 and be tied up into a Mr. Salty pretzel.

Thanks to Paulie, the bare-knuckle folks got there "boxing ain't shit" self-promotional moment and expect the jabs to the sport's gut to continue for a long time to come.

Minutes after Lobov's victory, UFC two-division champ and 2008 freestyle wrestling Olympic gold medalist Henry Cejudo kicked off the boxing-shaming with a dismissive challenge aimed at Vasiliy Lomachenko.

"Artem Lobov (13-15,MMA) former UFC fighter wins by unanimous victory over Paulie Malagnaggi (36-8, ,Boxing) former World Champion," Cejudo posted on his verified Twitter account. "What do you think an Olympic & #UFC champ Champ would do to #boxing 's @VasylLomachenko?"

There's no doubt that all of the combat sports can co-exist peacefully. But there's also no doubt that when and where the others can take a shot at boxing and its he-man hardcore legitimacy, they will.

It's been a while since a big boxing name has been lured off shore into the piranha-filled waters of the non-boxing combat sports world, but, this past Saturday there was a feeding frenzy at boxing's expense—albeit one coming from a very tame, lame comeuppance.

After the fight, Malignaggi, himself, seemed aware of the trap he allowed himself to fall into.

"To all the boxing fans who told me I was too big for this, my sincerest apologies," Malignaggi offered, closing out his post-fight, in-ring interview. "I really wanted to give this a shot and I didn't want to give boxing a bad name and I didn't want to taint my reputation. I thought I would get treated the right way as en ex-world champion in this sport...and I thought I would get treated with the respect I deserve. I didn't want any gifts, but a clear win is a clear win. My apologies to my fans."

Similarly, I'd also like to apologize to readers for offering my own tacit support to this bare-knuckles nonsense. I fell for the hype and uncharacteristically failed to see the con as it started to play out. I actually believed we would be seeing a sporting event and not some bizarre promotional event.