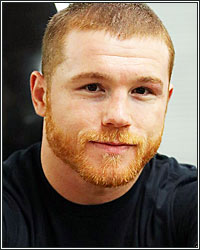 Word could come fairly soon regarding the September 14 opponent for Saul "Canelo" Alvarez and there's much speculation about who will get the nod and, maybe more importantly, who will win the tug-o-war between Canelo and streaming service DAZN in determining that opponent. Here's a look at the ten most logic foes for the Mexican star and why they make sense.

Gennady Golovkin

DAZN spent nearly half-a-billion dollars in securing the services of Alvarez and then Golovkin and they didn't spend that loot to NOT make a part 3 the Canelo-GGG rivalry. The streaming service is reportedly pushing hard to get Golovkin penciled into the opponent slot on September 14 and Alvarez is reportedly resisting. The animosity that is keeping the Mexican star from wanting to share the main stage once again with the Kazakh KO machine is, ironically, what will also make another bout a compelling watch. Logic dictates that Golovkin will get his third shot at Canelo, but it's not clear yet whether he'll have to wait until next year to get it.

Sergey Kovalev

Who knew this was even a possibility a month ago? But now that it's been stuffed into our collective consciousness, it seems like a damn fascinating matchup and one that maybe, possibility should be placed into the schedule ahead of Canelo-GGG 3 while it can still be made. Alvarez promoter Golden Boy has already made two offers to Kovalev's people, but the money and terms haven't been right. Alvarez moving up two weight classes to challenge an all-around strong presence like Kovalev—even if Kovalev is on the down-side of his career—is ballsy to the extreme.

Demetrius Andrade

Andrade, as WBO middleweight champion, would make sense as an opponent for a unification-minded Canelo. Unfortunately, Andrade's ring style would likely make for a dreary matchup and wouldn't do much to attract new subscribers to the streaming service.

Jermall Charlo

Recently elevated to full middleweight champ status by the WBC when Alvarez was promoted to Franchise champ, Charlo is cut off from the rest of the middleweight elites by conflicting business ties. Associated with PBC, which has output deal with Fox and Showtime, Charlo would likely need to jump aboard Team DAZN to get a shot at Canelo. But, if Canelo-Charlo could be put together, it would be pretty damn solid.

Sergiy Derevyanchenko

The IBF's mandatory challenger to Canelo may get a shot at winning the vacant title if Canelo gives up his belt as expected, but, of course, he'd much rather face the Mexican star directly. Actually, Alvarez-Derevyanchenko is a pretty good stylistic matchup, but there's just no money in it and, therefore, not much interest from the A-side or his people.

Jaime Munguia

The current WBO junior welterweight champ is big, strong, eager, and likable. He's also green as hell and that's why he's a target of both Canelo and Golovkin. Still, even in defeat, he'd put up a hell of a battle.

Winner of Brant-Murata 2

This would require some negotiating with promoter Bob Arum and ESPN, but it's pretty much a sure thing that if Team Canelo came calling for the winner, everyone on the Brant/Murata side of the fence would be quick to jump at the opportunity.

Callum Smith

The WBA super middleweight champ is underrated on the world scene and would be a real test for Alvarez. The money available right now, stacked up against the risk involved for Canelo, doesn't make this a logical business proposition in the present tense, however.

David Lemieux

Lemieux is a good-looking white guy who can punch. He can sell as the B-side of a Canelo fight and, more importantly for Team Canelo, he's a very beatable foe who presents enough of a risk to be a "legit" challenge, but not one who is likely to upset. His relationship with Golden Boy would also make a Canelo fight easy to negotiate,

Jeff Horn

Make no mistake about it, this would be a soft touch opponent for Alvarez, but one who has a bit of a name to go along with his fall guy status. A Canelo-Horn bout may not please knowledgeable fight fans, but it would be a safe, salable fight for Team Canelo.