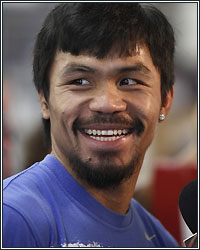 How good is Manny Pacquiao, still...right now?

We know the legend of the man with the multiple world championships in multiple weight classes. 24 years as a pro, championships from flyweight up to junior middleweight. Along the way, he has beaten (and beaten up) very good fighters, great fighters, and Hall of Famers.

The list of foes bested by the Filipino icon reads like some dream-like who's who, best of the best from the last 20 years or so: Marco Antonio Barrera, Erik Morales, Juan Manuel Marquez, Miguel Cotto, Oscar De la Hoy, Ricky Hatton, Shane Mosley, Antonio Margarito, Timothy Bradley. And if we're going to really put things into perspective, the man is 12-4-1 against Hall of Fame-level opposition.

In the present tense, we do know he's good enough to brutally disassemble Lucas Matthysse and completely shut down Adrien Broner. Those two fights happened in the last year, not long after media critics were calling for his retirement.

But, at 40 years of age, he's taking a big step up from Matthysse and Broner this Saturday when he enters the ring against Keith Thurman at the MGM Grand in Las Vegas.

The 30-year-old Thurman had been inactive due to injury, losing almost two full years of prime career time, and when he DID come back, he got rattled and almost stopped by Josesito Lopez. But, still, even when allowing everyone else in the division two years to play catchup, his resume remains the deepest at 147 with high-water mark wins over Shawn Porter and Danny Garcia.

Thurman may also be the most physically talented, complete fighter Pacquiao has faced since Floyd Mayweather.

On paper, in theory, the Senator from the Philippines is biting off a lot more than he's been chewing for a while.

Broner was fast, but not eager to engage or even willing to put forth much of an effort. Matthysse was strong, but not quick or coordinated. Before those two, Jeff Horn mauled his way to a disputed, controversial decision over Manny, but never really bested him in any way. Jessie Vargas was skilled, but too conservative. Timothy Bradley was willing, but technically unable.

In Thurman, Pacquiao will find someone who can box, fight, move a little, and bang a little. He's also basted in the bravado of an elite-level fighter who is not only undefeated, but sold, for the better part of five years, on being the top fighter in a stacked 147 lb. division.

Unlike many of Pacquiao's foes, especially those of the last several years, the Clearwater, Florida native has options and alternatives when it comes to ways to work him. Thurman has shown himself capable of throwing fists and going to war if necessary and he's also more than capable of jumping on his bike and frustrating the hell out of opposition.

If Manny has to chase down a mobile Thurman while still watching out for heavy incoming shots, the age he has not shown over the last several bouts WILL show itself. He will falter and become more vulnerable than he has ever been before as a pro. And, as we all should know by now, there is no reverse in Manny's plan A, B, or C. If he can't push forward, there will be no bike to climb on. He will be broken down and broken up.

But, of course, this is Manny Pacquiao and he's made a habit of pulling off the improbable and seemingly impossible. He could very well fight his way through anything Thurman puts in his way. He could buzz and rattle a Thurman who's been buzzed and rattles several times previously by lesser opposition. It's actually close to an even-money proposition among bettors that Manny will find a way to beat his younger opponent.

Time, however, has a way of turning legends into prey and time is most definitely not on Pacquiao's side.