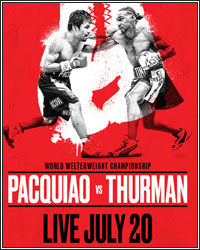 It's Thursday once again and time for my big, bulging sack to be slapped down on the dining room table to see what's what and who may deserve a shot in the eye of gooey, salty truth. This week, we have comments/questions about Pacquiao-Thurman and the all-around middleweight mess. [Editor's Note: Magno's Bulging Mail Sack was written before the news of Canelo postponing his September return.]

Pacquiao-Thurman Pick

Hey Paulie!

What's your take on the big fight this week? It's a very interesting matchup. Especially given the fact that both fighters got a lot to lose. If Thurman loses, he's back to contender status and he'll be forced to wait for a title shot or move up to 154. If Manny loses, it's practically over for him. We know he wants to keep fighting and eventually get the Mayweather rematch.

Stylistically, I got to give the edge to Thurman. Even though Thurman is kind of chinny. I still think he uses his size advantage to the best of his ability. I just don't see Thurman losing to the smaller man. Even if it's a 40-year-old Pacquaio.

-- Nail Rahman

Hey Nail.

It's an intriguing matchup and one of the top 3 or 4 bouts, IMO, possible in the welterweight division right now. I can see where some may balk at the PPV price tag, but passing the hat to fans for anything halfway decent is standard procedure these days.

As for the fight, itself…My gut tells me that Thurman will get on his bike, stay on his bike, and try to "Mayweather" Pacquiao through 12. But even if Thurman tries to stink his way to a points win, we'll still be in for an intriguing evening because Thurman is not Mayweather and Pacquiao will get to him sooner or later. And once Manny really hits Thurman, things should get interesting. Thurman has been shaken, rattled, and buzzed by lesser fighters than Pacquiao.

Seeing as how both fighters have a big stake in the outcome of this bout, as you mentioned, there should be plenty of incentive to try and pull through adversity rather than endeavor to survive and find plausible excuses for a loss later. For their professional purposes, they really need a win—and that makes this one a compelling watch.

Personally, I'm going to pick Pacquiao to take a close majority decision. I think he'll buzz Thurman fairly early on and then try in vain to put a mobile "One Time" away for the remainder of the contest.

Middleweight Options

Magno –

Obviously the middleweight division is currently one of the sport's most glamorous divisions, but yet it's a complete matchmaking mess. So I have a 2-part question:

1) If you had to make a prediction today, who would be each of these guy's opponent for the rest of 2019?

-Canelo vs ?

-GGG vs ?

-Charlo vs ?

-Andrade vs ?

-Saunders vs ?

2). If Rob Brant wins this weekend, does he belong in this conversation too? If not, who else does?

-- Daniel

Hey Daniel.

Okay, I'll go part by part.

Canelo: I think Canelo fights Demetrius Andrade next. DAZN says they want GGG next, but I think they're saying that because it would look bad, publicly, if they said anything else. Personally, I think they would prefer getting one more fight from both Canelo and GGG (and six months more hype for a part 3 between the two) before putting them together. Canelo clearly doesn't want to deal with GGG again, but I think Golden Boy's efforts will fail to find a more favorable matchup for him. The compromise, then, will be Andrade, who has a world title and could be outworked (out-pointed) by someone who throws fists.

GGG: I think GGG, without a Canelo fight, will try his best to land a Jaime Munguia bout and I think it's 50-50 that he could. If Munguia can't be wrangled, we may see—brace yourself—Jeff Horn.

Charlo: Forget about Canelo, GGG, or even Andrade for obvious business reasons. We'll see someone closer to his last several opponents, maybe a Martin Murray-type if we're really lucky. Being more realistic, maybe a Luis Arias-type (or Jeff Horn if GGG doesn't get to him first).

Andrade: Canelo, for the reasons I mentioned above. If that fight can't be made, we'll see some second tier pug shipped in to keep that belt around his waist until it can be forwarded to Canelo or Golovkin.

Saunders: Saunders is a wash-out and will probably stay at 168 for the time being, competing against second and third-tier Euro-cans—unless he gets a call from Canelo or GGG.

As for Brant…well, he lost to Murata and pretty badly as you probably know by now. Murata, though, will likely be shopped around as an opponent for a "big" name for the right payday.

Next for Canelo?

I read your article. I'm not talking shit like a keyboard warrior just wanted to pass my opinion on who Canelo's next opponents should be.

Charlo. Who is beatable for Canelo & would draw huge in Houston!

Kovalev. 50/50 fight anywhere else but Vegas.

Andrade. Winnable for Canelo

Gilberto Ramirez. Challenge but Canelo can win with quickness. Mexico vs Mexico. That would sell!

Errol Spence. Canelo would be favored but Spence can hang with Canelo and may upset him @ 160lbs with rehydration clause. Another big draw @ AT&T Stadium.

I can see people arguing a 3rd fight with GGG. I just don't think it's as interesting as it could have been if the judges got the decisions right.

Thanks for the article.

Please don't be offended it's just my opinion & I enjoy talking boxing. Some people get so serious if I disagree with them.

-- Ricardo Rincon

Hey Ricardo.

No offense taken. I only take offense to the dipshit name-callers and agenda-wielding morons.

I think, ultimately, Canelo's options will remain "in house" and anything done outside the DAZN family would be with a fighter seen as a soft touch. There's just too much money invested to allow for even the slightest possibility of him being wrecked and have his fame build another fighter's presence working for a competing company.

As I stated above, I think Andrade gets the call if a Golovkin fight is not forced down his throat. Kovalev would be interesting, but that doesn't look like it's a possibility anymore.

Got a question (or hate mail) for Magno's Bulging Mail Sack? The best of the best gets included in the weekly mailbag segment right here at FightHype. Send your stuff here: paulmagno@theboxingtribune.com.