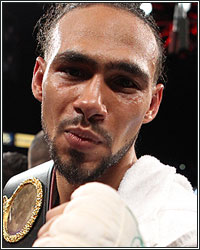 One gets the feeling that Keith Thurman's bout with Manny Pacquiao this Saturday at the MGM Grand in Las Vegas is of even greater significance than publicized.

We all know what's at stake for Thurman. A win means a shot at next-level stardom and the money and opportunities that go along with that. He'll have wrenched the proverbial torch from Pacquiao's hands, unified the splintered WBA 147 lb. title, and made his case for top ranking in the jam-packed welterweight division indisputable.

There's a lot to gain from beating Pacquiao—especially if he looks impressive doing it.

But what if he loses? And what if he loses in a big way?

Normally, one loss would not end a career of even hint at the end of a career, especially for someone who has played the game at the elite level for at least the last five or six years. But Thurman losing THIS fight, NOW, could very well end it all.

So, why could this one loss send the 30-year-old into retirement or end his run as an elite fighter?

One reason stems from Thurman's swelling ego and increasing sense of self-importance. There has been a marked increase in "star" attitude coming from Thurman, at least in the way he talks and in the way he's presented himself when talking about meeting the challenges of other top fighters in the division.

Referring to himself in the third person throughout the lead-up to this Pacquiao fight, Thurman has talked like a legend meeting another legend, rather than a highly-ranked welterweight titlist meeting a legend.

After all the bluster and the "I'm the man" talk during the promotion of this fight and over the last year or so, a crushing loss would be a total career embarrassment. As a smart, cerebral man with options in life, "F-You money," and a new wife—who reportedly doesn't fancy her man risking his well-being in the ring—there will be a big temptation to walk away to safer, although not necessarily greener, pastures.

Normally, the pull of the fighter's life is too great, but Thurman seems to be a different breed of prizefighter and one who doesn't base all of his identity and self-worth on boxing.

But even if Thurman does not tuck himself away into retirement after a Pacquiao loss, boxing reality will set in.

A defeat will complete the "How to beat Thurman" book, a book that's already partially written with additional chapters added after each time the Clearwater, Florida native has been bothered, rattled, and/or buzzed in recent years—and there have been quite a few times. Being broken down could finalize the blueprint to dealing with and dismissing Thurman, something other fighters will be able to step-by-step follow.

And as age sets in, confidence shrinks, and punch resistance dwindles, Thurman will be increasingly susceptible to those looking to chip away at him, blueprint in hand, extreme hunger in belly. It will just be a matter of time before lesser fighters than Pacquiao deal tougher times to "One Time." That's what boxing history tells us anyway. History is full of very good fighters who, once exposed to even the smallest extent, become exploitable targets and high-value stepping stones by other high-end fighters with the ability to put together a cohesive game plan based on scouting reports.

Even in victory, though, Thurman could still be exposed and opened up to vulnerability if he struggles against the Filipino icon. A fight like this—if it indeed becomes a fight—has the ability to elevate or aid in eliminate.

Of course, Thurman could make the central theme of this article null and void by flat-out beating Pacquiao, out-performing and out-executing the multi-division world champ and first ballot Hall of Famer.

Then, the talk would be about Thurman building his game, solidifying it, rather than possibly reaching the end of the line.