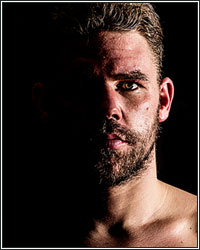 Less than two weeks after splitting from long-time promoter Frank Warren, Billy Joe Saunders has officially announced his signing with Eddie Hearn's Matchroom Boxing.

The signing, through Hearn's alliance with streaming service DAZN, opens the door to potential showdowns with other DAZN-contracted fighters Saul "Canelo" Alvarez" and Gennady Golovkin.

At the recent press conference held to announce the signing and to state his career plans, the former WBO middleweight champ and current WBO super middleweight champ, was typically boisterous and direct.

"This move is going to benefit me massively," Saunders told media. "Eddie Hearn and Matchroom Boxing can put me right out on the branch for those big fights. I'm on Golovkin and Canelo's turf. I've made this move to make them fights because I'm sick of hearing their bullshit excuses. Those fights make financial sense and they make sense because we're on the same network."

No doubt, Saunders jumping over to Matchroom, where the big money fights at 160-168 can be had, is smart business. For Hearn and DAZN, signing Saunders was also smart business as it adds a decently bankable name to the middleweight mix as an insurance opponent for both of the streaming service stars, Alvarez and Golovkin, in case an anticipated part three of their rivalry can't be put together.

Saunders, as a fighter, is an odd case study. Like some weird biennial flower, Saunders only blooms about once every two years, showcasing his full skill set and executing at full capacity to whet the appetites of fight fans before dashing their hopes with some sort of public implosion or private collapse, followed by a handful of lackluster comeback performances.

The last time Saunders looked "for real" was in 2017 when he whitewashed David Lemieux in the third defense of his WBO 160 lb. title. His best performance prior to that was his title-winning effort against Andy Lee in 2015. So, if his career pattern stays true to form, he's due for one of his good performances—and if he can do it against Canelo or GGG, that'll mean life-changing money and legacy-defining acclaim.

But even if Canelo and GGG don't want to gamble on which Billy Joe Saunders will show up on fight night, there will still be plenty of paydays to be had at Matchroom for Saunders. He could take a shot at WBA super middleweight champ Callum Smith in a unification bout, fight Daniel Jacobs at 160 or 168, and go after Demetrius Andrade, who currently owns the WBO middleweight belt he vacated after testing positive for a banned substance last year.

"I will go where the big fights are and I can fluctuate between middle and super-middle," Saunders said. "If the big fights are at middleweight then I'll have them at middle. If they're at super middleweight then I'll have them at super. I'm a world champion at super middle so if anyone wants to come and try to win a belt then I've got one of the most recognized belts out there and I'm open to big offers."

The only question is whether Saunders—who's been a serial underachiever and drama magnet, with outside-the-ring issues ranging from restaurant scuffles to failed drug tests to crack whore-taunting viral videos—can keep himself together long enough to make the Matchroom signing a mutually beneficial business arrangement.