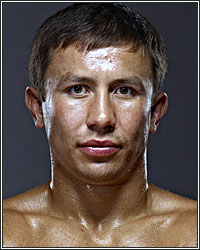 There was a time when Gennady Golovkin was, legitimately, the top middleweight in the world and he's always been a damn fine offensive fighter. Even now, at 37 years of age, he's a gifted offensive fighter and no worse than the second or third-ranked 160-pounder in the world until proven otherwise. But, really, screw him and his wishes for a third Canelo Alvarez bout.

Promoter Bob Arum, who represents neither Golovkin nor Alvarez, agrees with the above sentiment.

"If I were Canelo sitting where Canelo is, I would tell GGG to go screw himself, and never fight him, because of what GGG did with that drug thing [publicly saying in 2018 that Alvarez had taken pills and had muscles with "traces of injections" prior to their first bout in September of 2017]. What he said about Canelo is unconscionable, and I really give Canelo a lot of props for telling GGG, 'go screw yourself.' Even if it's a lot of money, 'go screw yourself,'" Arum recently told Fighthub.

Of course, Arum has a vested interest in Alvarez not fighting Golovkin as he co-promotes light heavyweight titlist Sergey Kovalev, who is in line for a bout with Canelo in November. But he's not wrong.

Forget the whining and lamenting over supposedly controversial decisions in his draw and loss to Alvarez, Golovkin only has himself to blame for those. No matter if one thinks that he won both Canelo fights, the fact of the matter is that after years of beating up tailor-made opposition while barely breaking a sweat and making Alvarez out to be a sniveling coward as he chased after a big money fight with him, he simply could not (or would not) back up his talk with a dominant ring performance when he finally had a chance to lay hands on the Mexican star.

Both fights were exceedingly close and Golovkin did nothing to truly separate himself from his arch nemesis. He did not dominate as many expected he would and he never even really hurt Alvarez.

Normally, a pair of close fights between two high profile fighters would demand a part three, but, yeah, again, screw Golovkin and his raging case of entitlement.

The Kazakh has been gifted a lot in his career because of his status as one-time HBO Boxing sweetheart and media blow-up toy. From boardroom alphabet belts to seven-figure slaughters passing as prizefights to an 18-fight world title run that presented zero degree of difficulty, Triple G has enjoyed a truly charmed ring life. And, eventually, he did manage to nudge his way into shaming two lucrative fights out of Alvarez, which, in turn, led to him signing a multi-fight, nine-figure deal with streaming service DAZN.

And he'll have a chance to pick up another gifted title belt this fall when he meets Sergiy Derevyanchenko for the IBF middleweight belt vacated by Alvarez. From there, let him meet a real stylistic challenge in WBO champ Demetrious Andrade or let him face Daniel Jacobs again, allowing for a rematch to a bout that easily could've been scored a draw.

It's time to let the man work for his dinner and be held to the same standard all other fighters are held to. Established veteran stars at the tail end of their careers are usually afforded some leeway in level of opposition and are allowed, to a great extent, to pick the best suited opposition from the list of contenders. But Golovkin should get no such deference because he spent the first ten years of his thirteen-year pro career in that star mode, facing those chosen most likely to make him look impressive.

Then, maybe, after working up a sweat against those not likely to run directly into his fists as highlight reel fodder, we can talk about a second rematch with Canelo.