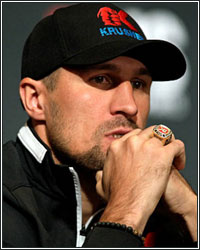 In this scorching summer heat, my big, bloated, bulging sack is itchier than ever. So, let me take it out with two hands and lay it on this pile of old Ring Magazines. And while we're airing it out, we may as well take a gander inside at the gooey, salty truths contained within. This week, we have questions/comments regarding the Top Rank/PBC beef, Golovkin-Derevyanchenko, and the future for Sergey Kovalev.

Top Rank vs. PBC

Hey Mags,

This topic's been done to death, but how likely is it that we see Arum and Haymon working together fairly soon to make Spence-Crawford? I get the business aspect of all this and why Haymon is going to be trying to make as many in house welterweight fights as possible before taking the risk of fighting Crawford. That makes sense. I also get why Arum wants to push so hard for Crawford getting the Spence fight, because Crawford doesn't have anyone to fight. But I also see where Spence is not going to sell many PPVs by fighting good fighters, who aren't great and who he's for sure going to beat, like Porter. I can't see PBC making much money from predictable wins for Spence. What's it going to take to put together Crawford-Spence and how long will we have to wait?

-- Luis C

Hey Luis

With five of the top six welterweights (and, arguably, nine of the top ten) under the PBC umbrella, you can be damn sure that Haymon has the upper hand in this particular situation. Arum's only way to attract a truly meaningful fight for Crawford is to shame the PBC folks into meeting him halfway across the game board. He's doing a good job of playing the media and fans, of manipulating the narrative, to make it seem like Spence and his PBC stablemates are running scared. This is an old hustle of Arum's and he's quite good at it. Having said all that, though, he can only play this game for so long before Crawford begins to wither on the vine and fans just lose their interest in him. With that big ESPN deal comes the necessity to bring in some quality, marketable B-sides and, in the respect, Arum has failed miserably. The question is whether the aged promoter will bend and finally come to the realization that maybe he has to take Crawford over to the other side for a one-fight showdown, ditch all the "give me options, sign with me if you want Crawford" nonsense, and roll the dice on Bud being THAT good. I think right now, he sees a stable of fighters at PBC who are essential promotional free agents and he figures he can poach one or two eventually with the right deal at the right time. But PBC has Spence, Pacquiao, Thurman, Porter, Garcia, and a host of other welters. There's still enough mixing and matching to be done to keep things alive and competitive at 147 for a couple years. Crawford and Arum don't have that kind of time and pissing the PBC folks off won't make Crawford-Spence happen any sooner. If Arum comes at this the right way and can push without being offensive, the coming together can happen if the money's right. It remains to be seen, however, whether Arum can maintain that level of tact and diplomacy.

Is Kovalev Done?

Paul. I see a lot of people counting Sergey Kovalev out and talking about him being ripe for the picking. I must be missing something then because I don't see it where he's finished as a world class fighter. I think he had some confidence and training issues, but he looked outstanding in beating Eleider Alvarez in their rematch and, to be honest, didn't look all that bad in his first bout with Alvarez, right up until he got buzzed. I know he's 36 and he's got some sexual assault stuff up in the air, but I don't think he's done. I don't think he loses to Anthony Yarde this weekend either. What do you think?

-- Scott Eaton

Hey Scott.

The Yarde fight is a big question mark because we don't really know all that much about Yarde's main stage, big fight ability. Yarde definitely looks the part of an elite-level light heavyweight, but he's deeply untested. He could beat Kovalev, but that wouldn't necessarily mean that Kovalev was "done."

I agree with your take about Sergey. He's been stripped of his aura of invincibility and emasculated to an extent, but he is still a real high-end fighter with all the same tools and abilities that got him to the top. He has heavy hands, a fluid style, excellent jab, and a general meanness that makes him a formidable foe for anyone, anywhere. He's lost that supreme self-confidence, though, and that was one of the things that really made him a fearsome ring presence. There's a pause there now where he would once just plow through opposition and take their hearts and souls. That's a big deal for an offensive fighter like Kovalev. So, while I don't see him as finished, I do believe he's infinitely more beatable now than before Andre Ward turned him from beast to human.

Golovkin-Derevyanchenko

Hey Mags. You think Sergiy D has a chance of upsetting GGG? I damn sure would be happy to see it, but if GGG signed the fight he must be pretty sure he's going to win.

-- JK

Derevyanchenko won't beat Golovkin, but he'll make it interesting for a few rounds. I thought Derevyanchenko-Canelo would've been an interesting stylistic matchup, so I was more upset than many about that fight falling through. This Derevyanchenko fight, though, does nothing for Golovkin but deliver the ego boost of another world title around his waist and it sure as hell does nothing to get a return for DAZN on the money they dumped on Golovkin. The DAZN folks are going to have to figure out a way to handle this mess they have at 160 and find a way to bring Canelo around to wanting to fight Golovkin again because, without that big fight, it'll be hard to turn a profit on the nearly half-billion they invested in signing Canelo and Golovkin (especially from the Golovkin side).

Got a question (or hate mail) for Magno's Bulging Mail Sack? The best of the best gets included in the weekly mailbag segment right here at FightHype. Send your stuff here: paulmagno@theboxingtribune.com.