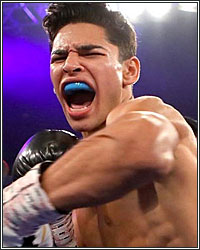 This Thursday, just like every Thursday here at FightHype, we gather around my bulging, bulbous sack and marvel at the gooey, salty truth within as it shoots a load of righteousness all over the purveyors of boxing BS. This week we have comments/questions regarding the Ryan Garcia-Golden Boy beef, ESPN's helping hand to Tyson Fury, and an early look at Canelo-Kovalev.

Kingry vs. Goldie

Hey Magno.

What the hell's going on between Ryan Garcia and Golden Boy? They've been at each other's throats on social media and Golden Boy's been taking some very public shots at their fighter, something that shouldn't be happening IMO if you're going to be someone's promoter.GBP is wrong there, but I don't think they're wrong overall. Who's Garcia to be making demands and holding out for more money? The kid is an OK prospect and he's got the kind of social media following that Golden Boy only wishes it had, but he's fought nobody and done nothing to start playing diva. Maybe after winning a title or two he can start flexing his diva muscles, but not now. That's just how I feel.

Thanks for all the good work over the years.

-- Alberto

Hey Alberto.

I just want to put this out there first and foremost—There is no talent or skill-based meritocracy in boxing. Fighters make money according to how many asses they put in seats and how many eyeballs they bring to the screen. And let's put aside that nonsense about a fighter "paying his dues" before getting fair compensation. Vergil Ortiz is a better, more polished and more accomplished fighter than Ryan Garcia—as Oscar De La Hoya so dumbly pointed out to media in the middle of this Ryan Garcia beef—but he isn't the draw Garcia is. And, so, Garcia has a right to ask for proper compensation, above that of what other prospects may demand. How much he deserves is a question to be hammered out in a fair, private negotiation. But if he's a draw, he deserves compensation according to his drawing power, whether he's making his pro debut or fighting for his fourth world title.

I also have to mention how utterly stupid Golden Boy has been throughout this feud. When Garcia opponent Avery Sparrow got popped by the police and Garcia was suddenly without an opponent the day before his scheduled September 14 fight date, Golden Boy tried to wedge in some last minute replacements that Team Garcia wisely nixed. Proposed opponents Romero Duno and Petr Petrov were risky matchups on one day's notice and for, reportedly, no significant extra compensation. But when Garcia opted to pass on a last-minute sub, Golden Boy, via tweet, pretty much called Garcia "scared" for taking a pass.

It's an odd move to have a promotional company punking their own fighter on social media and one which rightfully ruffled the feathers of Garcia. In the days following the missed fight date, things have been pretty ugly, with Garcia even asking for his release if Golden Boy is unhappy with his work. The rumblings of disharmony have been there before, most recently over Garcia getting a 50K main event purse for a DAZN Golden Boy card with a million-dollar budget, but they're to the point now of almost being irreparable.

We'll see how this works out, but I tend to lean in favor of the fighters in cases like this and, like I said, Golden Boy has been acting very unprofessionally throughout this situation.

[UPDATE: Ryan Garcia signed a new multi-year deal with Golden Boy Promotions shortly after the time of this writing.]

ESPN Helps Fury

You are right on the money my friend [about chastising ESPN for telling the Tyson Fury corner that Fury's cut had been ruled as caused by a punch, not a head butt as they believed, thereby giving a head's up about the possibility of a TKO loss]. ESPN going to the corner mid-fight was one of the shadiest things I have ever seen during a boxing match, and I have been watching religiously since 1985.

Great article all around.

-- Alex T

Thanks Alex.

I've been getting some pushback from my take on this and, for the life of me, I can't understand why. What ESPN did was really bad and very clearly unethical. Like I wrote in Monday's Notes from the Boxing Underground column, it was "the equivalent of handing the official scorecards over to one of the trainers between rounds, letting them know that they're actually losing a fight they thought they were winning." In this day and age of really crappy journalism, it's easy to see where some might be puzzled about why this was an extremely unethical move from ESPN, but the reporter is just not supposed to make the story or interfere in altering the course of a story—he's just there to report on it fairly and without bias.

Canelo-Kovalev is a Real Fight

Paul.

F**k the haters. Canelo-Kovalev is a real fight and no easy fight for Canelo like some are saying. This is a real challenge and anyone who says it's not is a stone cold hater. How do you see this one playing out? Canelo could legit get KTFO if he's not 100% on point. Can't wait for November 2.

-- Carlos el Fiel

Hey Carlos.

Let's be real here. Canelo and his team picked Kovalev because they think they can beat him. But that doesn't make them any worse than any other team trying to find the best risk vs. reward opponent. Having said that, though—yeah, this is definitely a "real" fight (but I guarantee you there will be plenty of serial Canelo deniers crapping on this bout between now and November 2).

I think we're going to see a smart, cautious Canelo working his way inside on Kovalev and hyper-focusing on the Russian's body. If he can stay on the inside and keep Kovalev's jab from being a factor, I can see Canelo scoring a late-rounds TKO win. The "Krusher" mystique may have been killed off by Andre Ward and Eleider Alvarez (and he's not at his best at 36 years of age), but the fighter left behind is still a heavy-handed world class boxer with an underrated ring IQ and boxing skills. It'll be interesting.

Got a question (or hate mail) for Magno's Bulging Mail Sack? The best of the best gets included in the weekly mailbag segment right here at FightHype. Send your stuff here: paulmagno@theboxingtribune.com.