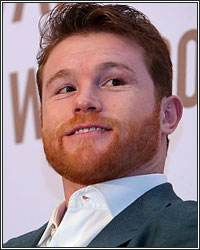 The sack after a big fight is always filled with griping, bragging, and conspiracy theories, along with a handful of actual real points and genuine questions. This week is no different. So, let's whip out my bloated sack and shoot ropes all over this post-Canelo-Kovalev stuff.

All Hail Canelo / Ah Hell, DAZN

Canelo hands down is P4P the best fighter in the world. I think he'd wash any 160lb fighter. There's no need for him to go back to 160. Those fights are pointless for Canelo at this point. There's bigger fights at 168 and 175.

DAZN trying to woo stragglers from UFC 244 is like handing out flyers to the after party in the club parking lot. Canelo is caught in the middle of a flawed business model. To top it all off, DAZN reporter Chris Mannix creates a fake story about Broner and Davis getting into a fist fight. Not to mention Dana White coming out stating that it was Oscar who called him up personally for permission to air the UFC fight at the MGM Garden Arena. In other words, DAZN and GBP have the best fighter in the world and the biggest star in the sport of boxing, but their struggling to get viewers/subscribers.

Who do you think is up next for Canelo and what do you think is really going on with DAZN?

-- Nail Rahman

Hey Nail.

DAZN definitely came out a big loser in what should've been a huge win for them on Saturday. I like your "handing out flyers" analogy. Deferring to the UFC and keeping their guys (along with their paying customers) on ice until UFC 244 was over made their own product look weak and smaller in comparison. The reality is that Canelo is a bigger star than anyone in the UFC at the moment and DAZN made him—their own greatest investment—look like the B-team. And let's not even get into how this decision showed their paying customers nothing but disrespect. Like I said in my Notes from the Boxing Underground column this past Monday—I hope the handful of post-UFC 244 subscriptions they got from this move is worth the fallout from disrespecting all of their current subscribers.

I think DAZN is clearly struggling to make their business model work and it showed from this desperate move on Saturday. I understand that any startup like this WILL have to overpay in the beginning to their foot in the door. I think, though, that they misjudged the nature and wants of fight fans and, specifically, their buying patterns. Most fans will pay for EVENTS and have been conditioned to pay as they go. Very few will sign up for a year, for fights that have yet to be made. I also guarantee you that "we show the entire undercard" stuff is driving zero sales. Fans will not respond to buying boxing in bulk with the main event atop a card of absolute nothingness. And DAZN can't put together a quality undercard because they've so desperately overpaid their main event talent.

Most DAZN subscribers I know use the service like PPV, paying the $20 month-by-month fee when there's a fight they want to see. So, essentially, DAZN is paying PPV money to their fighters and collecting one-fifth the usual PPV fee for a fight. I think they were counting on more fans purchasing at the lower price, but the sad reality is that there are just so many boxing fans now—and not enough, IMO, to sustain their business model.

As for Canelo, I'm not a pound-for-pound guy, but I can see the case for him moving to no.1. It's not like Crawford and Lomachenko are burning things up when it comes to level of opposition.

I think Canelo is done with 160 and has pretty much said that middleweight would be tough to make right now. I see him settling in at 168 where there's some quality opposition to be found like Callum Smith, Billy Joe Saunders, and others.

Canelo's Not #1

Hey Magno.

I'll cut right to the chase with this. I don't care what Fat Dan at ESPN says, Canelo doesn't move to pound-for-pound number 1, 2,3, or 4 with this win. He knocked out a tired, scared, old man on Saturday, that's it. Let's see him win honestly and decisively against a real fighter in his prime and then we can talk pound-for-pound top dog.

-- Jesse Exius

Hey Jesse.

I'm not sure what Canelo isn't doing that the other P4P guys ARE. Nobody at the top is fighting other elite-level opposition these days. If P4P is about quality of opposition, Canelo is at (or near) the very top.

Fixed or Not?

Magno. How in the world are you going to sit there and tell me with a straight face that Canelo's knockout of Kovalev was legitimate and that fight wasn't fixed? Kovalev looked like he was sparring with a child he didn't want to accidentally hurt all night with Canelo following along, doing nothing like he's waiting for the right time to land his scripted knockout shot. Please. And a couple of arm punches, one to Kovalev's trapezius muscle is going to have this man who has always had a good chin go limp? Please. I knew this shit was a setup when you wrote that Kovalev had a two-fight DAZN deal contingent upon him losing. And now you're going to tell me that you believe this nonsense. I don't know man. You were always the anti-corruption guy and a straight shooter, but maybe DAZN been sending some of their billionaire money your way.

-- Curtis H

Hey Curtis.

Man, if I was getting any dirty money from a network or promoter, I'd be writing for sites like RingTV and cashing much larger checks.

How many times have we seen a big-punching offensive "beast" shut down and kept second guessing by a smarter, quicker fighter with a good game plan? It's not uncommon. Kovalev has never been an exceptionally strong mental presence, anyway. I don't see what's so outrageously suspicious.

I think it boils down to serial Canelo critics who were hoping and praying for a Canelo comeuppance and salivating over the close fight as it played out, who then began clutching at excuses when their dreams were dashed by the KO.

There ARE fixed fights in boxing, but there's usually a cadence to how they play out and a logic to the business behind it. It made no business sense for Kovalev to throw a fight he could've won against the biggest star in the business with tens of millions of dollars within reach if he had won. Plus, fighters taking a dive never actually get knocked out cold while taking that dive. It's ridiculous. And, yeah, that left-right from Alvarez was REAL and the reaction from Kovalev's body should've proven that.

Got a question (or hate mail) for Magno's Bulging Mail Sack? The best of the best gets included in the weekly mailbag segment right here at FightHype. Send your stuff here: paulmagno@theboxingtribune.com.