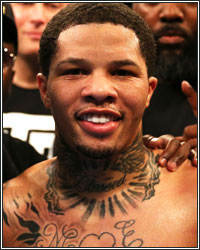 Former two-division world champ Timothy Bradley has been adding some showbiz bluster to his personality since he got his gig as an ESPN Boxing analyst. It's still rare, however, to see him dig deep and hard into a fellow fighter on-air. But he did just that during last Friday's Top Rank on ESPN broadcast.

"Gervonta Davis is fighting against Uber drivers, cab drivers, you name it," Bradley said. "He ain't fighting anybody…I don't know where they found that boy [Yuriorkis Gamboa] that he's fighting now? Seriously, how is that fair? He's not fighting anybody. Gervonta Davis, you have a lot of talent.

"I'm not going to lie. You do have a lot of talent, but you're not fighting anybody, buddy. You're not fighting anybody at all, and I'm going to keep it real with you. I'm trying to tell you. Did you hear who he's signed to fight? Gamboa has been under a rock."

While it wouldn't exactly be fair to call Davis' next opponent, Gamboa, an "Uber driver," Bradley's point is well taken.

The 25-year-old Davis is a unique talent and is universally recognized as one of the most physically gifted fighters in the game, but his resume is relatively flimsy for someone looking to become a Mayweather-level superstar.

High-water mark wins as a super featherweight titlist over Jesus Cuellar, Liam Walsh, and Jose Pedraza are hardly the stuff of legend. Choosing to make his lightweight debut against a 38-year-old Yuriorkis Gamboa, arguably ten years and two divisions past his prime, was certainly never going to win over the critics.

Davis seems to belong to the same "lack of self-awareness" club his promoter and semi-mentor Floyd Mayweather belonged to. He doesn't seem to get how this long succession of no-hope squashes looks to the general boxing public—especially coming from someone as talented as him.

"Tim Bradley can suck a d**k. It's always an old person hating...he didn't start fighting real opponents till he had 26 fights," Davis responded to Bradley via Twitter. "Lil soft hitting ass! My daughter hit harder than him...talking about me but didn't say nothing about Berchelt vs Sosa. FOH.

"All have is a chain…bobble head mf! Another person I will be way richer and I have more star power and I'm half his age and will [have] less fights. Btw ANOTHER SOLD OUT SHOW COME DECEMBER 28TH. And I was 22 years old and 16-0 when I won mine. Becuz Bradley a bitch."

What Davis doesn't get about this lashing out is that he may be WITH Mayweather, but he's NOT Mayweather. The five-division world champ and first ballot Hall of Famer had earned the right to be cocky, belligerent, and dismissive of critics by the time he started lashing out at his serial antagonists. Mayweather had fought and beat legitimate elite-level fighters like Genaro Hernandez and Diego Corrales by the time he was at Davis' current level of age and experience.

Davis, on the other hand, is doing little more than shouting his greatness out to the world without actually taking that difficult step of proving it.

All of this begs the question of when and where will Davis face the legacy opponents he needs to beat in order to ascend to superstar status. If he doesn't do so soon, he may be written off permanently as someone with more mouth than motor.

"Tank" certainly passes the eye test when it comes to potential for greatness, but the eye test is no longer good enough.