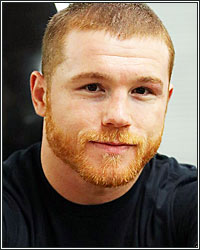 It's Thursday once again and thoughts turn to my gloriously bulging sack and the gooey, salty truth contained within. So, let's rub that fleshy magic lamp and shoot a load of righteousness all over boxing's bad guys. This week, we have questions/comments regarding Canelo, the middleweights, and cleaning up boxing.

Next for Canelo?

Hey Magno.

Okay, you're Oscar [De La Hoya]. What do you do next with Canelo? The world seems at Canelo's feet right now and he has the power to go in any direction he likes. Where would you guide him if you were Oscar?

-- Diego GL

Hey Diego

First, I don't think Oscar really guides Canelo all that much anymore. I think Canelo calls his own shots and has always been more of a promotional partner than a client of Golden Boy's. Second, if I were Oscar, the first thing I'd do—after peeling off the tight-as-hell fishnets and deleting my computer's browser history—is work on building a world beyond Canelo. I seriously doubt that Canelo will be a "forever partner" with Golden Boy and, IMO, the clock is ticking fast on the end of the Alvarez-De La Hoya working relationship. Golden Boy did do some of that by using DAZN's signing of Canelo to get a side deal with the streaming service for themselves. They need to do more of that and get some of their other guys extra exposure.

At this point, Oscar will be cashing Canelo checks for as long as they are coming and it's a moot point what he wants Canelo to do. His only play is to shut up, don't make waves, and keep using Canelo's name to build guys like Vergil Ortiz Jr., Ryan Garcia, and Jaime Munguia.

Purging Boxing

Hey Paul.

I've been a fan of your work for almost a decade now, ever since the old days of The Boxing Tribune and Inside Fights. I know you dislike brown-nosers and apple polishers, but I really have to say that you are the only writer I take seriously when it comes to the business of boxing. Your integrity over all these years and all the attacks on you over those years sets you apart from the other guys. It's a big deal to some of us to have a guy like you have a sturdy soapbox on which to stand. Thanks to Fight Hype too for hiring you and keeping your voice loud in a business that I know is trying to shut you up.

Anyway, what can we do, Paul, about the way this sport is? All the networks are split up, corruption is real, and every fight these days seems to run the risk of delivering a rotten score and dubious decision. Do we need a national commission to oversee it all? What can be done to clean up this sport? We can't survive in this modern sports world, acting like corruption is a cute 1950's throwback for the sport. How would you clean things up Marshall Magno?

-- Peter Sarro

Hey Peter.

Thanks for the kind words.

That national commission stuff is the easiest answer, but it's not the right answer to cleaning up the sport. The people assigned to head such a commission would probably be the old school boxing people currently screwing with the sport or allies to those old school people. Guys like you and me would never get within sniffing distance of being on a commission like that. So, basically, the commission would be comprised of the same people (or the same type of people) we'd want to get rid of.

The way to clean up the sport would be to decentralize the power, keep the promoters from calling all (or most) of the shots and for the media and fans to be vigilant and vocal with their disdain. We all know that we can't count on the media to be smart and/or vigilant, so, it will come down to the fans to vote with their dollars and walk away from companies/networks/promoters who don't play fair.

There's no easy answer, but a good first step would be to move some of the old dinosaurs out and bring in some fresh blood and honest money. Then, again, it'll come down to the fans to act like proper consumers and not tolerate the bullshit constantly hurled their way.

A Middleweight World Without Canelo

Hey Magno.

The odds are pretty good that Canelo Alvarez won't be back at 160. If he doesn't go back, how do you see the middleweight division working itself out?

-- TK

Hey TK.

I guess, right now, Gennady Golovkin would have to be THE guy at middleweight. That won't last long, though, because he's 37 and, if he gets a third crack at Canelo, he'll likely have to move up to 168. Daniel Jacobs is also probably staying at 168. That leaves Jermall Charlo, Demetrius Andrade, Sergiy Derevyanchenko, and whole bunch of second-tier contenders. Down the line, we'll see some of the 154 lb. players climb to 160 and try to make a splash, like Jarrett Hurd and Jaime Munguia. Any way you slice it, though, 160 is headed for a slowdown with Andrade and Charlo probably holding things down until the next big thing comes along.

Got a question (or hate mail) for Magno's Bulging Mail Sack? The best of the best gets included in the weekly mailbag segment right here at FightHype. Send your stuff here: paulmagno@theboxingtribune.com.