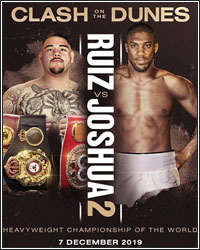 This Saturday's Clash on the Dunes card in Saudi Arabia is a different animal from most other boxing events.

Unlike other promotions, this one isn't necessarily about making a successful money haul, although that's always nice. No, this one's all about two things—Getting the Saudi investors on to the world stage in a big way and, for Matchroom Boxing and Team Joshua, getting those three heavyweight belts lost to Andy Ruiz on June 1 back into Anthony Joshua's possession.

But the charm and magic in boxing is that one man throwing two fists IS often enough to flip multi-million dollar, big business scripts. Will Ruiz once again have enough to ruin Joshua's run towards superstardom or will Joshua emerge victorious, proving that the upset six months ago was merely a momentary hurdle to world domination?

Here's a look at Ruiz-Joshua 2 and how this whole thing could play out.

Ruiz brings to the rematch what he brought the first time around—toughness, tenacity, solid skills, and underrated physical ability. He's also carrying the knowledge that not only can he hurt the much larger, Adonis-like Brit, but he can flat-out beat him into submission.

In the first fight, Ruiz got what he got by not allowing Joshua to set himself up and tee off from the outside and then connecting with short, sharp punches inside of Joshua's long-armed swings when the then-champ took the fight inside.

It was a smart and simple strategy, built off of a balance-challenging jab and footwork, and its success was entirely contingent upon Ruiz being able to take some leather from the heavy-handed Joshua while also being able to win Joshua's respect with his own power. Ruiz, of course, passed both tests with flying colors and proceeded to make history in New York's Madison Square Garden.

This time around, the Mexican-American will have to do his thing with an entire promotion and dubious Saudi commission possibly on his back, while potentially hobbled by a bad ref in Luis Pabon and, likely, two "unfriendly" judges in the UK's Steve Gray and Canada's Benoit Roussel tallying rounds.

Ruiz will also have to deal with the fact that he's now a known, respected commodity. Joshua, who may have come into their first fight a bit flat and unprepared for what Ruiz could do, will not underestimate him a second time and will likely shape his own ring strategy accordingly.

This means Ruiz will probably have to dig harder and be more aggressive this second time around. With Joshua fighting from the outside, utilizing a thudding jab, Ruiz will be forced to take more risks and craft moments where he can punch inside the former champ's long reach. And he will be pressed to do so with the understanding that he may not be getting the benefit of the doubt on any of the judges' scorecards.

When it comes to Joshua, there's a temptation to doubt his mental toughness after what we saw in the first Ruiz fight, especially the passivity he displayed in defeat. But the world saw him dig down deep and go to war with Wladmir Klitschko in the biggest fight of his career back in 2017, so it's clear he has at least a bit of the warrior in him.

"AJ" will once again hold a size, strength, and power advantage over Ruiz and, in his jab, he's got the weapon in his arsenal to completely nullify most of what the new champ aims to do. As mentioned before, he's also got the entire playing field tipped in his favor.

The fact that this is still close to an even-money affair is a testament to just how much Joshua's meek performance back in June turned off observers. Joshua will have to prove that his loss was a one-time aberration and overcome whatever doubt still lingering in his own mind about who he really is. In a lot of ways, the biggest fight on December 7 is Joshua vs. Joshua as the one-time "Boxing's next big thing" fights to cast aside his fleshy demon and prove himself to be a true elite, all-time level heavyweight.

The path to victory for Joshua this coming Saturday is well-paved already. All the UK star needs to do is walk that road. Ruiz, however, has what it takes to knock the former champ off that road and into a possible career-ending abyss.

If Ruiz doesn't come out hard to take the fight to Joshua and style his way around a jab-heavy effort, we may see a dullish decision in Joshua's favor. If Ruiz DOES come out hard, though, he runs the risk of walking into something big.

The new champ will have to be smarter, sharper, and tougher than ever before if he hopes to hold on to his titles in this event put together to get the belts back to Joshua. Ruiz has defied the odds before, but this may be too much to ask of him.

Ruiz CAN flip the script, but cold, hard reality says that Joshua has too much stacked in his favor this time out. Joshua wins via unanimous decision.