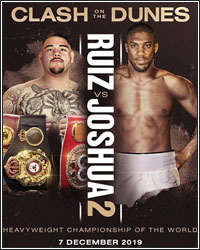 Another Thursday is upon us and that means another gooey, salty load of wisdom coming from the very depths of my bulging sack. This week, we have a special Ruiz-Joshua 2 edition of the sack because, honestly, just about every email I got these past few days has been about the big heavyweight clash in Saudi Arabia. So, here we go:

Ruiz vs. Joshua 2: Ruiz Rules

Hey Magno. Ruiz is going to mess Joshua up even worse this time. I saw that article you wrote on how it was going to be a screw jab in Saudi Arabia and I agree, but Ruiz is going to take care of that. He's in Joshua's head and soon he'll be bashing his head. Joshua is a chinless wonder. Ruiz wins in six this time. TKO again.

-- Luis C.

Hey Luis.

It's well within Ruiz's ability to flip the script again and give another big, beefy middle finger to Team Joshua's business plans. The thing is that, as I wrote recently, there will be so much stacked up against him. Literally everything is pulling in Joshua's favor and there's a lot of money riding on those belts coming back to him. And like I also wrote, Joshua may have to do little more than pump out the jab and remain upright to get a decision. Ruiz will have to come into this fight sharper and more aggressive than he was in their first bout. I'm not counting him out, but there's just going to be so much pushing against him that I think it'll be too much.

Ruiz vs. Joshua 2: Joshua Triumphs

Paul. I know you fancy yourself some sort of expert, but you really have to stop bashing Anthony Joshua. The man got beat and he got caught off guard by a fighter he underestimated. It happens. Joshua is still the man who put Klitschko away and the most dominant physical presence in the sport. You're going to see by how easily he handles Ruiz in the rematch just how wrong you are for disrespecting the man.

-- Paul Nader

Hey Paul.

Where the hell did I ever say that I "fancy" myself an expert? And I honestly don't see myself as "bashing" Joshua by pointing out what I feel to be the truth. Joshua DID bow out meekly in the first Ruiz fight and was way too passive in the way he handled the forced changing of the guard. As I pointed out in my recent Ruiz-Joshua 2 article, though, I don't think it's fair to question Joshua's overall mental toughness based on the first Ruiz fight, nor is it all that fair to proclaim him to have a glass jaw. He went to hell and back in beating Wladimir Klitschko and took some hellacious shots en route to that win.

When it comes to the Ruiz bout, I think you're mostly right—he got caught off guard against an opponent who was significantly better than acknowledged. As I said when Ruiz was first announced as the replacement for Jarrell Miller, this was a pretty poor matchmaking choice from Matchroom Boxing and, at the very best, it was going to be a lose-lose for Joshua. As things turned out, the worst case scenario became reality and, well, you know the rest of the story. Come Saturday, I think the belts are going back to Joshua and the money train surrounding him keeps chugging along.

Ruiz vs. Joshua 2: Hearn Rules

Magno. I like your very cynical take on the upcoming Clash on the Dunes. There's no way Ruiz is coming back home with the titles. Hearn built this entire event around screwing Ruiz and getting the belts back to his guy and you were right, there's nothing we can do. Or is there? How do we fight back against this bull spit? Maybe Hearn gets his way no matter what, though, right?

-- Simon C.

Hey Simon.

We "fight back" by making those involved aware that we're watching and noticing, before the fight even happens, and that we will fire off some hellfire scorn if shadiness does rule the day. That's really all we can do. And, even then, half of the fans and much of the media will blast us for firing a warning flare about what could be in the works, labeling it as "salty."

Ruiz is Screwed (Redux)

Ruiz is going up against everybody. The Saudis, Matchroom Boxing, DAZN, and Anthony Joshua. There's no way Andy Ruiz leaves Saudi Arabia with his belts if the fight goes 12 rounds. Andy Ruiz will only keep his belts if he beats Joshua in a similar fashion as last time. I've never seen a fighter in a championship fight up against so many politics outside the ring. It's almost as if he's walking right into a trap. There's not going to be one single Ruiz fan in attendance besides the people who flew to Saudi Arabia with him. Out of curiosity, I searched long and hard on the internet to see what the price of the tickets was. After a while, I realized there were no tickets available to the general public. This is ridiculously absurd and a disgrace to have this fight in Saudi Arabia for so many reasons. It'll be interesting to see if the Saudi's have their servants ringside or if women are allowed at the fight. If you were in Ruiz camp what would be your plan to leave Saudi Arabia victorious?

-- Nail Rahman

Hey Nail.

This set-up, even by boxing standards, is pretty bad, right? There is, however, a beauty in the audaciousness of this entire event. Eddie Hearn and his people are flat-out not giving two fucks about how the world sees this. They want the belts back around Joshua's waist and desperately need him to keep being that superstar-in-the-making. They will take a couple of black eyes and any aggressive scorn that comes their way in exchange for achieving that objective, confident that boxing has become totally desensitized to bullshit and will eagerly buy back into Joshua when he's back on top.

If I were handling Ruiz, I'd just let him know what's what and tell him that he's going to have to box smart, but also be very aggressive and try to push Joshua into another collapse. There's no other way he's going to win. Period.

Got a question (or hate mail) for Magno's Bulging Mail Sack? The best of the best gets included in the weekly mailbag segment right here at FightHype. Send your stuff here: paulmagno@theboxingtribune.com.