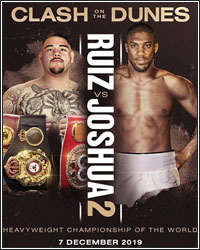 Saturday's heavyweight title fight in Saudi Arabia between Anthony Joshua and Andy Ruiz was the single most cynical boxing event I ever recall seeing. Joshua may have come away with the one-sided unanimous decision to re-take all 3 belts lost to Ruiz back on June 1, but absolutely nobody should be walking away from that show feeling like a winner.

First of all—Joshua.

I'm not sure where all these "masterful performance" comments about Joshua in the media and on social media are coming from. With a 4-inch height advantage, 8-inch reach advantage, a huge edge in natural athleticism, home field advantage, and with Ruiz slowed down by 25 pounds of carnitas and self-defeat around his waist, Joshua held just about every possible advantage in this fight. Do these people mean it was masterful because Joshua didn't fuck up this time, like he did back in June? Joshua certainly fought a smart fight, but he didn't prove anything other than that he wanted those belts back and didn't give a damn about how he did it. He didn't prove he was the better fighter on Saturday, he proved that he was the more gifted fighter.

I'm not one to harp on boxers "running" and everyone familiar with my work knows that I admire and appreciate fighters like Mayweather, Ward, and Hopkins who are defense-oriented and technically proficient. But Joshua's case was different.

Joshua got knocked out the last time—by a fighter who shouldn't have knocked him out and, realistically, shouldn't have lasted eight rounds with him—and he walked away from the loss so meekly, so passively that even his most hardcore supporters had to question whether he was almost glad and relieved to have lost. This rematch was his chance to affirm to the world, scream from the mountain top, that he was the true king and was coming back to not only re-take his throne but exact revenge from the one who overthrew him.

Instead, despite having the power to crush an unfit, underprepared Ruiz, he poked from the outside, hightailed it at the slightest hint of conflict, and generally conceded that Ruiz was the powerhouse in this fight. He was willing to take the path of least resistance to the easiest, most conflict-free win possible with zero risks taken. And while, yeah, it was a smart decision, it was also a very cynical one. It certainly wasn't the type of win you celebrate in the ring for reportedly close to 45 minutes, like you did something other than do—in much less spectacular fashion-- what should've been done six months ago.

Now Joshua returns to his reign of being the British island world champ. He's already accepted the challenge of WBO top-ranked former cruiserweight champ (and Matchroom Boxing stablemate) Oleksandr Usyk and may accept IBF mandatory Kubrat Pulev after that. Don't expect all that much better to follow. There's just too much risk of the money train derailing again.

And now let's get to Andy Ruiz—who lived up to every sad cliché involving self-sabotaging prizefighters who manage to find defeat, even in victory.

Ruiz came into this biggest fight of his career, knowing that everything would be stacked against him, out of shape and unfocused, with ripples of fat flowing over his trunks (even more so than usual) and no real game plan to counter this jab-and-run strategy most everyone knew a slimmed-down Joshua would employ. Smart observers knew from the opening round that Ruiz was in trouble unless he was able to work his way into making the fight a FIGHT.

But, as we all saw, he wasn't in shape for a fight at this level and had nothing to offer. Months of partying and binge spending took the fight from the fighter.

To his credit, Ruiz manned-up about what went wrong—several times-- in post-fight laments.

"For this fight, I was overweight...I should have trained harder. I should have listened to my coaches more. Maybe I shouldn't have put on all this weight that I did," Ruiz said.

Then, he offered it again, explaining what he could've done differently:

"…Be more concentrated on the fight, take it more serious...There's no excuse...Just train harder and take it more serious...Next time is gonna be a lot better... I got very heavy. I didn't prepare as I should. We were celebrating a lot. I should listen to my team, but we did the best we could. I want the trilogy, he won one, I won one, we go for the third."

Honestly, though, after this kind of performance, who the hell would want to see a third fight now? And, really, why the hell would Joshua want to give Ruiz a second chance to find a bit of fire and motivation?

Former two-division world champ Andre Ward, via social media, was brutally honest in his assessment of Ruiz following the fight:

"Andy Ruiz blew a big opportunity in the Middle East. He said he would die in the ring to keep his belts. It didn't take all of that, it just took the discipline and courage to push the plate back and deny himself, to put himself in the best position to win. He couldn't do it."

WBC heavyweight champ Deontay Wilder was even harsher on the now-former champ, telling The Athletic:

"Ruiz said he was doing great, not letting this moment get to him, but in the end you hear him saying he ate too much and should've trained harder… Like, what the fuck?

"What do you mean you ate too much and could've trained harder?

"I take this shit seriously. I don't know what their mentality is, but I didn't become champion of the world just to say, 'Put me in the record books. At least I can say I was a champion.'"

The truth is that the Mexican-American from Imperial, California was underrated coming into the first Joshua fight, but overrated after the upset. A sharp and focused Joshua always had the ability to do what he did to Ruiz on Saturday—and had the ability to be much more brutal in doing it. A post-Joshua Ruiz remains what he has always been-- a good, solid fighter, a top 10 guy-- but not an elite-- and not always consistent with his efforts or his preparation. He had a chance to change the book on himself, to flip the script of his professional life, but, instead, he merely re-affirmed it.

All in all, this was a not a great night for boxing, despite Joshua promoter Eddie Hearn practically shitting his boxers in orgasmic post-fight delight.

Only the boxing business could manage to take the single most boxing-affirming moment in recent memory and, in just six months, with the same two fighters fighting for the same three belts, turn it into a cynical piece of crap.