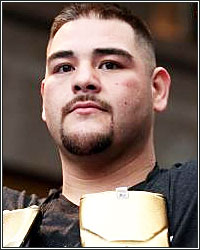 How the hell do you come back from a loss like Andy Ruiz's last Saturday in Saudi Arabia? The most logical answer is—You don't.

Back on June 1st, Ruiz shook up the world with a life-affirming, boxing-affirming upset over 3-belt champ Anthony Joshua and instantly became a folk hero of sorts, a hero for the everyman. He was the "regular" guy, just like us, who is always on the wrong side of the odds, but one who fought back and beat the system. Even jaded boxing fans, who piss and moan about everything, were pleased by this unexpected turn of events.

And then Ruiz bought a Rolls-Royce, a mansion, a truckload of bling, some other cars. He started hanging around with some weed guys. He held a lavish "white party" for hangers-on and celebrity B-listers where Logan Paul and Jake Paul ate sushi off of a naked "sushi girl" for dinner. And, of course, there was lots and lots of food.

What there WASN'T, though, was training or any semblance of focus on the upcoming rematch with Joshua.

Predictably enough, when the rematch DID come, an ill-prepared Ruiz got utterly shut out.

He also became a bit of a laughingstock.

In Mexico, where the Ruiz-Joshua return bout was aired on ESPN2, Ruiz's commercial for Value, a Mexican finance company, played between each round of the dismal effort. In the pro-Mexico, ultra-patriotic commercial, Ruiz spoke with steely determination about what drove him to success.

"What motivates you to keep going forward, despite everything being against you? For me, what motivates me is thinking that I'm doing it for my family, for my trainers, and for those who have believed in me. It's for the sacrifices I make every day. It's for my race, my people. It's for you, who I believe in. And once in the ring, most importantly, I do it for Mexico!"

Viewers would then be returned to the one-sided affair where a blubbery Ruiz did little more than half-ass walk after a Joshua who was always at least two steps ahead of him.

Again, how do you come back after something like that?

The poor effort and after-fight admission from Ruiz that, yeah, maybe he SHOULD have actually trained for this fight, drew the ire of many fans, but also of fellow professional fighters who don't often bash their colleagues' efforts publicly.

Former junior welterweight and welterweight champ Paulie Malignaggi referred to Ruiz as a "fat tub of shit" and offered the question, "Do you wanna be great or do you wanna just eat?"

Former middleweight and light heavyweight champ Andre Ward talked of the great opportunity Ruiz let slip through his fingers by lacking "the discipline and courage to push the plate back and deny himself, to put himself in the best position to win."

Current WBC heavyweight champ Deontay Wilder also bashed the now-former champ's efforts, offering an exasperated "What do you mean you ate too much and could've trained harder?"

All of this paints the picture of a guy who will probably not get another real shot at making a trip back to the elite club. Why would Joshua give him a second chance to find some fire and/or motivation? And what benefit would Deontay Wilder or Tyson Fury get from fighting someone who sabotaged his own worth with such a poor showing?

This is not to say that Ruiz won't ever get a title shot again or that he won't be able to make a living in the sport. It's just that the eight-figure paydays are probably gone and, maybe, so are the seven-figure paydays. Guys like Ruiz don't generally get second chances at the top of the mountain.

It's back to blue collar time for Ruiz, where the paydays will be more modest and the challenges just one notch below the Joshuas, Furys, and Wilders of the boxing world. Some would say that this is where the Mexican-American always belonged, anyway.