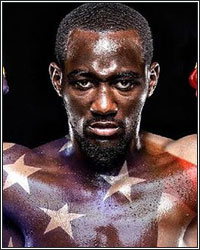 Hello Thursday...Hello Boxing Fans...Here's my gloriously bulging sack. Allow me to shoot you a load of the gooey, salty truth contained within. This week, we have comments/questions regarding Ruiz-Joshua 2 and Terence Crawford.

Ruiz-Joshua Was (Predictable) Garbage

Magno. Longtime reader and fan here. That was a pretty sad heavyweight grudge match even by current boxing standards. Ruiz couldn't be bothered to train for the biggest fight of his life and was hobbled by the excess weight and lack of conditioning and Joshua, even facing a fat mess, couldn't be bothered to even try and make a fight of it. What a load of garbage! If I had a subscription to DAZN, I'd cancel it. Hell, I might demand a refund for the time spent watching this garbage on bootleg stream. WTF gives with boxing, man? They're just about to lose me as a fan, even though I've been obsessed with boxing since I was a kid.

-- Mike Jericho

Hey Mike.

It boils down to this—they think you're stupid. Period. And I'm not just referring to DAZN or Matchroom. This applies to many, many entities in the boxing business. They just assume they can deliver you shit, cheat you in every possible way, and that you'll just keep coming back for more because they can manipulate you into caring once the next fight comes along.

Well, I know lots of hardcore fans who have given up on boxing already and, with all this crap, you can be sure that no new fans are being created.

Joshua-Ruiz and much of what is wrong with the boxing product we're getting these days can be attributed to what I call Matchmaking Karma.

When you endeavor to make good matchups, good things generally happen. When you intentionally deliver cynical matches, bad things tend to happen.

Andy Ruiz was chosen to be a fall guy for Anthony Joshua, and although he flipped the script and made for a big, exciting moment in the sport, everything settled back into reality soon after. Ruiz became who he always was and Joshua did what he had to do to get back what he lost. The end result was that Joshua learned to never again take risks—and that may affect what we see from him for the rest of his days.

Bad matchmaking karma, in general, is a plague on the sport and it's fostered by the business realities matchmakers, promoters, and networks face in this current atmosphere. Nothing good is going to come from Terence Crawford beating Egidijus Kavaliauskas or Jermall Charlo beating Dennis Hogan, for instance. Crawford and Charlo should be facing other elites. Fights like Josh Taylor-Regis Prograis and Manny Pacquiao-Keith Thurman, on the other hand, create positivity (even if the fights, themselves, don't always live up to the hype).

Unfortunately, I don't see this strategy of giving fans the worst quality matchups permissible ending any time soon. With the sport divvied up among networks, platforms, and even countries—and enough fans still willing to buy into the nonsense—this will keep going until there's some sort of crash. I, for one, am hoping for that crash to happen soon so we can rebuild logically.

What Now For Andy Ruiz?

Hey Paul. What's next for Andy Ruiz. I like the guy, but I don't see him coming back from this humiliation.

-- DR

Hey DR.

Ruiz made a joke of himself by telling the world—so many times—that, maybe, he should've actually trained for this fight. I mean, really, no shit you should've trained! That, right there, turned a bad night into an absolute joke.

There may have been some degree of coming back if the case was just Ruiz being unable to catch an athletic, defense-minded Joshua. Fans would forgive that if he came back strong. But, now? How does he ever live his six months of clichéd stupidity down or the fact that he dumbly walked into a huge rematch without knowing enough to actually prepare?

There will be fights out there for him, but it's going to take a lot to turn him away from punchline and back to everyman folk hero. And his history suggests that he just doesn't have it in him to be disciplined long enough to work his way back to the top.

Terence Crawford vs. That Other Guy

Magno. So, what about Crawford vs. Mean Machine?

-- Jorge Castro

Hey Jorge.

What about it? I'm the biggest Terence Crawford mark out there and I don't care one bit about this Saturday's fight with Kavaliauskas. It means absolutely nothing in the big picture (or small picture, for that matter). I don't care to dive into the business and politics of it, I'm just saying that it's a nothing fight. The only saving grace of the card is that Teofimo Lopez-Richard Commey IS a good, interesting fight. I'll be tuning in for that one and hanging around for the Crawford, drama-free virtuoso exhibition.

Got a question (or hate mail) for Magno's Bulging Mail Sack? The best of the best gets included in the weekly mailbag segment right here at FightHype. Send your stuff here: paulmagno@theboxingtribune.com.